This post may contain affiliate sales links. Please see my full disclosure policy for details.
I have been making these overnight cinnamon rolls with brown butter cream cheese frosting, and variations of these rolls for my family for many years. I've always sort of viewed cinnamon rolls as a special baked treat reserved for holiday mornings, or for big breakfasts when guests are over, but since we have all been at home these past several weeks, I have been making these often. My kiddos LOVE them. They are crazy delicious.
There's nothing more disappointing than biting into a warm, gooey cinnamon roll only to find that the dough is tough or crumbly. Cinnamon rolls should be soft and fluffy, with a sweet brown sugar cinnamon filling, no skimping on the cinnamon, with a cream cheese frosting that drips into the rolls making those gooey centers that might be the absolute best part of the cinnamon roll.
I use a buttery, soft and fluffy brioche dough for my cinnamon rolls that I adapted from Joanne Chang's book Flour: Spectacular Recipes from Boston's Flour Bakery + Cafe.  Brioche is a buttery and tender enriched dough that is perfect for all sorts of sweet and savory shaped and filled breads, buns, rolls, and more. This is my go-to recipe when making any sort of brioche pastries.
Brioche is fairly straightforward to make, albeit a bit time consuming due to the mixing and kneading. Luckily, most of the tedious work of making brioche takes place on a stand mixer. I do not recommend making this brioche by hand, or with a hand mixer. It needs a powerful mixer to be able to knead it properly, and it would take substantially longer to knead by hand. Bread flour, all-purpose flour, sugar, salt, yeast, milk and eggs are placed into the bowl of a stand mixer. Use a scale to weigh your ingredients for the best and consistent results, and it'll be a one bowl wonder dough.
The dough is mixed together for several minutes, and then the softened butter is added. Do not rush these first few steps of mixing before the butter addition. Once the butter is added, gluten formation is slowed down, which is why mixing times are longer for enriched doughs (doughs with a high fat content and contains butter, eggs, etc.) and also why gluten formation needs to occur in these first couple steps. No gluten strands = tough, dense and crumbly rolls. Softened butter is then added a piece at a time, and set to mix for a good amount of time until the dough has pulled away from the bowl, and has mixed into a smooth, shiny and elastic dough. Pop the brioche into the fridge to deepen its flavors and cold proof overnight.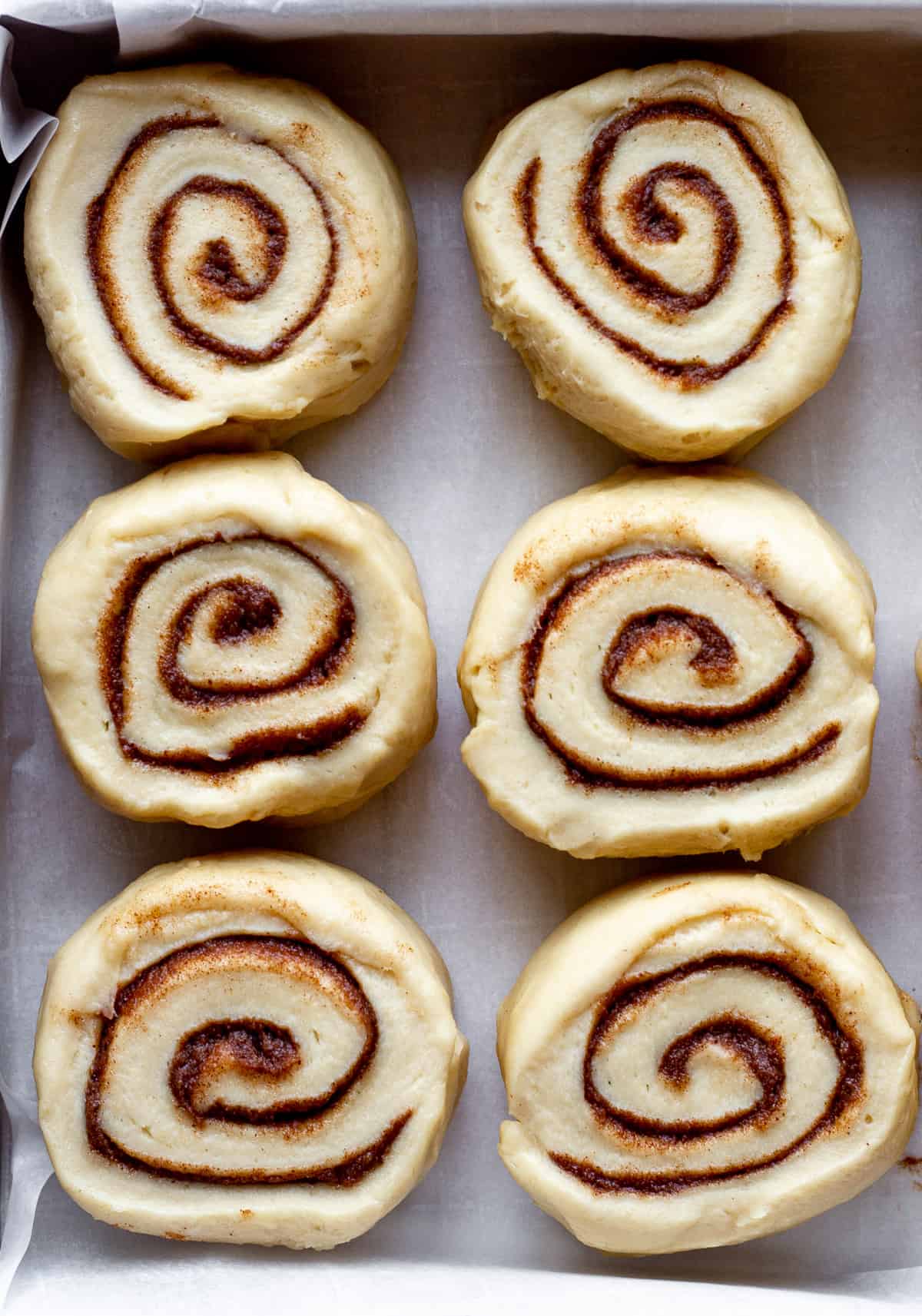 In the morning, remove the brioche from the fridge, then make the filling. Mix the softened butter, cinnamon, brown sugar and salt into a smooth paste. This filling is so good and I think of the amazing cinnamon sugar toast it would make. YUM. But back to the recipe….Roll out the cold dough into a 18×12 rectangle and spread the filling over the dough, leaving about 1/4″ border around the edges. Tightly roll up the dough, cut off 1/4″ off both ends and cut into 12 equal size rolls.
At this point, you can freeze the rolls. I do this often to only bake what we will need. Once you are ready to bake them, thaw them in the refrigerator overnight, then leave them to proof a couple hours before baking.
While the rolls are baking, prep the brown butter cream cheese frosting. We love lots of frosting so this recipe makes just the right amount for us. If you like less frosting, you can cut the recipe in half. Brown the butter in a saucepan until deeply browned, but not burned. It will be more browned than what you are probably used to, but trust me on this, the browner the better. Let the brown butter cool to room temperature. Mix the cream cheese, confectioners sugar, vanilla, salt together then add the brown butter. Whip until fluffy. Those flecks in the frosting are from the brown butter and vanilla bean paste. You will want to eat the whole bowl with a spoon, but… you should frost the cinnamon rolls with the brown butter cream cheese frosting while they are still warm.
Then eat them. It will be hard to eat just one. But, eat at as many as you want. No judgement here.
For more breakfast recipes, check these out:
Bacon, Cheddar and Chive Scones
Print Recipe
Overnight Cinnamon Rolls with Brown Butter Cream Cheese Frosting
These cinnamon rolls are soft, buttery and tender filled with a brown sugar and cinnamon filling and topped with a brown butter vanilla cream cheese frosting that is deeply flavorful and delicious.
Ingredients
Brioche Dough:
2 1/4

cups (315g)

all purpose flour

2 1/4

cups (340g)

bread flour

3 1/4

teaspoons

active dry yeast

1/3

cup + 1 tablespoon (82g)

granulated sugar

1

teaspoon

fine sea salt

5

large

eggs

1/2

cup (120g)

cold milk

Any kind of milk will work. I use 2%.

1

cup + 4 tablespoons

unsalted butter, room temperature

cut into 10 pieces
Cinnamon Sugar Filling:
1/2

cup (115g)

unsalted butter, softened

1/2

cup (100g)

light brown sugar, packed

2

tablespoons

cinnamon

1/2

teaspoon

fine sea salt
Brown Butter Cream Cheese Frosting:
1/2

cup (115g)

unsalted butter

8

ounces (224g)

block cream cheese, room temperature

1 3/4

cups (210g)

confectioners sugar

1/4

teaspoon

fine sea salt

1 1/2

teaspoons

pure vanilla extract or paste
Instructions
In the bowl of a stand mixer, combine the all purpose flour, bread flour, yeast, salt, sugar, milk, and eggs.

Fit the dough hook attachment to the mixer. Miix the ingredients on low speed for 3-4 minutes until the ingredients are thoroughly combined, and pockets of dry flour have been fully incorporated.

Mix for an additional 3-4 minutes. The dough will be stiff and dry.

Add the butter, a piece at a time, mixing after each addition until each piece is mixed into the dough.

Mix on low speed for 10 minutes, stopping to scrape down the bowl every so often to fully incorporate the butter. The dough will look like a gooey mess, but that's ok.

Once the butter has been completely incorporated, increase the mixer speed to medium and beat for 15-18 minutes. The dough will go from gooey and shaggy to smooth and cohesive.

Turn up the speed to medium high and beat for 2 minutes. You should hear the dough making a slapping sound against the sides of the bowl.

The dough should have a little bit of stretch and should be able to be picked up in one piece. If the dough breaks when you pull at it, mix on medium speed for an additional 2-3 minutes.

Cover the bowl with plastic wrap, pressing the plastic wrap against the surface of the dough so that it doesn't form a skin.

Proof the dough in the fridge overnight.

In the morning, remove the dough from the fridge and set aside so you can prepare the cinnamon sugar filling.

Combine the softened butter, brown sugar, salt and cinnamon in a small bowl and mix into a smooth paste. Set aside.

On a floured surface, roll out the dough to a 18x12 rectangle.

Make sure the long side is facing you. Starting on the long side of the dough closest to you, tightly roll up the dough into a log. Pinch the seams together so that the log doesn't become unrolled when cutting into rolls.

Trim 1/4" off of each end of the log. Cut the dough using a sharp knife, a bench scraper, or unflavored dental floss into rolls, about 1 1/2" wide.

Line a 9x13 baking pan with parchment paper. Place the rolls evenly in the pan, leaving space between each roll.

Cover the pan with plastic wrap and proof in a warm spot for two hours, until the dough has risen, is puffy and the rolls are touching each other.

Heat the oven to 350F. Remove the plastic wrap from the rolls. Bake for 35-40 minutes, or until the internal temperature of the rolls reaches 190F.

While the rolls are baking, make the frosting. Place the butter in a light-colored sauce pan over medium-low heat. Once melted, the butter will begin to pop and sizzle around the edges. In about 5-8 minutes from when you started, the butter will turn dark golden brown. The majority of the popping will subside and the milk solids at the bottom of the pan will be a dark toasty brown. It will smell buttery and nutty, but not burned. Let the butter cool to room temperature.

In the bowl of a stand mixer, combine the cream cheese, confectioners sugar, salt and vanilla. Add in the room temperature browned butter and mix to combine. When all the ingredients are combined, turn the speed up to medium. Whip until light and fluffy, about 3-4 minutes.

Once the rolls are out of the oven, let them cool for about 5 minutes before adding the frosting. Spread the frosting over the warm rolls and serve.
Notes
Brioche recipe adapted from Flour: 

Spectacular Recipes from Boston's Flour Bakery + Cafe by Joanne Chang.