Rich and buttery, with a deep toasty, nutty flavor from brown butter, earthiness from pumpkin purée and warm spices like cinnamon and ginger, these chocolate dipped brown butter madeleines make the perfect accompaniment to a cup of tea or coffee.
Originating from France, madeleines teeter on the line between cake and cookie. While they're more cake in texture than a cookie, they're generally referred to as a cookie, which is a topic that is greatly debated. Whatever you call them, they're delicious sponge cakes baked in a special madeleine pan that gives them their beautiful scalloped shape. They are also known for a traditional and distinctive hump that puffs up when baking. And while madeleines require a little bit more precision than a standard cookie, they're not difficult to make and they are absolutely worth it.
Jump to:
Recipe Ingredients
Unsalted butter - Browning the butter gives these madeleines a delicious nuttiness that is all flavor and worth the extra step.
All purpose flour
Pumpkin spice - store bought or homemade
Baking powder
Salt
Eggs
Granulated Sugar
Maple syrup - This helps keep the madeleines more moist and also contributes to sweetness and flavor.
Vanilla extract
Pumpkin purée - Do not use pumpkin pie filling.
Chocolate - semi or bittersweet chocolate
Pecans - finely chopped and toasted
Recipe Instructions
In a medium saucepan, cook the butter until it is a golden brown color and smells nutty and toasted, about 5 -7 minutes. Cool to room temperature.
Whisk together the flour, pumpkin spice, baking powder and salt.
In the bowl of a stand mixer fitted with a whisk attachment, combine the eggs and sugar.
Beat for 2 minutes until thickened slightly and well combined.
Beat in the butter, maple syrup and vanilla.
Add the flour mixture.
Beat until just combined.
Add the pumpkin purée.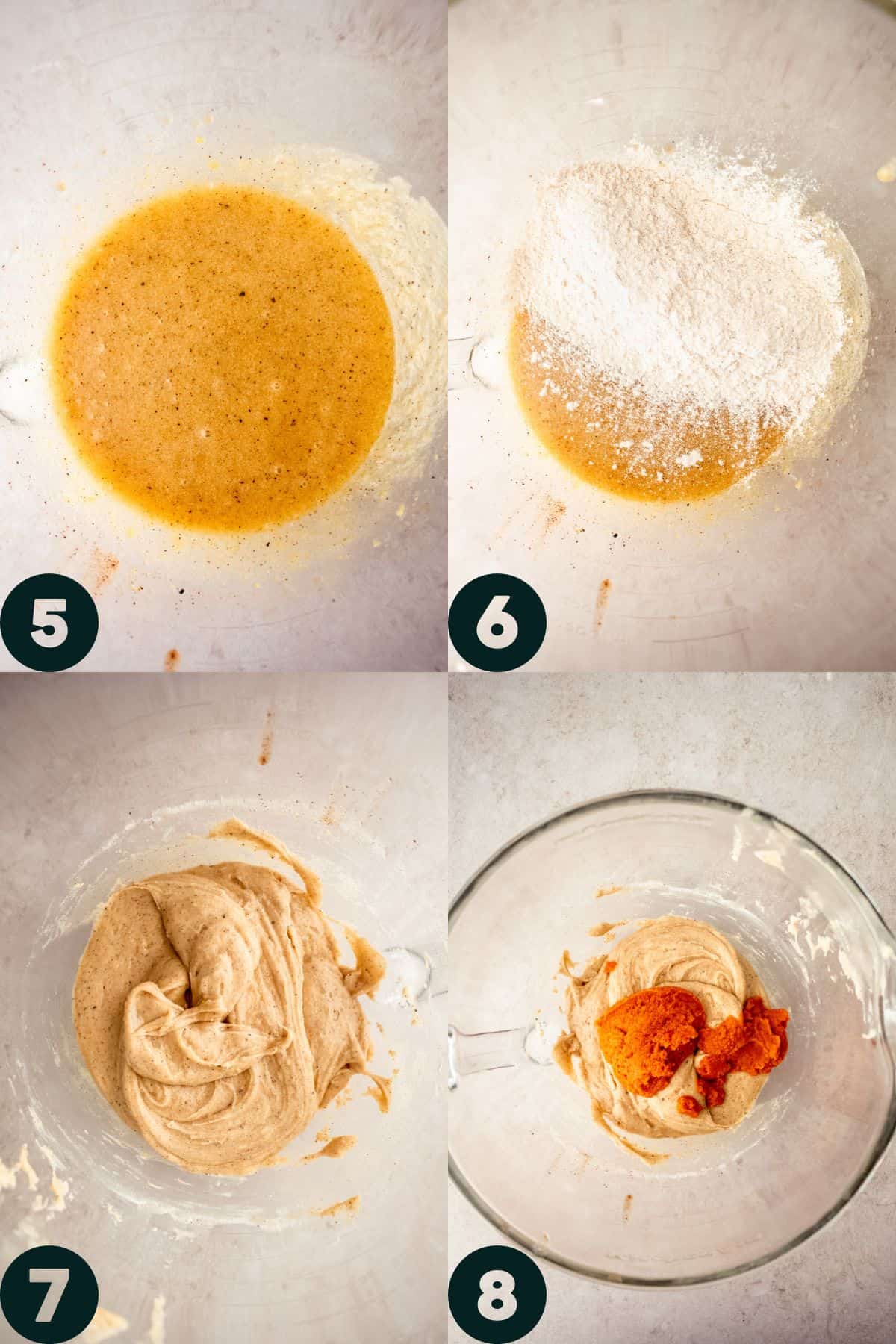 Beat until just combined. Don't over mix. Cover and chill the batter for 30-60 minutes in the refrigerator.
Spray the madeleine pan with baking spray. Alternatively butter and flour the pan.
With a cookie scoop (2 tablespoons) scoop the batter into the molds. Do not overfill. Bake for 9-10 minutes. Invert the cookies onto a cooling rack to cool.
In a microwave safe bowl, combine the chocolate and shortening.
Microwave in 30 second increments until melted and smooth.
Dip the madeleines in the chocolate. I like to dip mine at an angle.
Place the madeleines on a cooling rack after dipping. Sprinkle with pecans.
Let the chocolate set for about 20 minutes before serving.
Storage and Freezing
Madeleines are best served the day they are baked. Leftovers can be stored in an airtight container for up to 2 days.
I don't recommend freezing these as it could dry them out and change the texture. If you must to freeze them do so as soon as they cool. Individually wrap the cookies with plastic wrap, then place them in an airtight container. They can be frozen for up to 3 weeks.
Baking Tips
Even if your pan is non-stick, it still needs to be sprayed baking spray. Alternatively, you can butter and flour the pan. This will make sure they bake properly and don't stick to the pan.
Madeleine batter needs to be chilled. This allows the batter to rest, for the flour to fully hydrate and for the batter to thicken up. Chilling also helps the madeleines get their characteristic humps when baking.
Do not overfill the madeleine mold cavities. The batter spreads when baking. Too much batter and the molds will overflow.
FAQs
What kind of pan do I need to make madeleines?
You do need a madeleine pan to make these cookies. This is a pan that has scalloped shell-like cavities that give the madeleines their signature look.
Can any substitutes be made?
Regular melted butter can be used in place of brown butter.

White chocolate or milk chocolate can be used in place of the semi-sweet or bittersweet chocolate.

Swap out pecans for almonds, walnuts, hazelnuts or pistachios.
Honey can be used in place of maple syrup.
Can the madeleines be made in advance?
Madeleines should not be baked in advance as they lose moisture quickly and can dry out. You can make the batter up to two days ahead of baking them.
If you make these chocolate dipped brown butter pumpkin madeleines, let me know! Drop a comment or tag me on Instagram. I love seeing your bakes!
Enjoy!
Ash xx
For more cookie recipes, check out these posts:
White Chocolate Raspberry Rose Macarons
Whiskey and Rye Chocolate Chip Cookies
Recipe
Chocolate Dipped Brown Butter Pumpkin Madeleines
Tender and buttery madeleines made with brown butter, pumpkin purée and warm spices dipped in melted chocolate and toasted pecans
Ingredients
½

cup

unsalted butter

1

cup

all purpose flour

1

teaspoon

pumpkin spice

1

teaspoon

baking powder

½

teaspoon

fine sea salt

2

large

eggs, room temperature

½

cup

granulated sugar

2

tablespoons

maple syrup

2

teaspoons

pure vanilla extract

⅓

cup

pumpkin purée

1

cup

semisweet or bittersweet chocolate

1

teaspoon

vegetable shortening

¼

cup

pecans, finely chopped and toasted
Instructions
Place the butter into a medium saucepan over medium heat. Let the butter cook while occasionally stirring to ensure the butter is cooking evenly.

Cook the butter until it is a golden brown color and smells nutty and toasted, about 5 -7 minutes. Remove the pan from the heat.

Let the butter cool to room temperature.

Combine the flour, pumpkin spice, baking powder and salt in a medium bowl and whisk to combine.

1 cup all purpose flour,

1 teaspoon pumpkin spice,

1 teaspoon baking powder,

½ teaspoon fine sea salt

In the bowl of a stand mixer, fitted with the whisk attachment, combine the eggs and sugar. Beat on medium speed for 2 minutes until well blended.

2 large eggs, room temperature,

½ cup granulated sugar

Beat in the cooled butter, maple syrup and vanilla extract.

2 tablespoons maple syrup,

2 teaspoons pure vanilla extract

Add the flour mixture, beating on low speed, until just combined.

Add the pumpkin purée, beating until just combined. Do not over mix.

Cover the bowl and place in the refrigerator for at least 1-2 hours.

During the last few minutes of chilling, preheat the oven to 350°F (177°C).

Spray the madeleine pan with baking spray.

Use a cookie scoop to place about 2 tablespoons of batter into each mold. Do not over fill. Each mold should be filled about ¾ of the way.

Bake for 9-10 minutes. The madeleines are done when the tops spring back after lightly pressed with your finger, or when a toothpick inserted comes out clean. Invert the pan onto the counter, tapping to release the madeleines. Transfer the madeleines to a wire rack to cool.

While the madeleines cool, melt the chocolate and shortening in a microwave safe bowl in 30 second increments. Stir between each increment until fully melted and smooth.

1 cup semisweet or bittersweet chocolate,

1 teaspoon vegetable shortening

Dipped the cooled madeleines into the chocolate and place on a drying rack.

Before the chocolate sets, sprinkle with chopped pecans. Let the chocolate set, then serve.

¼ cup pecans, finely chopped and toasted
Nutrition
Serving:
1
madeleine
Calories:
202
kcal
Carbohydrates:
21
g
Protein:
3
g
Fat:
12
g
Saturated Fat:
7
g
Polyunsaturated Fat:
1
g
Monounsaturated Fat:
4
g
Trans Fat:
0.3
g
Cholesterol:
39
mg
Sodium:
111
mg
Potassium:
107
mg
Fiber:
1
g
Sugar:
12
g
Vitamin A:
1012
IU
Vitamin C:
0.3
mg
Calcium:
34
mg
Iron:
1
mg