This post may contain affiliate links. Please refer to my privacy policy for more information.
After the heavy meals and baked goods of the holiday season, I couldn't be happier to be welcoming winter citrus season. The bright and fresh flavors of citrus is a fresh breath of air when the weather is biting cold and sunlight is minimal. Kicking off this winter, I'm sharing the recipe for my grapefruit poppyseed loaf cake. Not only is this cake simple to prepare, it's perfect with a cup of tea, for breakfast or dessert and is absolutely delicious.
This grapefruit poppyseed loaf cake is tender, fluffy and bursting with citrusy flavor. I used pink grapefruit for this recipe - you will need the zest and the juice, and also poppyseeds. This loaf cake is incredibly versatile and is also delicious with oranges, lemons, limes, etc, so feel free to substitute your favorite citrus.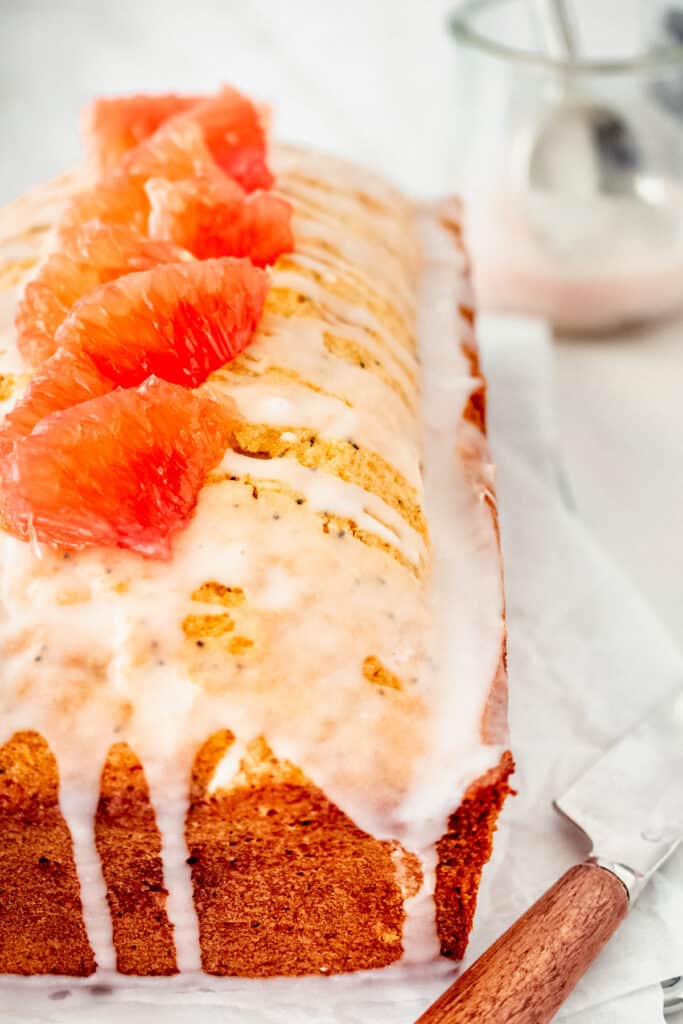 How to make grapefruit poppyseed loaf cake
Room temperature butter is beaten with sugar and grapefruit zest and to get maximum flavor from the oils in the grapefruit zest (the flavor, essentially) until light and fluffy. Beating the mixture also makes for a tender and fluffy cake. Beat for a full 3-5 minutes so that the texture has lightened color and appears lighter and fluffier in texture. Vanilla and eggs are beaten in, followed by the addition of flour, baking powder, salt and poppyseeds while alternating with milk.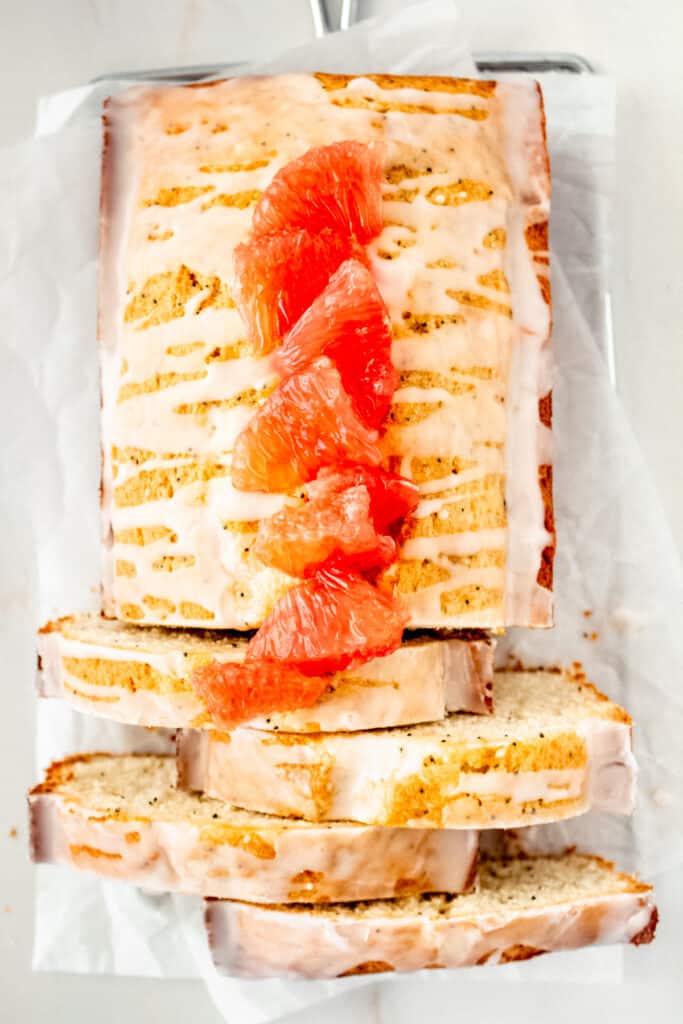 I baked this cake in an 8 ½″ by 4 ½″ loaf pan but you can use a 9 x 5 loaf pan if you have that on hand. Bake until the loaf comes out with a few remaining moist crumbs and the top is golden brown. I find that with bundt, pound and loaf cakes, when checking for doneness, you don't want a perfectly clean toothpick. You definitely don't want wet batter either, so inserting a toothpick and it coming out with a few moist (but not wet) crumbs is the best way to tell that the cake is done.
Grapefruit Glaze
While the cake is cooling, prepare the glaze. Simply whisk together the confectioner's sugar and fresh grapefruit juice until thickened and thoroughly mixed. You can give your grapefruit glaze a pink tint, by using a toothpick and adding just a tad of pink or red gel color to it. This glaze is creamy and tangy, amping up that grapefruit flavor from the cake. Pour or drizzle the glaze over the cake once cooled. Let the glaze set up for just a bit, about 10 minutes and garnish with some extra grapefruit segments before slicing and serving.
If you make my grapefruit poppyseed loaf, let me know! Drop a comment or tag me on Instagram. I love seeing your bakes and creations.
Enjoy!
Ash xx
For more cake recipes, check out these posts:
Blueberry Lemon Thyme Loaf Cake
Brown Butter Chocolate Chip Cake with Bourbon Dulce De Leche Buttercream
Chocolate Hazelnut Praline Cake
Recipe
Grapefruit Poppyseed Loaf Cake
Moist, tender and buttery loaf cake with grapefruit zest and poppyseeds, topped with a sweet and tangy grapefruit glaze
Ingredients
Grapefruit Poppyseed Loaf Cake
½

cup (113g)

unsalted butter, room temperature

1

cup (198g)

granulated sugar

1

heaping tablespoon

grapefruit zest

2

large

eggs, room temperature

1

teaspoon

pure vanilla extract

1 ⅔

cups (200g)

all purpose flour

1 ½

teaspoons

baking powder

¼

teaspoon

fine sea salt

1

tablespoon

poppyseeds

½

cup (114g)

whole milk, room temperature
Grapefruit Glaze
1

cup (114g)

confectioner's sugar

¼

cup

fresh grapefruit juice
Instructions
Make the grapefruit poppyseed loaf cake.
Preheat the oven to 350F. Spray a 8.5 x 4.5 or 9 x 5 pan with baking spray. Or, butter the pan, sprinkle with flour, and tap out the excess flour over the sink.

In a medium bowl, whisk together the 1 ⅔ cups of flour, baking powder, salt, and poppyseeds. Set aside.

In the bowl of a stand mixer fitted with the paddle attachment, cream the butter, sugar, and grapefruit zest on medium-high speed until light and fluffy, about 3-5 minutes.

Add the vanilla. Add the eggs one at a time, scraping the bowl after each one has been added.

With the mixer on low speed, add the flour mixture to the batter in the three additions, alternating with the milk in two additions, beginning and ending with the flour. Mix until just combined.

Pour the batter into the pan and bake 45-55 minutes or until a toothpick stuck in the loaf comes out with few moist crumbs, but no wet batter.

Cool the loaf in the pan for 15 minutes on a cooling rack. Remove the loaf from the pan and place on the cooling rack to continue cooling.
Make the grapefruit glaze.
In a small bowl, whisk together the confectioner's sugar and grapefruit juice until thickened and well combined.

Pour or drizzle the glaze over the cooled loaf cake. Top with grapefruit segments, slice and serve.