These banana scones with espresso glaze have a golden brown crisp exterior and a flaky, moist, buttery interior of a scone with the all the best flavors of banana bread. Topped with an espresso glaze that adds sweetness and a pop of fresh coffee flavor, these scones are a must bake.
While these banana scones are amazing without glaze, they get even BETTER with a drizzle of espresso glaze. This is the opportunity to add additional flavor to the scones, as well as sweetness. So I like to use my favorite coffee or espresso for the glaze.
Jump to:
Why You Will Love This Recipe
These scones are buttery, tender and moist with a crisp exterior, and loaded with the best flavors of banana bread.
These scones are made using a stand mixer. No need to cut in butter by hand. Alternatively, you can also use a food processor.
These scones stay moist and flavorful for days.
This is an eggless recipe. No eggs make these scones more similar to a biscuit, so they're lighter and more tender. No dense, hard scones here.
These are so delicious and easy to make. With my easy to follow step by step instructions, you'll be whipping up the best banana scones in no time.
Recipe Ingredients
Banana - You will need one large super ripe banana. The more ripe it is, the sweeter it is and better the flavor. You want your banana to browning, spotting and soft. These scones are perfect for trying to use up one lone overripe banana.
Buttermilk - Buttermilk provides extra moisture and tenderness to the scone, and a bit of that tangy flavor that buttermilk lends to baked goods to really make them amazing. Buttermilk also will result in a loftier scone because it reacts with the acid in the leavening agents.
All purpose flour
Baking powder
Baking soda
Fine sea salt
Unsalted butter
Brown sugar - While very little sugar is used in this recipe, there is sweetness also coming from the banana and glaze too.
Spices - cinnamon and a touch of nutmeg
Vanilla extract
Pecans - I love pecans with bananas but almonds, hazelnuts and walnuts work well too. If you don't like nuts, they can be omitted.
Heavy cream or half and half
Turbinado sugar - added sweetness and crunch
Confectioners' sugar
Prepared espresso or coffee
Recipe Instructions
Before beginning the recipe, preheat the oven to 400F, and line a large baking sheet with parchment paper.
Toast the pecans. Place the chopped pecans on the baking sheet and toast in the oven for 5-7 minutes, stirring after every 2-3 minutes. Let the pecans cool.
Mash the banana. Mash a ripe banana with a fork. A few lumps are fine, but mostly smooth is best.
Stir the buttermilk and vanilla into the mashed bananas.
Whisk together the dry ingredients. In the bowl of a stand mixer, combine the dry ingredients, and mix for 30 seconds.
Cut in the butter. Place the cold, cubed butter into the dry ingredients and mix on low until the mixture resembles coarse crumbs, with few pea sized pieces.
Stir in the pecans.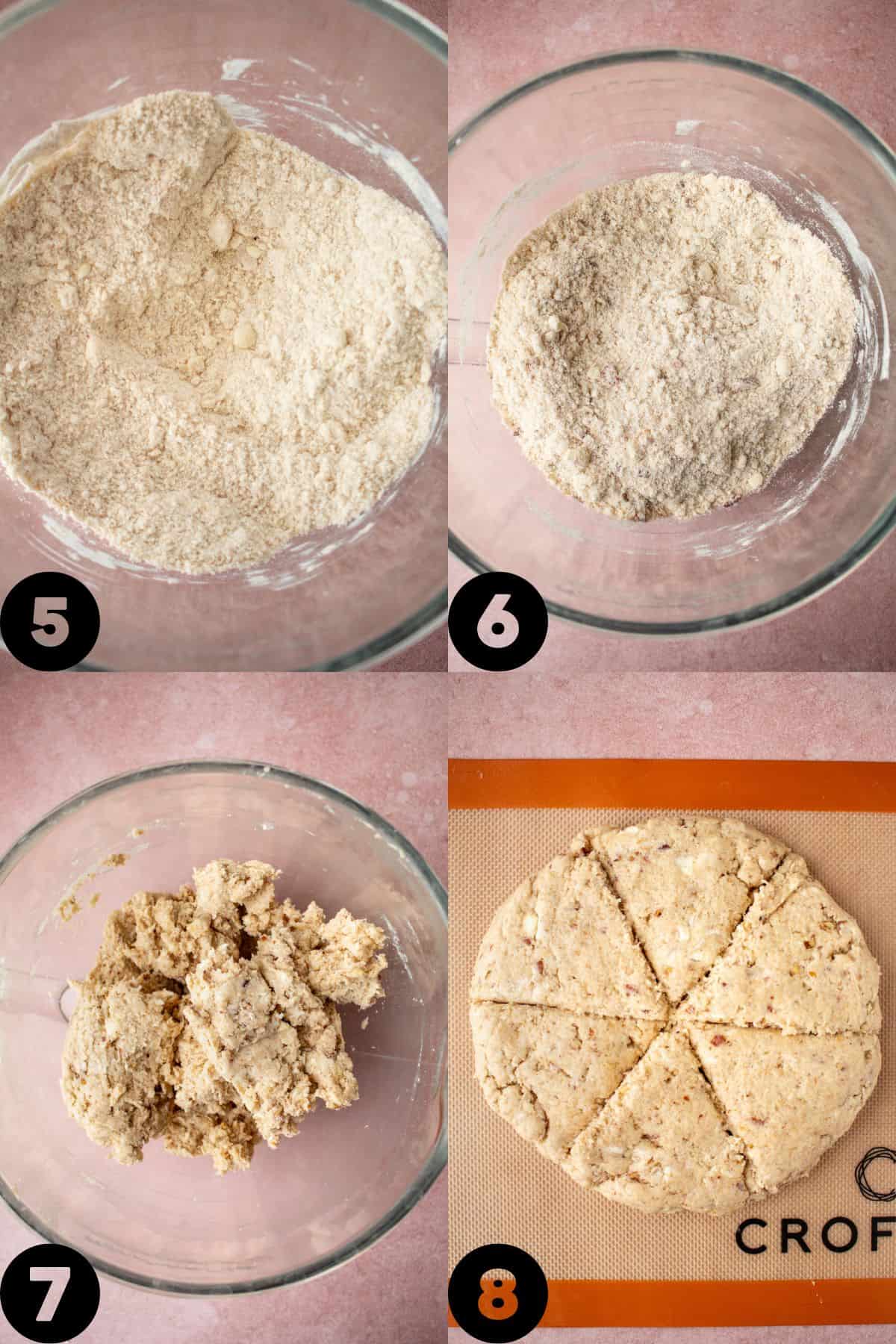 Mix in the banana/buttermilk mixture, until just mixed.
Form the dough into a 6" round and cut into 6 scones. Place the scones on the baking sheet. Chill for 30-45 minutes.
Brush the tops of the scones with cream and sprinkle with turbinado sugar.
Bake the scones, until golden brown, 22-25 minutes.
Make the glaze, while the scones cool. Whisk together the espresso, confectioners' sugar, salt and vanilla. The glaze should be thick but pourable.
Drizzle the glaze over the scones. Sprinkle with remaining pecans.
Baking Tips
Don't overwork the dough. Overworking the dough can make the scones tough and flat.
Chill the scones before baking. This allows the butter to firm back up, and all the ingredients to cool back down which makes for flaky and tender scones. 
I recommend using a stand mixer for this recipe. But you can use a food processor instead or make them by hand with a pastry cutter. Do not use a hand mixer as it over mixes the dough.
Storage and Freezing
Scones can be stored at room temperature for up to 3 days. I like to pop them in the oven at 350F for a minute or two to warm and crisp it up. Keep an eye on them so the glaze doesn't melt off.
Unbaked scones can be stored in the freezer and popped into the oven in the morning for freshly baked scones. Unbaked scones can be covered and refrigerated overnight, or placed in an airtight container and frozen for up to 1 month.
Substitutions and Variations
Omit the nuts if you don't like them or there is an allergy. You can use any type of nut for this recipe, but I think pecans and walnuts are the best.
In place of turbinado sugar, demerara, raw or sanding sugar can be used.
Replace the pecans with hazelnuts and serve the baked scones with Nutella.
FAQs
How many scones does this recipe make?
This recipe makes 6 large sized scones. You can make 12 smaller scones instead of 6 large. Bake for 15-18 minutes. This recipe also doubles well.
Why does this recipe not have eggs? Don't scone recipes have eggs?
A lot of scone recipes have eggs. The addition of eggs makes the scones more cake-y and dense. This scone recipe is lighter, tender and buttery, and in my opinion, the best way to have them.
I hope that you enjoy these banana scones with espresso glaze as much as I do! If you make them, let me know and leave a comment or tag me on Instagram.
Enjoy!
More Breakfast Recipes To Try
Lemon Jasmine Blueberry Scones
Chocolate Glazed Banana Donuts
Recipe
Banana Scones with Espresso Glaze
Tender, buttery and lightly spiced banana scones with a crispy exterior drizzled espresso glaze and toasted pecans.
Ingredients
½

cup (1 large, ripe banana)

mashed banana

¼

cup

buttermilk, cold

½

teaspoon

vanilla extract

2 ½

cups

all purpose flour

½

cup

light brown sugar, packed

1 ½

teaspoons

baking powder

¼

teaspoon

baking soda

½

teaspoon

fine sea salt

¾

teaspoon

cinnamon

⅛

teaspoon

nutmeg

½

cup (1 stick)

unsalted butter, cut into cubes, cold

⅓

cup

pecans, coarsely chopped and toasted

1

tablespoon

heavy cream or half and half

1

tablespoon

turbinado sugar, for sprinkling

1

tablespoon

prepared espresso or coffee, hot

½

cup

confectioner's sugar

¼

teaspoon

pure vanilla extract

1

tablespoon

pecans, finely chopped and toasted
Instructions
Combine the mashed banana, buttermilk, and vanilla into a medium bowl. Set aside.

½ cup (1 large, ripe banana) mashed banana,

¼ cup buttermilk, cold,

½ teaspoon vanilla extract

In the bowl of a stand mixer, combine the flour, brown sugar sugar, baking powder, baking soda, salt, cinnamon and nutmeg. Mix on low for minute.

2 ½ cups all purpose flour,

½ cup light brown sugar, packed,

1 ½ teaspoons baking powder,

¼ teaspoon baking soda,

½ teaspoon fine sea salt,

¾ teaspoon cinnamon,

⅛ teaspoon nutmeg

Add the cold, cubed butter to the flour mixture and mix on medium low speed, until the mixture looks sandy and the mixture resembles pea-sized crumbs.

½ cup (1 stick) unsalted butter, cut into cubes, cold

Only low speed, mix in the pecans.

⅓ cup pecans, coarsely chopped and toasted

Beat in the banana/buttermilk mixture, and mix until everything is just moistened. You may have some straggly bits that aren't completely mixed in. That's ok. Don't overwork the dough.

Scoop the dough onto the counter and, with floured hands, work dough into a 6 inch disc shape. The dough should be sticky. If it seems too dry, and won't stick together well, add another teaspoon of buttermilk.

With a sharp knife or bench scraper, cut the disc into 6 equal wedges.

Place the scones onto a baking sheet lined with parchment paper. Chill in the refrigerator for 30 - 45 minutes uncovered.

While the scones are chilling, preheat the oven to 400F.

Brush the tops of the scones with heavy cream. Sprinkle the tops with turbinado sugar.

1 tablespoon heavy cream or half and half,

1 tablespoon turbinado sugar, for sprinkling

Bake for 20-23 minutes or until golden brown. Remove the scones from the oven and let them cool for 10 minutes.

While the scones cool, whisk together the espresso, vanilla, and confectioner's sugar until combined. If the glaze is too thick add ½ teaspoon more of espresso until the glaze is the right drizzling consistency.

1 tablespoon prepared espresso or coffee, hot,

½ cup confectioner's sugar,

¼ teaspoon pure vanilla extract

Drizzle the scones with the glaze and sprinkle the remaining 1 tablespoon of pecans over the scones.

1 tablespoon pecans, finely chopped and toasted
Nutrition
Serving:
1
scone
Calories:
493
kcal
Carbohydrates:
77
g
Protein:
7
g
Fat:
23
g
Saturated Fat:
11
g
Polyunsaturated Fat:
2
g
Monounsaturated Fat:
7
g
Trans Fat:
1
g
Cholesterol:
46
mg
Sodium:
365
mg
Potassium:
204
mg
Fiber:
3
g
Sugar:
23
g
Vitamin A:
564
IU
Vitamin C:
2
mg
Calcium:
109
mg
Iron:
3
mg