This post may contain affiliate links. Please refer to my privacy policy for more information.
Oh my goodness guys, these cookies. It was so hard to not eat ALL of them when testing this recipe - they are so good. The other taste testers of this cookie have been eagerly waiting for me to share this recipe, so I'm super excited to be sharing my brown butter maple pecan cookies with you today.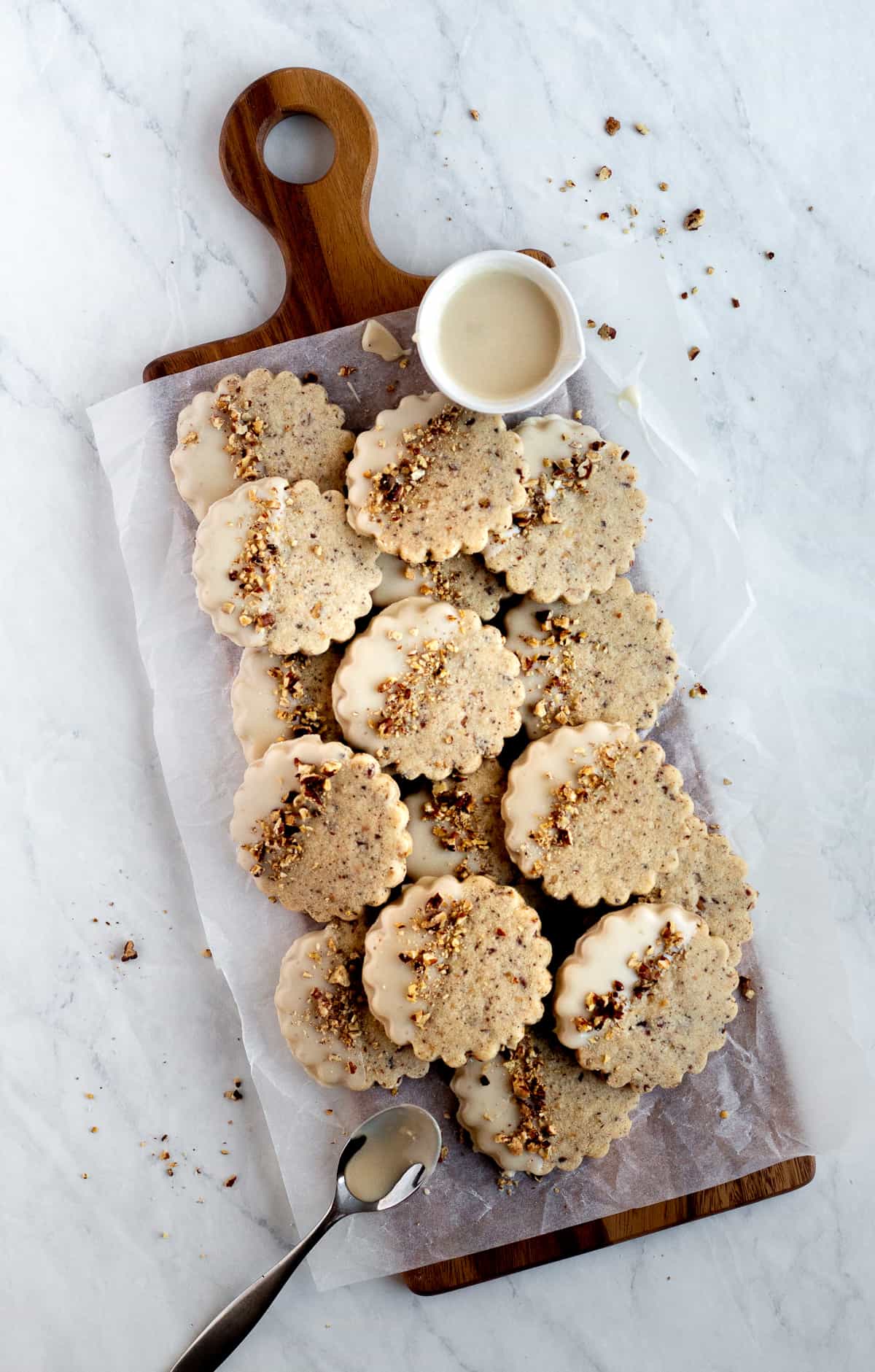 There are so many yummy elements to these brown butter maple pecan cookies, it's hard to peg down exactly what makes them so good. Buttery, nutty, and crumbly shortbread cookies made with brown butter and filled with toasted, finely chopped pecans are dipped in a maple glaze with REAL maple syrup, and just a bit of maple extract for some extra maple flavor. I top them with some more toasted pecans for some extra crunch.
Browning butter is fairly fast and easy and really elevates any dessert you choose to use it in. Brown butter by heating it until the milk solids turn a deep golden brown. The butter will pop and bubble as it cooks, but as the popping and bubbling start to slow down, that means your brown butter is close to being cooked. It's important to keep an eye on your browning butter as it can go from perfect to burned fairly quickly.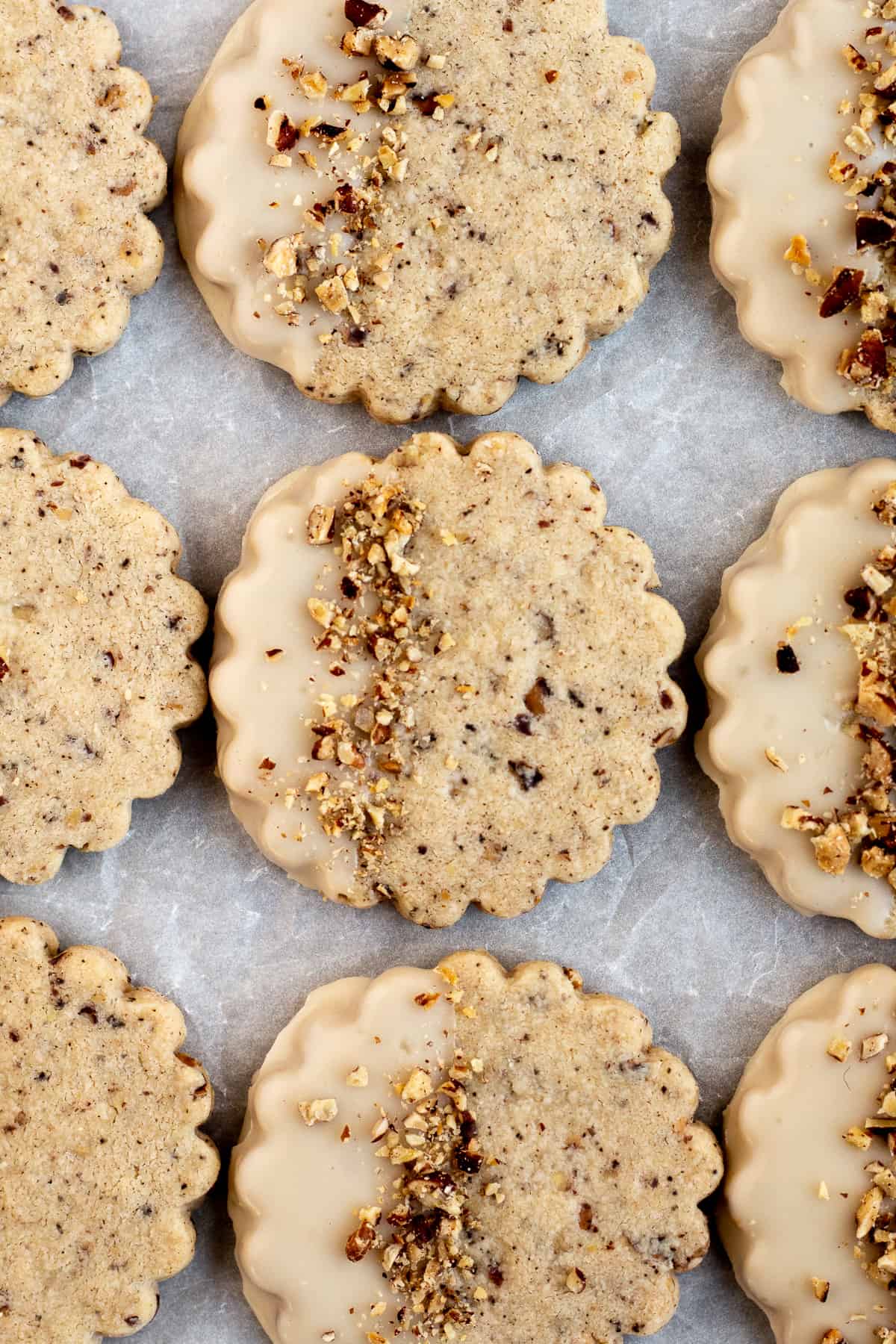 Toasting nuts before using them in a recipe does a few things to really bring out their flavor. The oils in the nuts are activated when toasted and come to the surface, which allows the nut to crisp up. This amps up their flavor and tones down the sometimes bitter flavor raw nuts can have. Toasting nuts is really the only way to allow nut flavors to shine through and work with stronger flavors, like chocolate, rather than being completely overshadowed by those stronger flavors.
I used to totally skip the process of toasting nuts for a recipe when I was in a hurry. I mean, why take the time to toast them when they toast while they're cooking, right? Unfortunately, they don't actually toast when cooking. The other ingredients prevent the nuts from getting hot enough to actually toast. Liquids in the recipe don't allow the nuts to properly crisp as they would when toasting.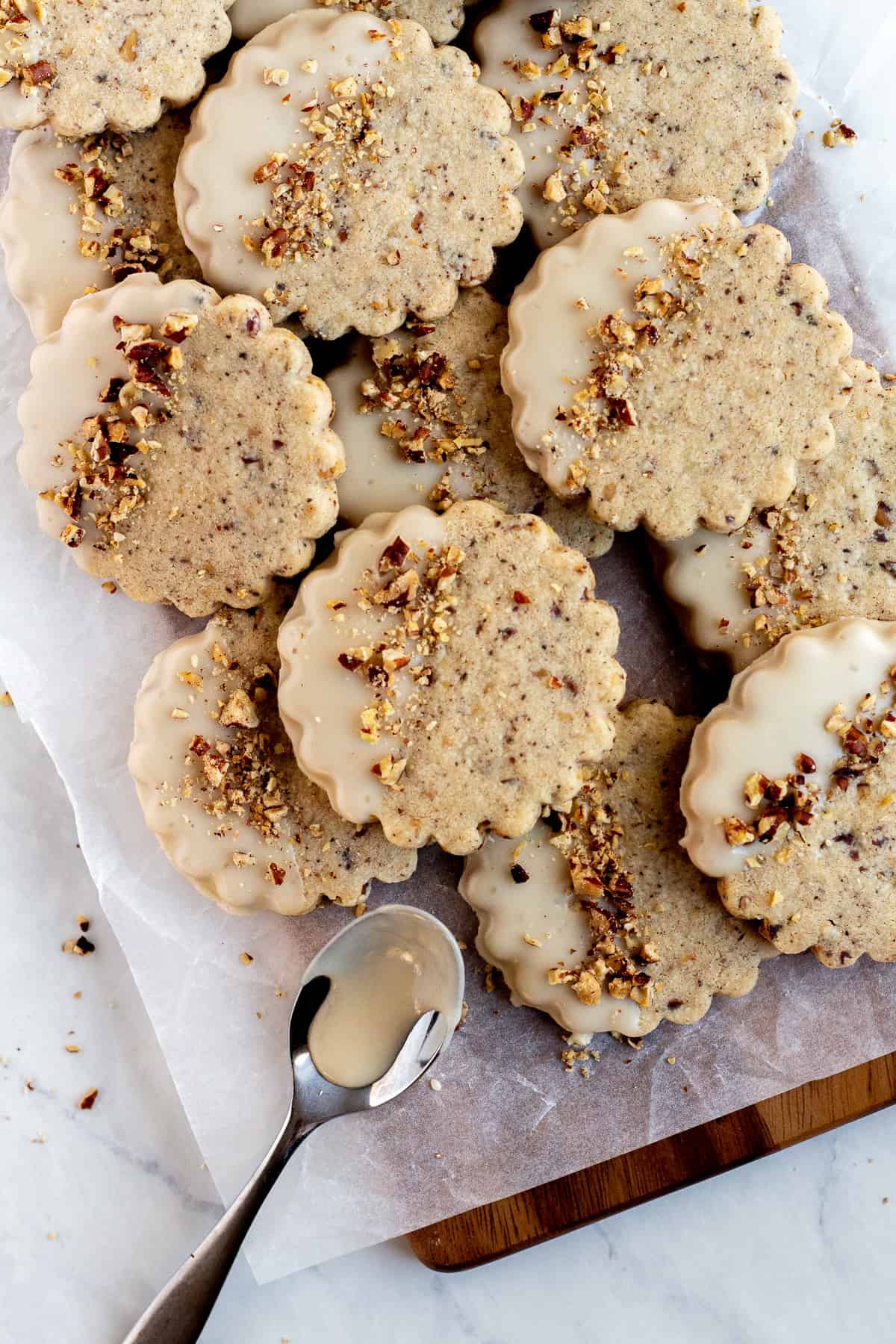 Luckily, toasting nuts is super easy. Just pop them on a cookie sheet into a 350F oven and toast for 6-8 minutes, stirring halfway, until they've darkened slightly and they have a toasty aroma. Keep an eye on them because if they burn, it's game over and you'll need to start over. Err on the side of under-toasted if you're concerned about burning them.
I just used a simple, fluted round cookie cutter for my cookies but you can, of course use any cutter you would like. These cookies would look super cute cut out into maple leaves! Chill the cookie dough in the refrigerator after cutting out the cookies so that the butter firms up and decreases the chances of spreading when baked.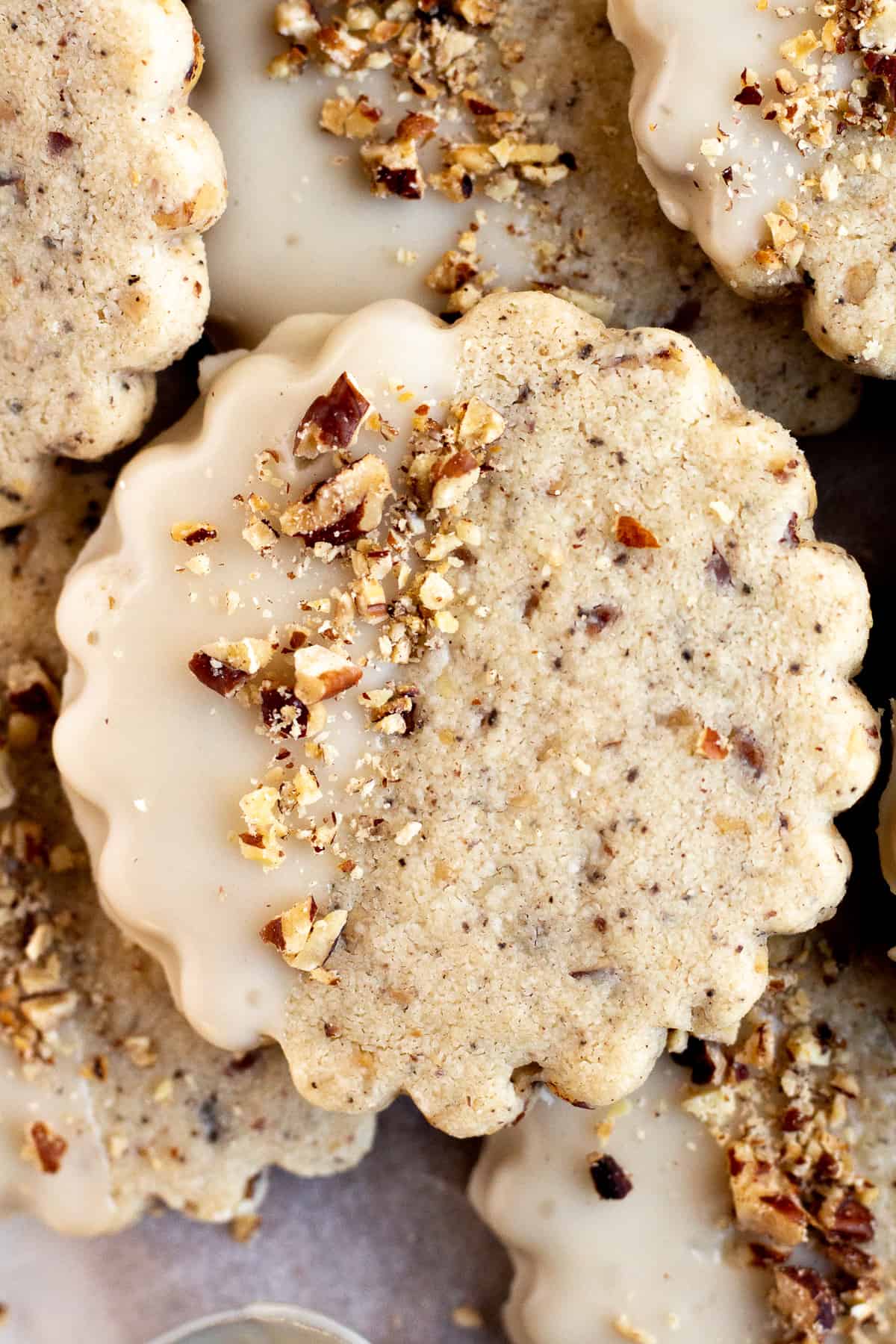 The maple glaze really takes these cookies to the next level. I use real maple syrup in this glaze, but I cut it with a little bit of water so that the glaze isn't too sweet. To help amp up that maple flavor, I use a little bit of a good quality maple extract.
These brown butter maple pecan cookies would be the perfect addition to your holiday cookie platter. Bring these to your next cookie swap and they are sure to be a hit. Enjoy!
*Update 12/10/22  - Some tips for successful cookies*
I've gotten a couple of messages asking me about the dough for these cookies. And I want to make sure you have as much success as possible, so I'm sharing some tips that could be useful when making these cookies. These cookies are similar in texture to a shortbread cookie, so the dough will be sandy and the cookies will have a soft, shortbread texture when baked. If you cannot get the dough to hold together in when mixing, you can add up to three tablespoons of cream or half and half to the dough. You want the dough to just hold together. With the first round of chilling, the dough is not being chilled to keep it cold, but it's to let the dough rest and let the flour properly absorb the liquid and to relax the gluten so that it is easier to roll.
With any cookie dough that needs to be chilled, allow the dough to come to room temperature before rolling it out, if you've let the dough chill to the point the butter has firmed back up. Trying to roll it out cold is not recommended. It will be near impossible to keep the dough together and will be incredibly difficult to roll it out.
Additionally, after the 30 minutes of chilling are up, roll the dough while it is still wrapped in cling wrap. The dough will stretch the cling wrap and this can be especially helpful in getting the dough to keep its shape, and getting a head start in rolling it out.
You can also roll the dough out between two pieces of parchment paper or wax paper, and that will help prevent any sticking. It also makes rolling out any cookie dough much easier.
These cookies are totally the time to make. I make them all the time and they are a family favorite. I hope you love them as much as I do. Feel free to message me with any questions.
For more cookie recipes, check these out!
Bakery Style Chocolate Chip Cookies
Recipe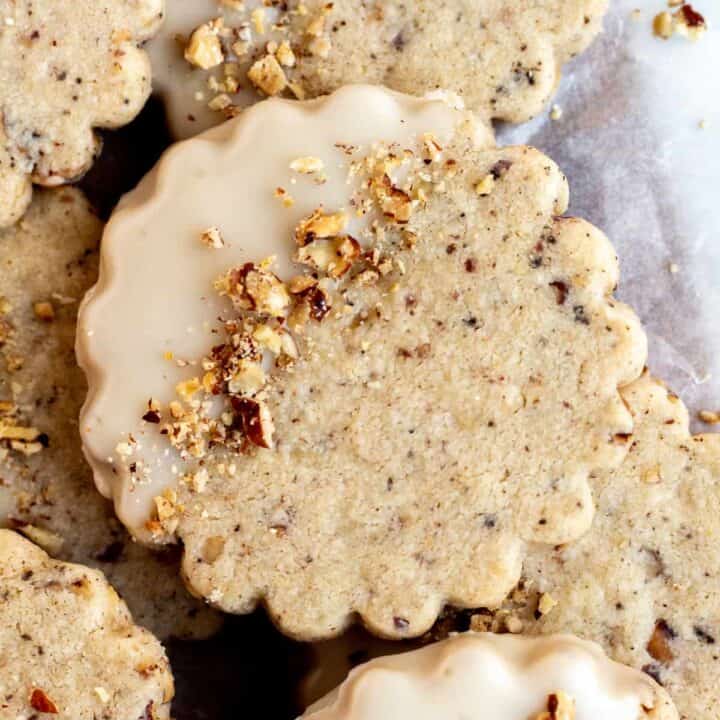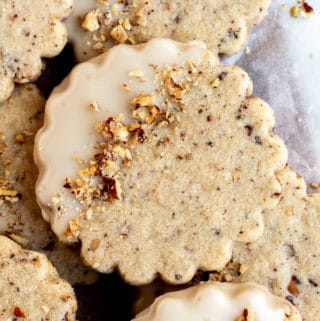 Brown Butter Maple Pecan Cookies
Buttery, crumbly and nutty brown butter shortbread cookies with toasted, chopped pecans and a sweet maple glaze.
Ingredients
Cookies:
1

cup

unsalted butter

½

cup

confectioner's sugar

½

tsp

fine sea salt

2

cups

all purpose flour

½

cup

pecans, toasted and finely chopped
Maple Glaze:
2

cups

confectioner's sugar

3

tablespoons

real maple syrup

2-3

tablespoons

water

½

teaspoon

maple extract

⅛

teaspoon

Fine sea salt
Instructions
Make the cookie dough:
Place the butter into a medium saucepan over medium heat. Let the butter cook while occasionally stirring to ensure the butter is cooking evenly.

Cook the butter until it is a deep golden brown color and smells nutty and toasted, about 5 -7 minutes. Remove the pan from the heat.

Let the butter cool to room temperature. Place the butter in the refrigerator until solid but scoopable and still soft.

Combine the butter, the confectioner's sugar and the salt into a bowl of a stand mixer.

Beat on low speed until combined, stopping to scraping the bowl to ensure all ingredients are well mixed.

Add the flour and the pecans to the butter mixture and mix until just combined, and no flour remains in the bowl.

Transfer the dough to a lightly floured surface or a non-stick mat, and form the dough into a ball. Flatten to a disc, about 1" high, and wrap tightly with plastic wrap.

Chill the dough in the refrigerator for 30 minutes.
Roll and cut out the cookies:
Heat the oven to 350F. Line two cookies sheets with parchment.

On a lightly floured surface or a non-stick mat, roll out the dough to about ¼" thick.

Using a round fluted cookie cutter, cut out rounds out of the dough and place on the parchment cookie sheets, leaving about 2" between the cookies.

Bake the cookies for 17-20 minutes until the edges are just starting to lightly brown. Cool for 10 minutes on the cookie sheets. Transfer the cookies to a cooling rack to cool completely.
Make the maple glaze:
In a medium bowl, whisk together the confectioner's sugar, salt, maple syrup, water, and maple extract until smooth.

Dip half of the cookies into the glaze and place on parchment paper.

While the glaze is still wet, sprinkle with finely chopped pecans.

Let the glaze set completely before serving.
Notes
Cookies will stay fresh in an airtight container for up to a week.