This post may contain affiliate links. Please refer to my privacy policy for more information.
Every holiday season when I was growing up, my mom and I would bake batches and batches of cookies the weeks leading up to Christmas. It was something I always looked forward to. I always hovered around to eat what was being baked, and also waited patiently to help cut out and decorate the sugar cookies. To this day, sugar cookies still always end up on our Christmas cookie platter as they are a family favorite.
While I've decorated loads of sugar cookies - a byproduct of owning a baking business, snowflake sugar cookies are some of my favorite to decorate. My snowflake sugar cookies will easily become your go-to cut out sugar cookie recipe. These cookies come together easily, roll out like a dream, and keep their shape when baked. Roll them out thinner for a crispier cookie, or roll them out thicker for more of a softer cookie.
The cookie dough has pretty typical ingredients found in a sugar cookie dough recipe, with butter, sugar, eggs, flour, salt and flavoring. I use vanilla bean paste with a hint of almond to flavor my cookies, but you can add zests, different extracts, herbs and spices to these cookies if you wish. These cookies are very versatile and adaptable to different flavor combinations.
One of the biggest issues that bakers tend to have with sugar cookies is spreading while baking. Some ways to prevent this is to just beat your butter and sugar together until combined. No need for "light and fluffy" for these cookies. Incorporating air during the beating process contributes to spread as it causes the cookies to puff up and deflate and spread while baking. Chilling the dough before baking is also an important step to help keep the cookies from spreading.
I should mention that I am not a pro cookie decorator. I generally do basic cookie decorating, but I do decorate cookies from time to time throughout the year, so I do have a few helpful tips and tricks that can help making cookie decorating a bit easier. I used royal icing to decorate my cookies but I use corn syrup in my recipe to help keep the icing from getting rock hard when dry, and it also helps the icing have a bit more elasticity when piping. The corn syrup also leaves the icing with a bit more shine. Royal icing with corn syrup does take just a little bit longer to dry at room temperature, but drying time can be sped up by drying the cookies in front of a fan.
If I'm planning for more of an intricate design for my cookies, I'll trace the cookie cutter onto some sketch paper, then I'll sketch out the design on the sketch paper to give me a better idea of what I'm trying to achieve, and to see if the design works and would translate well to the cookies. I got my snowflake cookie cutter from Target years ago, but any snowflake cookie cutter will work. Mine is about 4", so it makes a cookie on the larger side.
Once I decided my design on paper, I used an edible ink marker and sketched out the basic design on my baked and cooled cookies. Use a lighter color, such as yellow or light brown and just do a light sketch so that the ink can't be seen under the royal icing. I used two different icing consistencies - medium thick for outlining and a flooding consistency for filling in. I used three different icing tips - PME 1, 2, and 4. PME 2 for outlining, PME 1 for small details and PME 4 for "flooding,"or filling the cookies in with icing.
I topped my still wet cookies with a bit of sanding sugar to finish the design. Let the royal icing set completely before storing. Decorated sugar cookies will stay fresh for a week stored in an airtight container. I do not recommend freezing iced cookies. Condensation can ruin your royal icing, causing it to bleed colors and melt. You can freeze the cookies without icing. You can also refrigerate and freeze the royal icing, storing it in an airtight container.
These snowflake sugar cookies are the perfect cut out cookie for all your cookie decorating projects. They're delicious, versatile and perfect for decorating for any holiday. Enjoy!
Check out these posts for more cookie recipes:
Bakery Style Chocolate Chip Cookies
Brown Butter Maple Pecan Cookies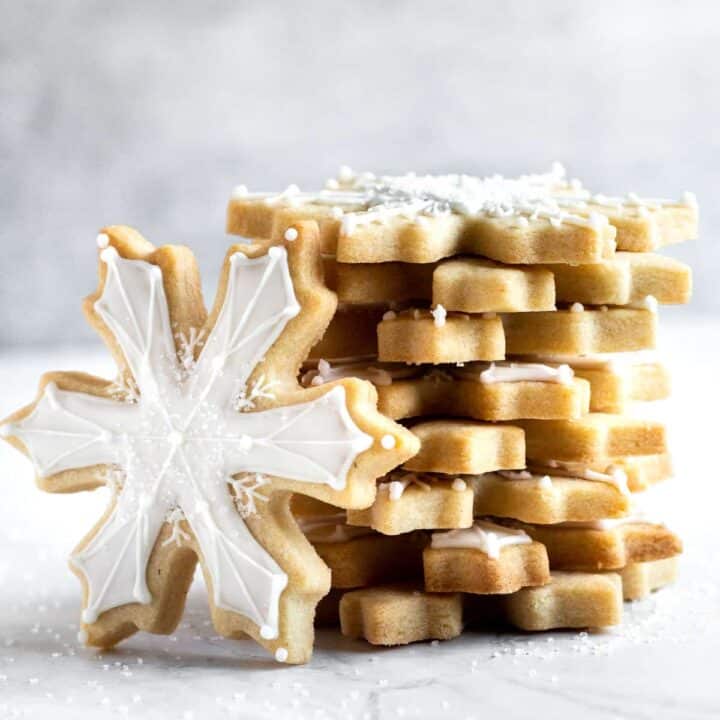 Snowflake Sugar Cookies
Buttery, tender sugar cookies that will easily become your go-to cut out sugar cookie recipe. These cookies come together easily, roll out like a dream, and keep their shape when baked.
Ingredients
Sugar Cookies:
1

cup

unsalted butter, room temperature

1

cup

granulated sugar

1

large

egg, room temperature

2

teaspoons

vanilla bean paste

¼

teaspoon

almond extract

3

cups

all purpose flour

¼

teaspoon

fine sea salt
Royal Icing:
4

cups

confectioner's sugar, sifted

3

tablespoons

meringue powder

4

tablespoons

warm water

1

teaspoon

vanilla extract

2

teaspoons

light corn syrup
Instructions
Make the cookies:
In the bowl of a stand mixer fitted with the paddle attachment, beat together the butter and sugar until thoroughly combined.

Add the egg, beating until just combined.

Scrape down the bowl. Add the vanilla bean paste and the almond extract and beat to combine.

With the mixer on low speed, gradually add the flour and the salt and beat until just combined.

Turn the dough out onto a work surface sprinkled lightly with confectioner's sugar. Pat the dough into a disc shape.

Wrap tightly with plastic wrap and place in the refrigerator for at least 30 minutes.

Heat the oven to 350F. Line two cookie sheets with parchment paper.

Place the dough on a work surface that has been sprinkled with confectioner's sugar. Sprinkle the top of the dough and the rolling pin lightly with confectioner's sugar to prevent from sticking.

Roll out the dough to ⅛-3/8" thick, depending on your preference, rotating the dough as you roll to prevent the dough from sticking.

Cut out desired shapes and place the cookies 2" apart on the cookie sheets.

Place the cookie sheets into the refrigerator for at least 30 minutes to chill.

Bake the cookies for 17-20 minutes, until starting to turn a light golden brown on the edges. Rotate the cookie sheets, halfway through baking.

Let the cookies cool on the cookie sheets for 10 minutes, before transferring them to a cooling rack to cool completely.
Make the royal icing:
In the bowl of a stand mixer fitted with the paddle attachment, combine the confectioner's sugar and meringue powder.

Add the warm water, corn syrup and vanilla extract.

Beat on low until everything is blended. Turn the mixer to medium-high speed and mix until the icing forms stiff, glossy peaks, about 5-7 minutes.

Icing can be thinned with water depending on the desired consistency. Gel or powder food color can be used to color the icing. Keep the icing covered with a damp towel to keep from drying out. Decorate your cookies as you wish.
Notes
Sugar cookie dough will keep in the refrigerator for up to three days. Dough can be frozen for up to a month.
This recipe makes 16-22 cookies depending on the size of the cutter used. I get 18 cookies with my 4" snowflake cookie cutter.