This post may contain affiliate links. Please refer to my privacy policy for more information.
Oh hi! Guys, I have been living my best autumn-pumpkin-caramel apple life. Fall is my absolute favorite season. I thrive this time of year, and I'm totally energized by the cool weather, color changing leaves and the smell of warm spices. I've been baking a lot (my house smells a-mazing), planning recipes to share on the blog as well as developing my holiday menus for the bakery. Today I'm sharing my first ever pumpkin recipe on my blog (yay!) - my pumpkin cream cheese muffins with cinnamon sugar pepita topping. These pumpkin cream cheese muffins are fluffy, moist and perfectly spiced and filled with lightly sweetened cream cheese and topped with a crunchy pepitas and cinnamon sugar - and I have to say, I think they are so much better than the coffee shop pumpkin muffin.
I'll admit, I'm not much a fan of the "pumpkin spice" trend. I definitely don't enjoy in it in my coffee. Locally roasted with a splash of cream for me please. Really, the first signs of fall for me means apple baking season. I've not met many (if any) apple bakes or desserts that I didn't like. Usually, I use pumpkin in savory cooking before I end up baking with it. Some of our faves: Half Baked Harvest's Smoky Pumpkin Beer and Cheddar Potato soup is so, so delicious and a huge hit in my house. Skinnytaste's Hearty Vegetarian Pumpkin Chili is also a family favorite. When I start baking with pumpkin, it's always muffins, bread or cake. So I knew that the first pumpkin recipe I shared on the blog needed to be these pumpkin cream cheese muffins. Delicious, flavorful and cozy.
To roast a pumpkin or used canned pumpkin?
Since I tend to use a lot of pumpkin in the fall, my preferred way to use pumpkin is straight from the can. I don't find that roasting and making my own  pumpkin puree is really worth it. Canned pumpkin is convenient for use as well as being generally consistent in flavor and texture. I've had mixed results with fresh sugar pie pumpkins. Like with any other vegetable, flavor and ripeness of a pumpkin can be a bit of a gamble. I've had  pumpkins that were sweet and flavorful, but I've also had some that were bland and grainy. Ultimately, it's your preference. If you use canned, just be sure to use pure pumpkin and not the pumpkin pie filling, which is sweetened and seasoned.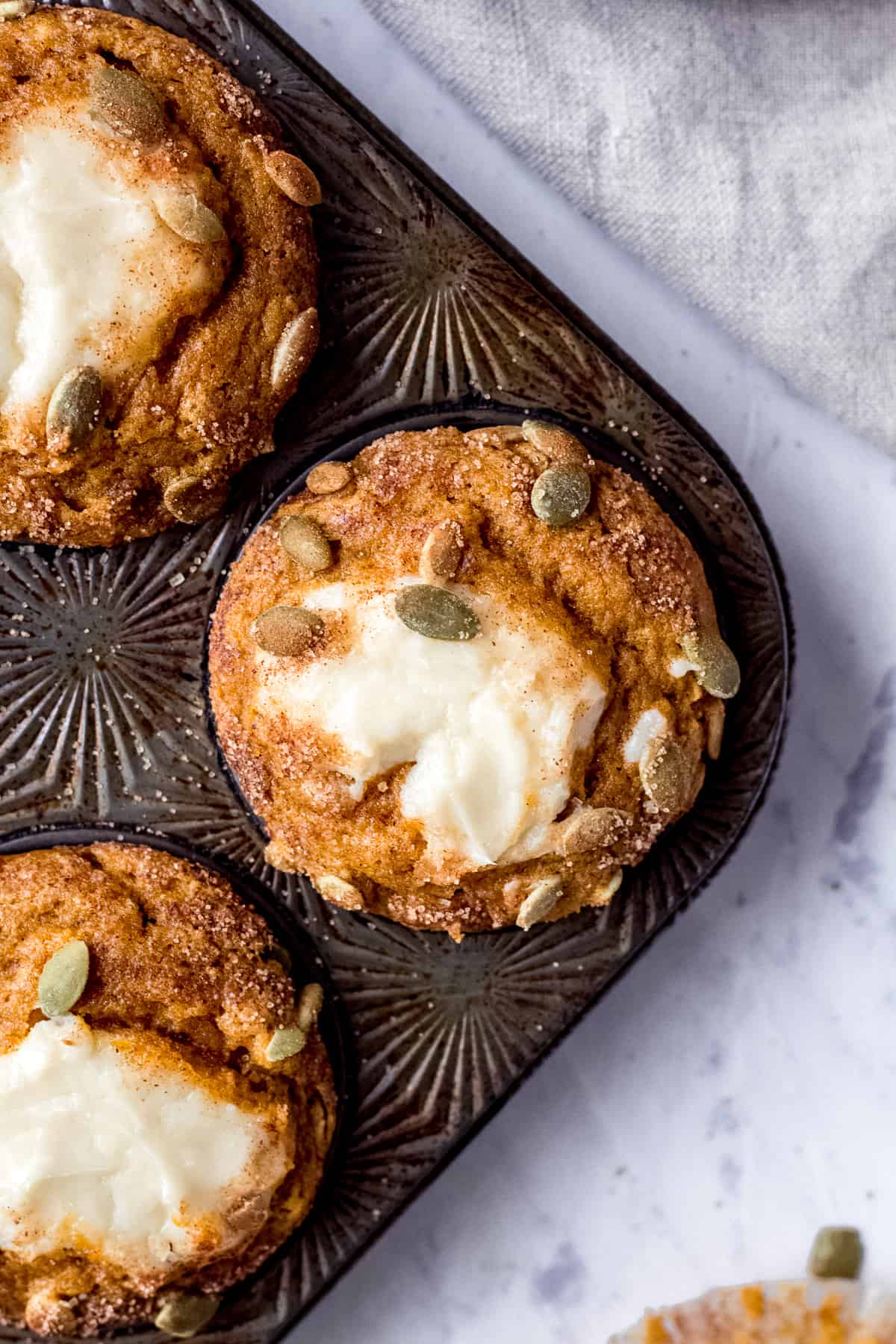 How to make the muffins
The muffins are super easy to make and don't require a mixer - a definite win. They are made using the traditional muffin method by combining dry ingredients in a bowl and wet ingredients in another, then combine them by pouring the wet into the dry and mixing with a light hand until just combined. I used a combination of spices and chose to use individual spices (cinnamon, nutmeg, ginger and clove) over pumpkin pie spice so that I have more control over the flavor and can adjust the spices to suit my tastes.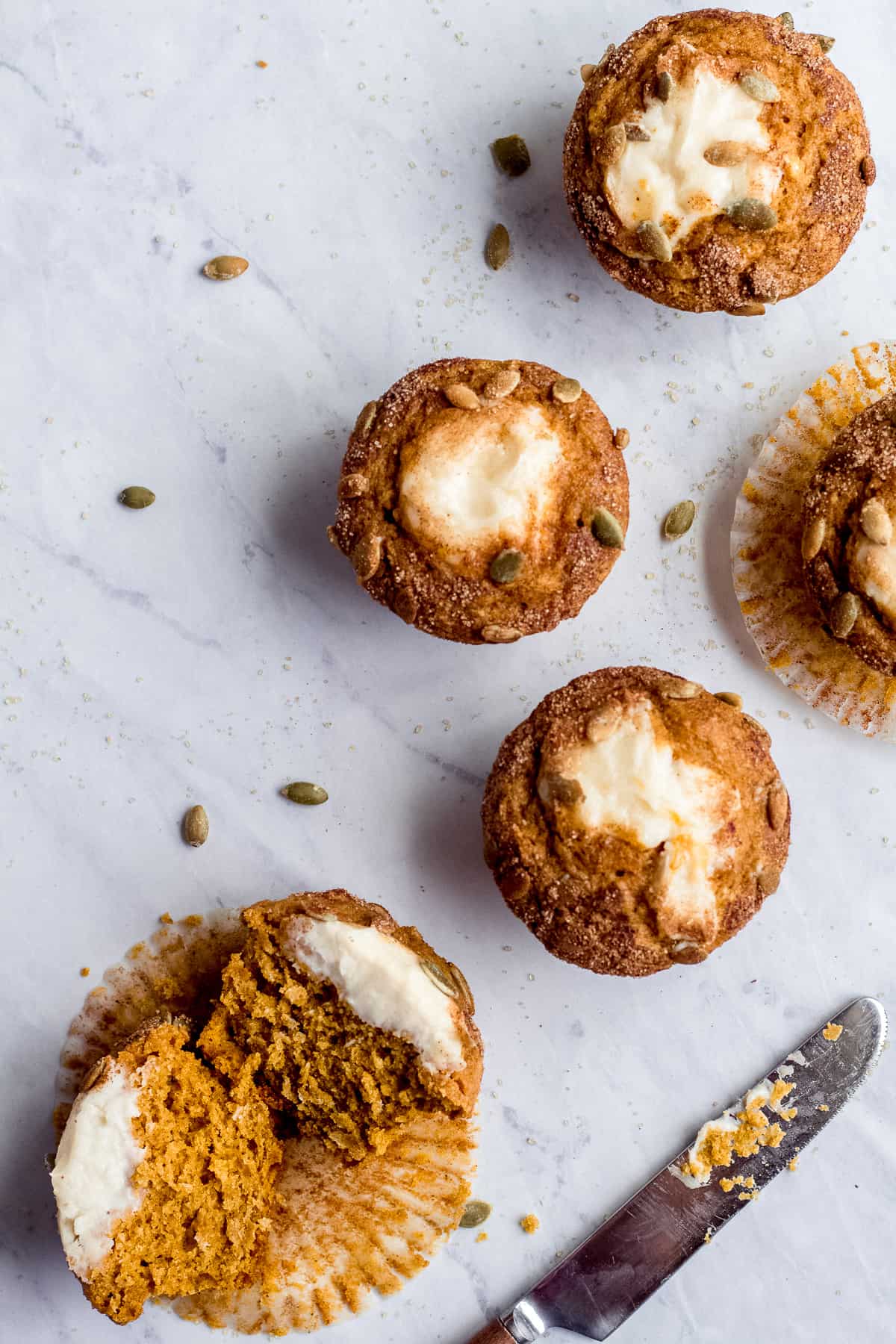 How to make the cream cheese filling
The cream cheese filling is quick and simple, combining softened cream cheese, sugar and vanilla and whisking until smooth. I prefer to place the cream cheese filling in the centers of the muffins to copycat the coffee shop version and also because I love the pop of tangy cream cheese. I have also swirled the cream cheese into the muffin as well with success. For extra crunch and flavor, I sprinkled pepitas, cinnamon and sugar around the edge of the muffins.
When distributing the batter among the liners, you'll notice that the liners get quite full. No worries though, the batter will not overflow. Notice in the first photo how beautifully they bake up.
I know you guys will love these muffins just as much we we do. If you try these pumpkin cream cheese muffins, let me know! Leave a comment in the comment area below and be sure to snap a photo and tag it #littlevintagebaking on Instagram. I love seeing your Little Vintage Baking creations!
For more muffin recipes, check out these blueberry streusel muffins
Recipe
Pumpkin Cream Cheese Muffins
Fluffy and moist spiced pumpkin muffins filled with a sweet cream cheese filling and topped with a cinnamon sugar pepita topping
Ingredients
Pumpkin Muffins:
1 ¾

cup

all purpose flour

1 ½

teaspoons

baking powder

½

teaspoon

baking soda

¾

teaspoon

fine sea salt

1

teaspoon

ground cinnamon

½

teaspoon

ground ginger

¼

teaspoon

ground nutmeg

⅛

teaspoon

ground cloves

¾

cup

granulated sugar

½

cup

brown sugar, packed (light or dark)

1 ¼

cup

pumpkin puree

1

teaspoon

pure vanilla extract

2

large

eggs

½

cup

canola oil
Cream Cheese Filling:
4

oz

cream cheese, softened

2

tablespoons

granulated sugar

½

teaspoon

pure vanilla extract
Topping:
2

tablespoons

pepitas

1

tablespoon

granulated sugar

½

teaspoon

ground cinnamon
Instructions
Preheat the oven to 350F. Line a 12-cup cupcake pan with paper liners and set aside.
Make the cream cheese filling.
In a small bowl, whisk together the cream cheese, sugar and vanilla until smooth.

Place the filling into the refrigerator until ready to use.
Make the muffins.
In a medium bowl, whisk together the flour, baking powder, baking soda, salt, cinnamon, ginger, nutmeg and cloves.

In a large bowl, whisk together the granulated sugar, brown sugar, pumpkin, vanilla, eggs and oil.

Pour the dry ingredients into the wet ingredients and mix to combine. Do not over mix. Only mix until no pockets of the dry ingredients remain.

Distribute the batter equally into the lined cupcake pan.

Distribute the cream cheese filling into the centers, equally among the muffins.

Mix together the 1 tablespoon of sugar and the ½ teaspoon of cinnamon in a small bowl. Sprinkle the pepitas and the cinnamon sugar mixture around the edge of the muffins.

Bake the muffins for 18-22 minutes or until a toothpick inserted comes out with a few dry crumbs. Do not check the muffins for doneness by inserting a toothpick through the cream cheese center. I like to check by inserting a toothpick through the muffin at an angle.

Cool the muffins in the pans for 10 minutes before removing to cool on a cooling rack. Best served slightly warm.