If you're brand new to making sugar flowers, or if you're a beginner, it can be overwhelming trying to figure out all the supplies necessary to create gorgeous, professional looking gum paste flowers for your cakes. It's easy to spend hundreds of dollars on sugar flower supplies just to find that you barely or rarely use a specific product. I've compiled a list of essential tools for making sugar flowers, along with my personal recommendations to help you understand better what you'll need to create beautiful sugar flowers for your cake projects without breaking the bank.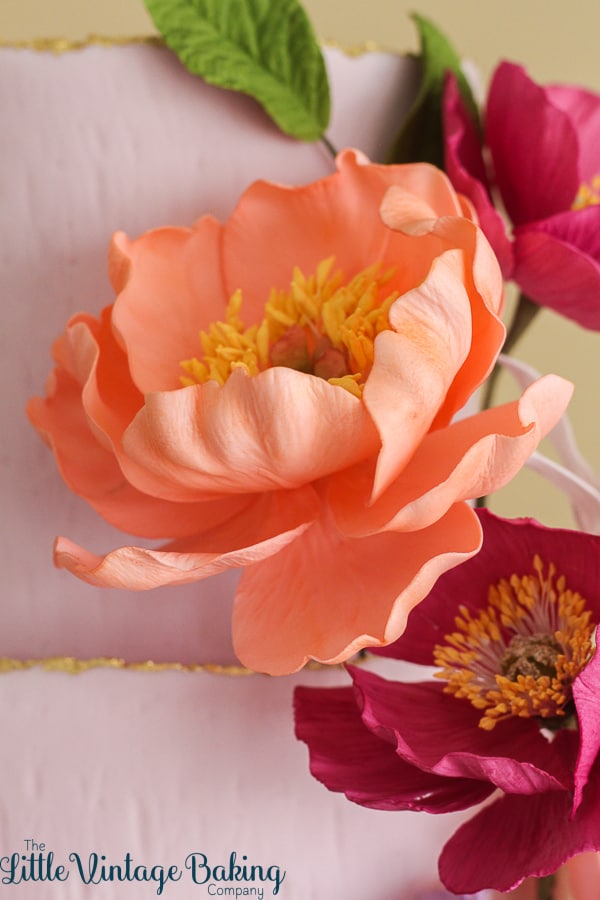 1. FLORAL WIRE AND TAPE
I make ALL of my sugar flowers using floral wire and floral tape. I find that this produces the best results, aesthetically as well being the best for stability and mobility. Using floral wire also makes it easier to create arrangements for inserting into cakes. I tend to use both green and white floral wire, but if you were to purchase one color as a beginner, I recommend using white. Sometimes, particularly with light colored flowers, you can see the green wires showing through the paste. Using white wires minimizes this. Keep in mind you will also be covering your wires with green floral tape so no need to worry about the white wire showing.
There is a variety of sizes of floral wire. The larger the number of wire, the thinner the wire. I like to use 28, 26, 24 gauge for individual petals and small blossoms, 24 or 22 gauge for leaves and larger style blossoms, 22 or 20 for larger one piece flowers like roses and dahlias. I recommend purchasing a couple different sizes to begin with. I also recommend using paper covered wires over cloth wires, as the cloth can unravel. Over time you will find what size gauges you prefer to use most for your flowers. I will say that gauges mentioned in tutorials, while they're mentioned for the best results pertaining to that particular tutorial, are not 100% absolutely necessary to make the flower. Making a peony and need 26-gauge floral wire for the petals and your're out? Use 24 gauge. Just use your best judgement, particularly when it comes to the weight of the flower or leaf you plan on making.
Floral tape is used to tape the wired components of your flowers together and create a seamless finish to your flower stem. I use moss green ¼ width floral tape for all of my flower stems and twig brown ¼ width to create branches. Floral tape comes mainly in two sizes - ½ width and ¼ width. I always use ¼ width as this adds less bulk to the stem. If you have ½ width, simply cut the tape into two pieces with scissors. Both floral wire and tape can be purchased at cake supply stores and online. PME and Hammersmith are good brands to look for.
2. FIRM FOAM MAT (WITH HOLES)
A firm foam mat is necessary for shaping flowers such as thinning and cupping petals and ruffling edges. I recommend purchasing the firm foam mat with the holes. These holes are used for the "Mexican hat method" of making flowers, which allows you to make flowers with a fluted "stem". This method is great for making stephanotis, freesia, blossoms and calyx. Some foam mats come as a set of two - one solid foam mat for thinning, and one foam mat with holes. I use this set that is pictured below. However, if you had to choose one, pick the pad with the holes as you can also use this for general thinning and ruffling just as you would the solid white mat.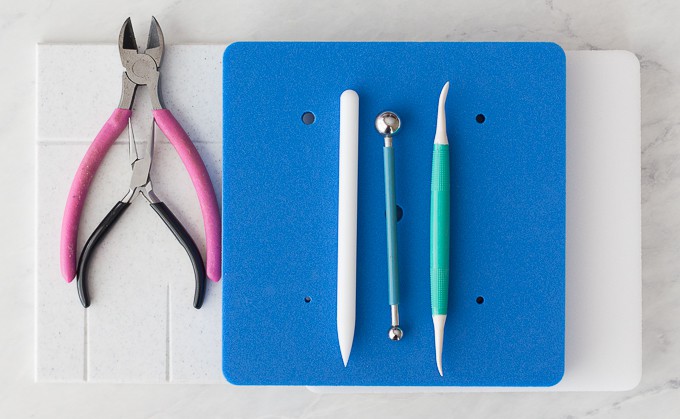 3. CELBOARD
A Celboard is a hard plastic mat that has grooves cut out of it. This board is used to create "veins" in the petals and leaves which allows floral wire to be inserted into. It can also be flipped over to work as a surface to roll out paste and cut out petals and leaves with cutters. I use this board.
4. MODELING TOOLS
A variety of modeling tools are necessary for making sugar flowers. A celpin or rolling pin (for rolling out gum paste and thinning petals edges), a ball tool (for thinning petal edges and creating ruffles), and a dresden tool (for scoring buds and texturizing petals). These are just a few must have modeling tools. If you have a cel pin, a ball tool is not totally necessary because you can use the cel pin the same way you use a ball tool. I recommend getting an entire set of good quality modeling tools eventually, but having these specific tools is a good start. Avoid plastic ball tools as they tend to have seams that can rip or tear your paste and they simply don't last as long.
5. VEINERS
Veiners are used to give flower petals and leaves realistic texture. There are all purpose veiners, flower/leaf specific veiners and veining tools. If you're just starting making sugar flowers, you can either invest in a couple all purpose veiners or you can purchase veiners specific to what flowers you plan on making for a particular project. I don't recommend buying specific veiners unless you plan on making a lot of sugar flowers, plan on making sugar flowers in competitions or you want to ensure your flowers are as realistic as possible. For an all purpose leaf veiner, I use this one. I use this JEM veining/frilling tool for an all purpose petal veiner.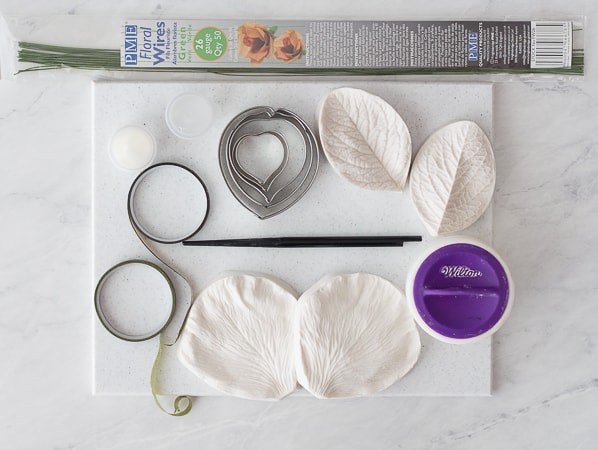 6. FLOWER/LEAF CUTTERS:
Cutters are used to cut out petal and leaf shapes. There's many, many cutters available for many types of flowers. It's easy to get carried away purchasing all sorts of cutters, but if you're looking for a few to start with, purchase a few of the most popular flowers that are most frequently asked for on cakes - such as roses, peonies, hydrangea, rose leaves, etc. Keep in mind that a lot of cutters can be multi-functional. Rose cutters (both the individual petal cutters or the 5-petal variety) can be used to create roses, ranunculus and lisianthus. If you haven't worked with sugar flowers before, most beginners start with roses. Roses can be made without wiring petals and they are very good starter flower. Once you're ready to try individually wired petals, I would recommend making a peony. Check out my tutorial for an easy, beautiful open peony here.
7. EDIBLE ITEMS:
Of course, you will need gum paste to make your flowers. There are many different brands available, and over time you will find which one you like best. Take note of drying times, over all ease of use and also how thin the paste rolls out. You want a paste that rolls out to be super thin and is smooth and easy to work with. Note that all pastes will need to be kneaded with shortening before using for optimal results. To get the most paste for the best cost, I recommend making your own. I find that homemade gum paste is more cost efficient, one of the most higher quality pastes, easy to make and one recipe makes a lot of paste. Check out Nicholas Lodge's recipe for gum paste here.
You will also need vegetable shortening to add moisture, prevent sticking and help with elasticity of your paste as well as cornstarch to dust your surface before rolling out your paste. You can use some cheesecloth to create a pouch filled with cornstarch, you can use a shaker sieve or you can use this one. You will also need an edible glue. You can purchase a sugar glue at the local craft store, make your own by mixing ¼ cup warm water and marble size ball of gum paste or fondant and letting it dissolve, or you can use egg whites.
8. PETAL DUSTS:
Petal dusts are used to add additional and detailed color to your flower components. Dusting is my favorite part of the sugar making process because this is when you're able to really bring those sugar flowers to life. Before making your flowers, you want to make sure that your paste is tinted close to the color you want your final flower to be. There are exceptions for this, like if you needed to achieve an ombre effect, for example. Using a concentrated, quality gel paste will allow you to use minimal color while still being able to achieve bright or dark colors. You want to invest in high quality concentrated dusts. Avoid petal dusts from craft stores as well as the palette dusts as they are chalky and tend to be "watered down" with cornstarch. It's easy to go overboard buying petal dusts, so I recommend purchasing colors over time. It's a good idea to purchase a couple shades in popular floral colors to start with. You can mix black or white dust with a some of your colors to lighten or darken your dusts a couple shades. Be careful with this technique as it should be done sparingly. The vibrancy of the colors gets lost if you try, for example, to make blush with a bright pink and white dust. Stick with food safe or FDA approved dusts if possible. There are some really amazing brands of dusts out there. Some of my favorite brands are by The Sugar Art and Crystal Colors.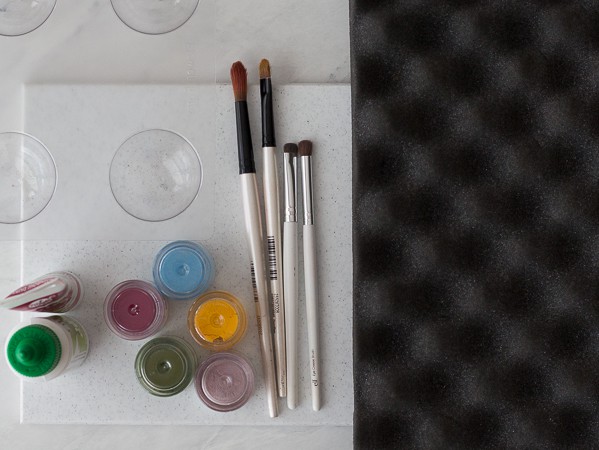 9. PAINTBRUSHES:
You will need a couple different types of brushes for dusting your flowers. To start, I recommend two different style of brushes, both of which are make up brushes. The two smaller brushes on the right are ELF brand and can be found at Target and are quite affordable. I like to use make up brushes and recommend that beginners use them too because they are soft and short bristled and are fairly all purpose. The brush on the far right is more of an all over application brush while the one to the left of it is more for edging and details.
10: MISCELLANEOUS TOOLS:
Small needle nose jewelry pliers are necessary for being able to bend wires as well as helping insert and adjust flower arrangements in your cake. They act as an extension of your hand, to reach where you can't, to prevent breaking any of your flowers. You can use scissors to cut your floral wires but once you've created a bulky stem, you'll need wire cutters. Both small pliers and wire cutters can be found in the jewelry department of your local craft store.
11. STAMEN:
There is a variety of pre-made stamen for sugar flowers available. Flowers such as peonies, poppies and anemones require specific stamen for realistic looking flowers. You can make your own - tutorial coming in the future - but purchasing them does save on time. Stamens can be quite costly, especially if you're making a lot of flowers requiring them so I recommend purchasing them as needed. I order mine from The World of Sugar Art.
12:FOAM CENTERS:
One of the most important parts of sugar flower making for cakes, is ensuring that your flowers aren't too heavy for your cake. To help eliminate excess weight, I recommend using foam centers for flowers like roses and ranunculus. You can purchase foam balls at the local craft store and foam rose bud centers online.
13: FLOWER FORMERS:
Flower formers are used to shape and dry leaves and petals. Basic formers include bumpy/egg foam and plastic formers that can be purchased online at cake supplies stores. Formers can be purchased as needed and aren't totally necessary but I recommend having bumpy/egg foam on hand for shaping leaves and blossom style flowers. Ask someone in the produce department of your local grocery store for a couple of the apple trays that come in boxes of apples. These foam or paper trays are perfect for shaping MANY types of petals. I use it to shape rose, peony, poppy and tulip petals. Most stores will usually give them to you for free.
There you have it - a sugar flower essentials list for those of you starting your adventure into the world of sugar flower making. More specific information involving supplies and usage will be found in most tutorials so don't let this information overwhelm you. Tackle one flower, one project at a time. As usual, let me know if you have any questions. When you get your supplies and make your first sugar flowers, let me know! Leave a comment in the comment area below and be sure to snap a photo and tag it #littlevintagebaking on Instagram. I can't wait to see your flower creations!