This post may contain affiliate links. Please refer to my privacy policy for more information.
These bacon, cheddar and chive scones are perfect for a breakfast on the go, a brunch time gathering with friends or with afternoon tea. Pile the scones high with eggs, bacon, avocado and all the breakfast sandwich fixings. Or, slather them with butter while still warm and serve them with tea. I've also made these scones many times on cold winter nights and served them with soups and stews. They're a crowd pleaser and absolutely yummy.
These savory scones are similar but are slightly different than biscuits. Both are made with flour, leavening, fat and dairy. Butter is cut in to the flour mixture, then dairy is added. Biscuits are usually lofty and are known for having tall flaky layers, and these bacon, cheddar and chive scones do have a bit of loft and flakiness, but they are a bit more tender, dense and buttery, like a traditional American sweet scone. They're really the best of both the biscuit and scone world. Whatever you want to call these spicy, cheesy, smoky treats, they're absolutely delicious and definitely worth making.
I've mentioned their tender, buttery texture, but they're also packed full of crispy, smoky bacon, melt-y pockets of sharp cheddar cheese and variety of spices including garlic, cayenne and lots of black pepper. I add a bit of onion-y flavor, freshness and a pop of green by mixing in some fresh chives. Savory scone perfection. The cayenne in the recipe isn't overwhelmingly spicy, but just adds a touch of heat and bit of flavor to the scones. Both my girls love these scones and request them all the time - they love the slightly spicy flavor. However, you can definitely reduce the amount of cayenne in the recipe or omit it if you wish.
Like with pie and tart dough, I use a food processor to cut in the butter for cheddar, bacon and chive scones. Using a food processor ensures that you're not overworking the dough, and that the butter is evenly distributed. It also prevents warming or melting the butter with your hands and it's much faster than cutting in the butter with a pastry blender. But, feel free to cut in the butter with the method that you prefer. Once the butter is cut in, the mixture is turned out into a bowl and the bacon, chives and cheddar are stirred in, followed by cold buttermilk. If you find that you still have flour that is unincorporated and the dough still seems dry, add buttermilk a tablespoon at a time until the mixture comes together. You want a mixture that is well combined and holds together, but not wet. Use a light hand when shaping with your scone dough. Overworked dough can result in tough scones.
You can cut out the scones with a circle biscuit cutter or you can cut them into the traditional American-style wedge shape. If you wish to cut out the scones into wedges, shape the dough into a disc that is 1- 1 ½ inches tall and cut into 12 scones. For the photos in this post, I actually cut my scones into smaller wedges to make 24 scones so that Matt could take them to an event he was attending. To make smaller scones, cut the scones into wedges, then cut in half again. Keep in mind, the scones will puff up quite a bit when baking.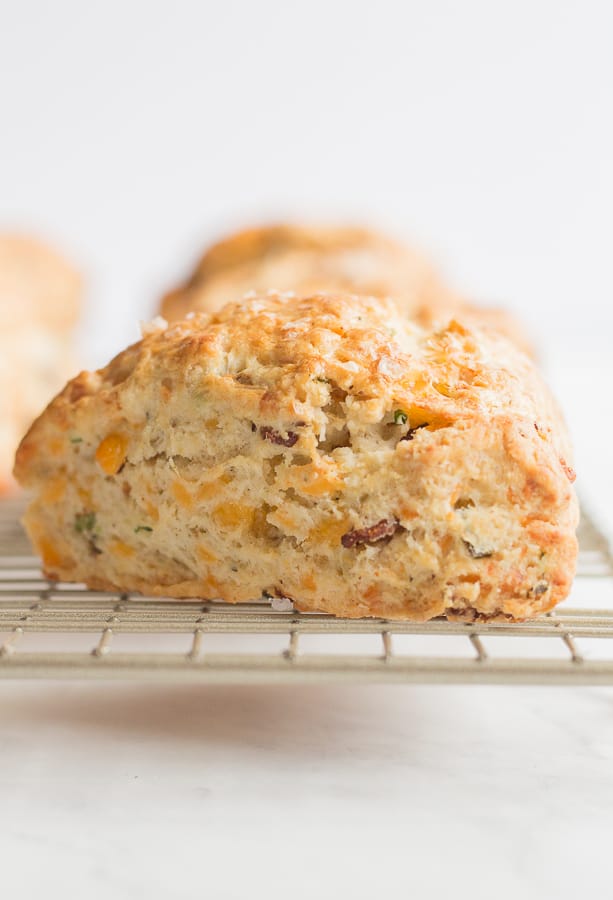 Chill the scones before baking. This allows the butter and the cheese to firm back up so they don't melt out of the scones while baking. Brushing the tops of the scones with heavy cream before baking will help them bake to a lovely golden brown color. I like to sprinkle the tops with a bit of flaky sea salt before popping them into the oven.
These bacon, cheddar and chive scones can be made in advance and stored in the refrigerator for up to two days in a zip top bag. Bake them as needed for fresh, warm scones. I usually make an entire batch on Sunday so that I can bake them off Monday and Tuesday morning for breakfast sandwiches for Matt and the girls. They can also be frozen for up to two  weeks. Be sure to add an additional 10-15 minutes of baking time if you're baking the scones frozen.
If you try these bacon, cheddar and chive scones, let me know! Leave a comment in the comment area below and be sure to snap a photo and tag it #littlevintagebaking on Instagram. I love seeing your Little Vintage Baking creations!
For another quick and delicious breakfast idea, check out this recipe for my Blueberry Streusel Muffins!
Bacon, Cheddar and Chive Scones
Spicy, buttery and tender bacon cheddar and chive scones perfect for breakfast sandwiches, or served with soups and stews.
Ingredients
4 ¾

cups (680g)

all purpose flour

1

tablespoon

baking powder

¾

teaspoon

baking soda

2

teaspoon

fine sea salt, plus more for sprinkling the tops before baking

¾

tsp

garlic powder

¾

tsp

cayenne pepper, more or less to taste

1

tablespoon

fresh ground black pepper

2

tbsp

granulated sugar

1 cup

+ 1 tablespoon (255g)

unsalted butter, very cold or frozen, cut into ½ inch cubes

1

cup (80g)

bacon, cooked, cooled and crumbled - I used a 12oz package of center cut bacon

1 ½

cups (171g)

sharp cheddar cheese, grated

¼

cup (17g)

fresh chives, chopped

1 ½

cup (375ml)

buttermilk, cold

3

tablespoon

heavy cream, for brushing the tops
Instructions
Combine the flour, baking powder, baking soda, salt, garlic powder, cayenne pepper, sugar and black pepper into the bowl of a food processor. Pulse to combine thoroughly.

Scatter the butter cubes over the dry ingredients. Pulse the butter into the mixture until the mixture resembles coarse meal with pea-size chunks of butter mixed throughout.

Dump the mixture out into a large bowl. Stir in the cooled bacon, shredded cheddar and chives.

Drizzle the cold buttermilk over the mixture and use a spatula to mix. Mix the dough until it just seems to hold together. If the dough still seems dry and isn't fully incorporating, add more buttermilk, a tablespoon at a time.

Dust your work surface with a light coat of flour. Turn out the scone dough onto the floured surface. With a light hand, shape into a disc, about 1 inches thick.

Use a biscuit cutter to cut out scones. Alternatively, cut into wedges for the traditional American-style scone shape.

Place the scones onto a baking sheet, leaving 2-3 inches apart between then. Place the scones into the refrigerator to chill for 30-45 minutes. Preheat the oven to 400F.

After the scones are chilled, brush the tops with the heavy cream and sprinkle with fine sea salt. Bake until the scones are golden brown, about 25-30 minutes.
Notes
Recipe adapted from Tartine by Elisabeth Prueitt and Chad Robertson