This post may contain affiliate links. Please refer to my privacy policy for more information.
I think this Mediterranean tile and flowers cake may be one of my favorite cakes I've made to date. I don't get to hand paint on cakes very often and was super excited for the chance to do so for this Mediterranean themed wedding. The color palette consists of dark blue, mustard-yellow, and turquoise with bright pinks, reds, oranges and yellows for the flowers. I wanted to incorporate both lemons and olive leaves for more of a Mediterranean vibe, which were both part of the wedding decor.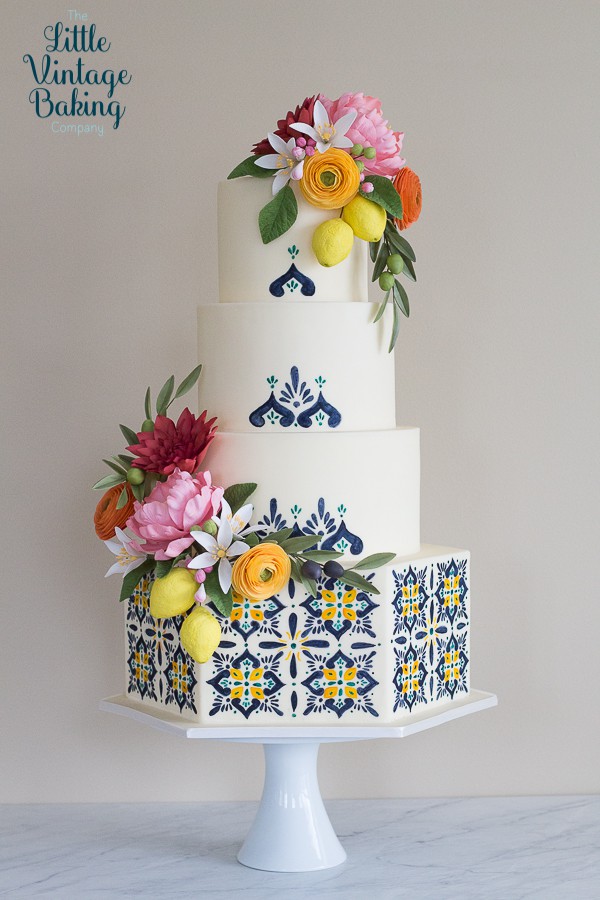 Inspiration for the tile is designed based off of elements I pulled from the invitations and also the decorative plates that were planned for use at the wedding. Then, keeping the hexagon panels size in mind, I sketched out a design on sketch paper. Once I was happy with the design, I traced over the sketch with tracing paper. Parchment paper will work as well, but tracing paper is lighter and a bit easier to work with.
For the flowers and foliage, I made pink peonies (check out my tutorial here), orange and yellow ranunculi, red dahlias, lemon blossoms, olive branches with olives (check out my tutorial here), lemons and lemon tree leaves. I made the lemons with modeling chocolate, using a foam center to keep them more lightweight so they wouldn't rip through the cake.
Once the cakes were baked, covered in fondant and thoroughly chilled, I painted the cake tiers. I placed the tracing paper up against the cake and used a dresden tool to lightly trace around some of the main components of the tile design. Just so I could see the outline and spacing of the shapes. The rest of the design I did freehand, just referencing my sketch. I used a mixture of petal dust and grain alcohol to paint the design. The top three tiers were quick and easy to paint. The hexagon tier took hours. Hand painting that much detail takes a lot of time.
Before stacking the tiers, all the cakes were chilled completely. I always work with cold cakes as I find room temperature cakes too unstable, especially when using sugar flowers and travelling with multiple tiers. After I stacked the cakes, I refrigerated them over night. I placed the sugar flowers into the cake before delivery. I inserted the flowers into milk shake straws that I placed into the cake. Very rarely do I place sugar flowers on cakes onsite. I don't have much breakage, if any when I travel with a cake with flowers.
I'm super happy with how this cake turned out and I absolutely loved making it. It's definitely one of my favorites and a good beginning to wedding season.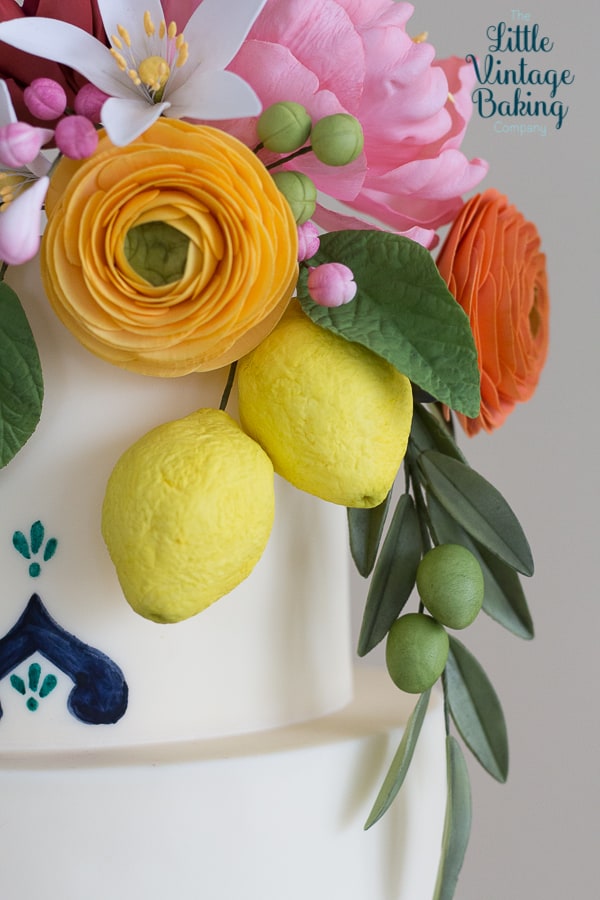 For the peony sugar flower tutorial, click here.
For the olive branch tutorial, click here.