Cookie dough has long been a comfort food for me. It's my favorite part of making chocolate chip cookies. My milk and cookies cake is the ultimate comfort dessert. Fluffy, tender and moist brown sugar cake layers are filled with edible chocolate chip cookie dough and frosted with caramel-y brown sugar Swiss meringue buttercream. This is a cake that is loved by adults and kids alike.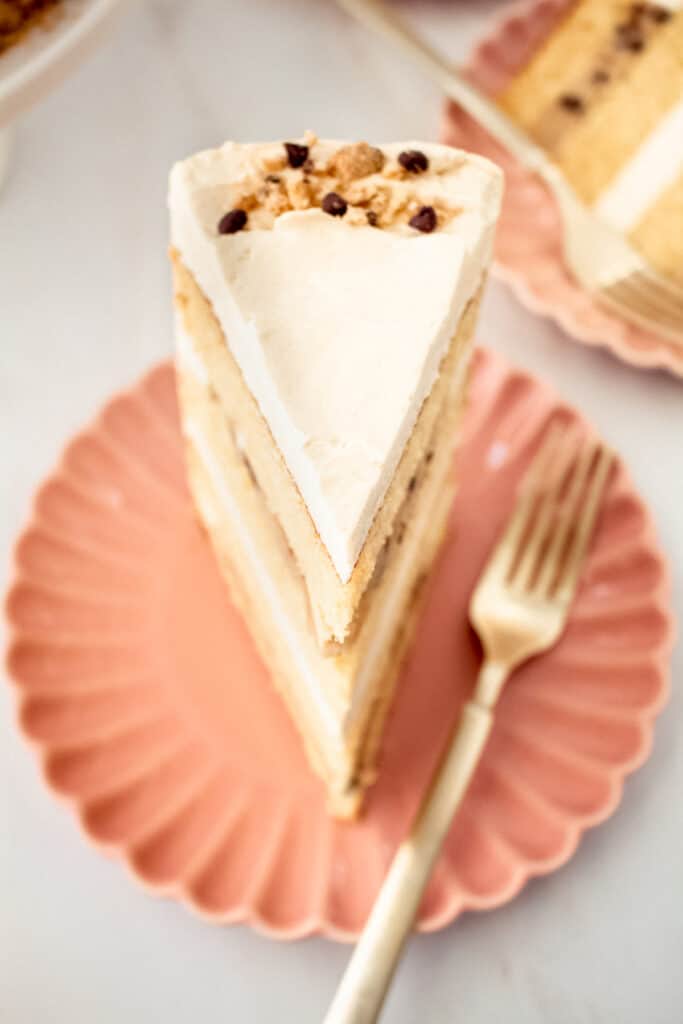 Brown Sugar Cake
Using brown sugar in a cake not only adds moisture, but creates a deep caramel-like flavor, perfect for recreating that freshly baked chocolate chip cookie taste. Brown sugar softens the cake, giving this cake a melt in your mouth texture that is literal perfection. This cake is so versatile and goes with so many different flavors and fillings.
I always like to bake 2 - 8" cakes then torte, or slice them in half to make 4 layers, but this cake can also be made in 3 - 8" pans. This recipe is formulated so that it shouldn't dome when baking, but if they do, just slice off the domes before assembling.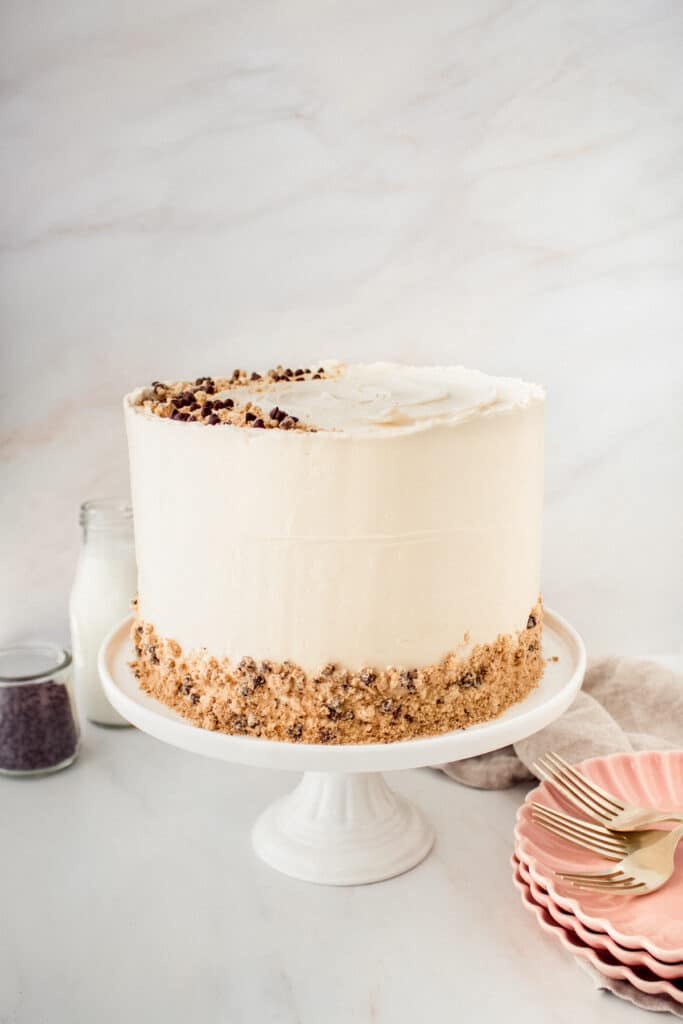 Cookie Dough
I have always deemed cookie dough to be edible, raw eggs and all. But to keep this cake food safe, this cookie dough is egg free and also avoids the use of raw flour. All purpose flour, when heated to 160F, is safe to consume "raw". I used mini chips in this recipe which makes it a bit easier to eat, but chocolate chunks would also be amazing in this cookie dough.
This cookie dough is thinned a bit with milk so that it isn't too stiff to spread onto the cake. Do not refrigerate the dough as this will make it too hard to spread. The edible cookie dough should be pliable enough so that you can smooth it out a bit with a spatula. If for some reason you can't spread it out very well, you can press the dough onto the cake, then spread it to fill any gaps, OR you can add additional milk, a tablespoon at a time until the dough is spreadable.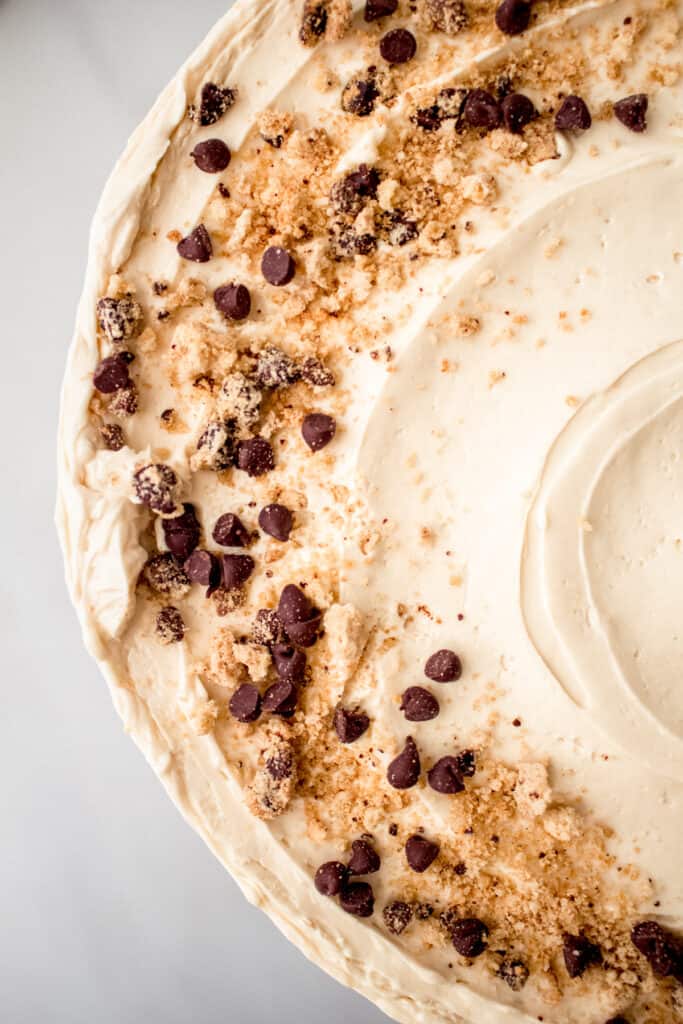 Brown Sugar Buttercream
Swiss meringue buttercream is my favorite buttercream to make, easily. Replace the granulated sugar with brown sugar in my go-to Swiss meringue buttercream recipe to make a deeply caramel flavored buttercream. It's so, so good. If you're new to Swiss meringue buttercream, read my post all about Swiss meringue buttercream here.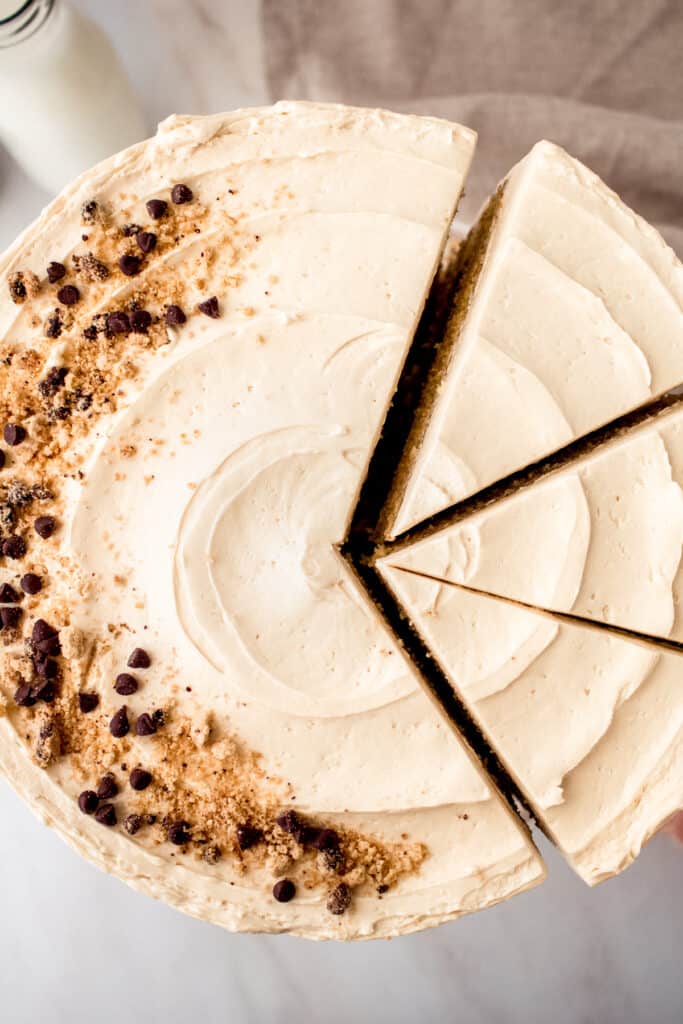 Milk and Cookies Cake Assembly
I used four layers of cake, so I filled the cake with two layers of cookie dough filling and one layer of brown sugar buttercream. If you're using only three layers of cake, fill both layers with the cookie dough filling.
I decorated the cookies with crunchy, crushed chocolate chip cookies. You can use any brand or homemade, but I like the added crunch and cookie flavor.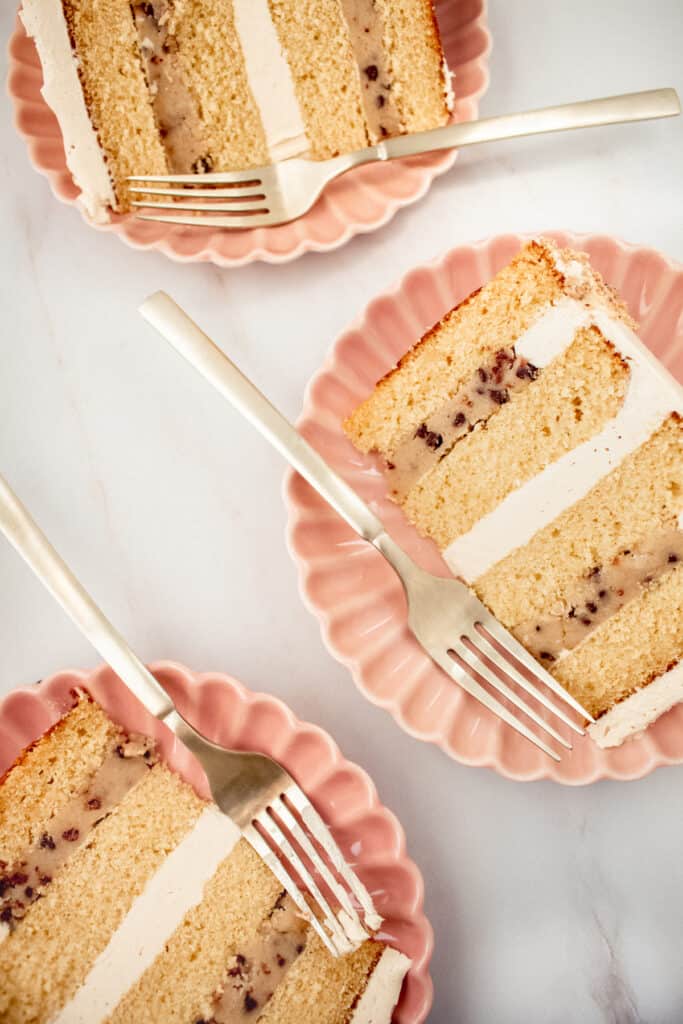 If you make my milk and cookies cake, let me know! Drop a comment or tag me on Instagram. I love seeing your bakes and creations.
Enjoy!
Ash xx
For more cake recipes, check out these posts:
Smoked Old Fashioned Cocktail Layer Cake
Chocolate Hazelnut Praline Cake
Champagne Strawberry Truffle Cake
Recipe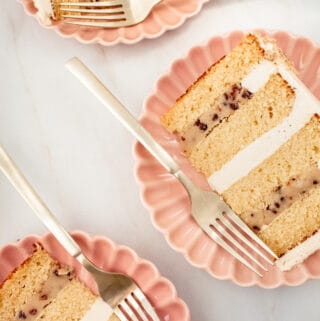 Milk and Cookies Cake
Tender, fluffy brown sugar cake filled with edible cookie dough and brown sugar Swiss meringue buttercream, topped with crumbled chocolate chip cookies
Ingredients
Brown Sugar Cake
14

ounces (397g)

cake flour

14

ounces (397g)

light brown sugar

1

teaspoon

fine sea salt

1

tablespoon

baking powder

½

teaspoon

baking soda

8

ounces (226g)

unsalted butter, room temperature

12

ounces (340g)

whole milk

4

large

eggs

3

ounces (85g)

canola oil

1

tablespoon

pure vanilla extract

½

cup (89g)

mini chocolate chips (optional)
Edible Cookie Dough Filling
⅓

cup (66g)

granulated sugar

⅔

cup (142g)

light brown sugar

10

tablespoons (254g)

unsalted butter, room temperature

2

teaspoons

pure vanilla extract

2

cups (240g)

all purpose flour

¼

teaspoon

fine sea salt

¼

cup (57g)

whole milk

¾

cup (133g)

mini chocolate chips
Brown Sugar Swiss Meringue Buttercream
10

large (300g)

egg whites

2 ¼

cups (500g)

light brown sugar, lightly packed

3

cups (678g)

unsalted butter

¼

teaspoon

fine sea salt

1

tablespoon

pure vanilla extract

crushed chocolate chip cookies ( I used Famous Amos chocolate chip cookies)
Instructions
Brown Sugar Cake
Preheat the oven to 350F. Prepare the cake pans. You can use 3-8" pans for a 3 layer cake, or 2 -8" pans, then torte in half, for a 4 layer cake. Brush the bottoms and sides of your cake pans with melted butter. Line the bottoms and sides with parchment paper.

In the bowl of a stand mixer, combine the cake flour, brown sugar, baking powder, baking soda, and salt. On low speed, mix for 1 minute to combine.

In a large measuring cup, whisk together the eggs, oil and vanilla.

With the mixer on low-medium speed, add in the softened butter pieces, one or two pieces at a time. Mix until the mixture resembles cornmeal. You should be able to gather a bit in your hand, squeeze and you have a solid piece. This means the butter is evenly distributed.

With the mixer still on low, stream in the whole milk and mix until the flour mixture is *just* moistened.

Pour the remaining milk into the measuring cup with the eggs, oil and vanilla.

Turn the mixer speed to medium (4 or 6) and beat for *2-3 full* minutes. The mixture should be whipped, thick, and lighter in color.

Stop the mixer. Scrape the sides and bottom of the bowl to ensure everything is properly mixed.

Turn the mixer speed on low, add the eggs, oil, milk and vanilla mixture in three parts, scraping down the bowl after each addition has been mixed in.

Once all the wet ingredients have been incorporated, give the bowl a final scrape and mix with a spatula. Evenly divide the batter among the prepared pans.

Bake the layers for 30-40 minutes for 3 pans, 40-50 minutes for 2 pans. Start checking the cake at 30-35 minutes to test for doneness. Cakes are done when a toothpick comes out clean or with a few moist crumbs, and the top of the cake feels springy and set when touched.

Tap each cake pan firmly against the counter to remove excess steam. If your cakes dome at all, use a clean kitchen towel to gently push the domes down. Cool the cakes for 15 minutes in the pans.

Run a palette or butter knife around the cakes in their pans before turning them out to cool completely on cooling racks.

Wrap in plastic wrap and chill in the refrigerator.
Edible Cookie Dough
Place the flour into a large bowl. Place in the microwave and cook for a minute.

To ensure that the flour is safe to eat, an instant read thermometer placed int he middle of the flour should register 160F. Let the flour cool completely before using.

In the bowl of a stand mixer fitted with a paddle attachment (or you can use a hand mixer), cream together the butter, granulated sugar and brown sugar until light and fluffy, about 3-4 minutes.

Beat in the flour and the salt. Beat in the mini chocolate chips.
Brown Swiss Meringue Buttercream
Weigh out egg whites and brown sugar together in a non-reactive bowl, clip a candy thermometer onto the side of the bowl and place over a pot of simmering (not boiling) water, whisking constantly and gently until temperature reaches 160F. 

Using a sieve, strain the egg white sugar mixture into the bowl of a stand mixer.

Mix on medium speed with the whisk attachment until the mixture is glossy, reaches stiff peaks and the outside of the bowl is no longer warm. You cannot add butter to the bowl if it is warm or the butter will just melt when added.

Once the mixture reaches stiff peaks, switch out the whisk attachment for the paddle attachment and begin mixing on low speed. 

Add the softened butter cubes, a couple at a time, until incorporated.

Let it mix. It might curdle or look lumpy but that's ok. Keep mixing. This could take some time. The buttercream is ready when it is smooth, satiny and creamy.

Keep mixing on low and add the salt, and vanilla, beating until incorporated.
Assemble the Cake
Working with chilled cake layers, use a long serrated knife to remove any doming from your cakes.

**(If you baked in 2 pans instead of 3, torte the layers, cutting them evenly in half. You will have four cake layers total. The tops of the cakes will be the center two layers of your cake.)

Fit a piping bag with a large round tip ( I use an Ateco 808), and fill with brown sugar meringue buttercream.

Put one of the cake layers, cut side up onto an 8" cake board or directly onto a cake stand.

Pipe a dam around the perimeter of the cake layer.

Spread half of the cookie dough onto the the cake in an even layer.

Add the second cake layer and repeat with the buttercream dam and cookie dough.

*(For 4 layer cakes, fill this layer with brown sugar buttercream, reserving the rest of the cookie dough for the final layer.)

Place the third layer on top, and frost the outside and top of the cake with the brown sugar buttercream.

*(For 4 layer cakes, repeat steps 3-6 filling the layer with edible cookie dough. Top with 4th and final layer, and frost the outside and top of cake with the remaining brown sugar buttercream.)

Decorate with crushed chocolate chip cookies.