When I discovered Swiss meringue buttercream several years ago, I was intimidated by it. I didn't like the idea that I couldn't just throw everything in a mixing bowl and start mixing as I had done with the buttercream I had been making at the time for my cakes. Swiss meringue buttercream requires a bit of extra time, costs a bit more and involves a process. But let me tell you, it is so worth it. Swiss meringue buttercream is luxuriously light and creamy. It's silky, fluffy and smooth texture makes it a DREAM for filling and icing stacked cakes. It's stable and holds its shaped when piped. It's perfect for getting those sharp, precise edges on layer cakes and is a great base for covering with fondant.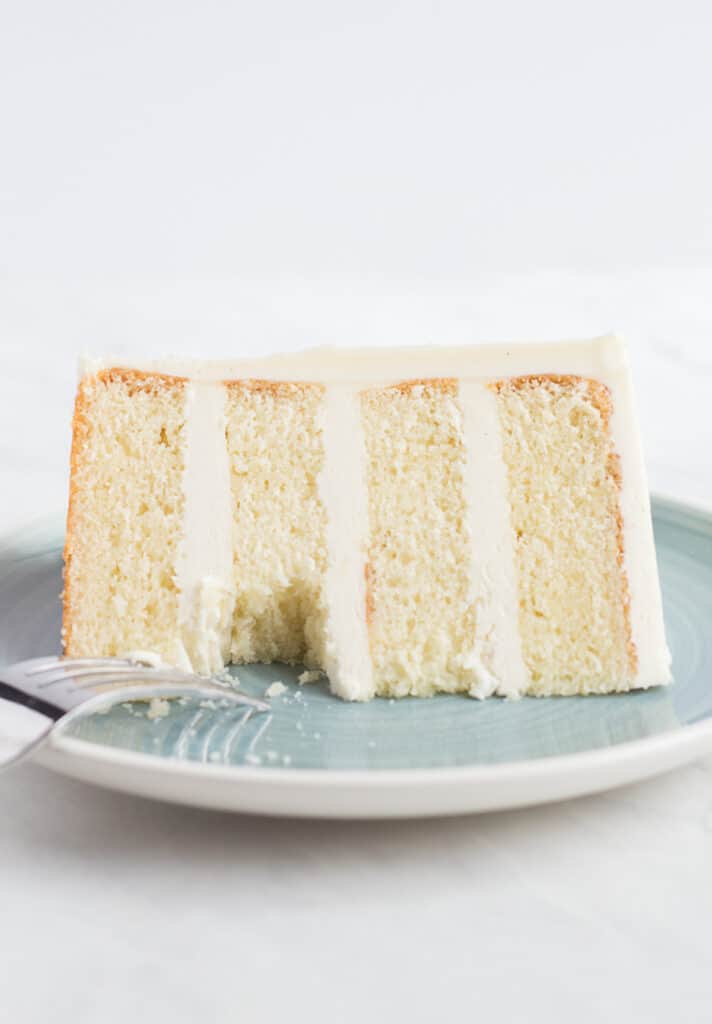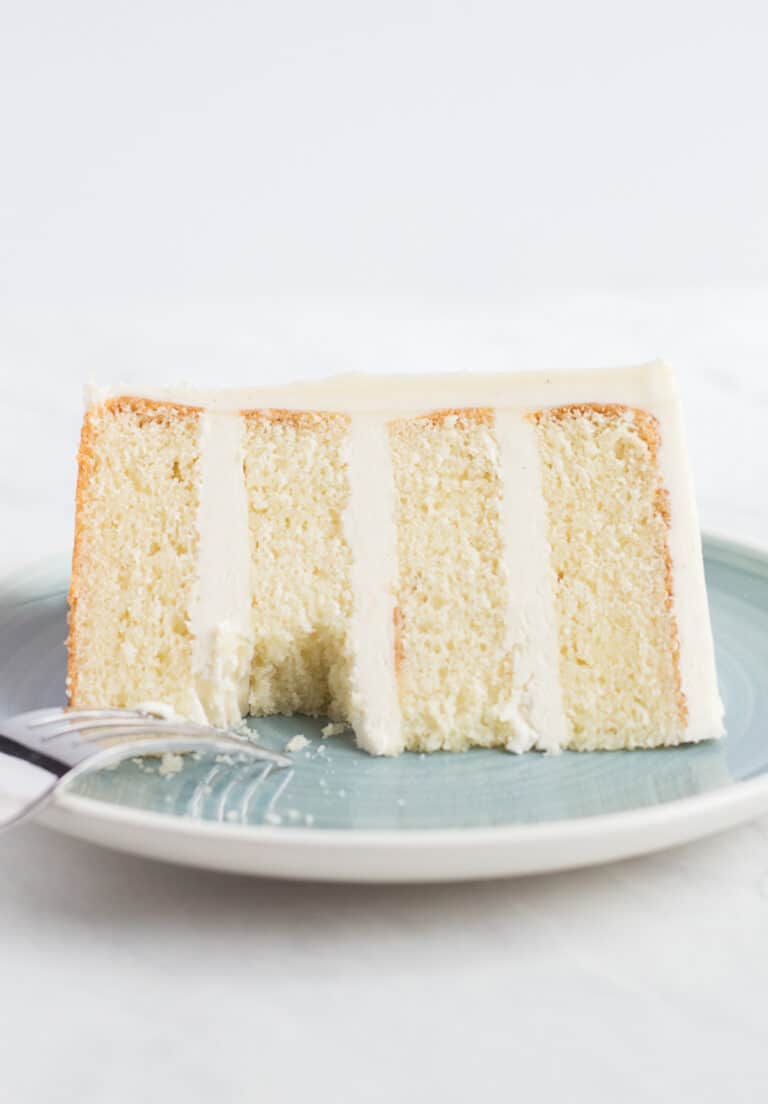 How to make Swiss meringue buttercream
You begin the process of making Swiss meringue buttercream by heating egg whites and granulated sugar in a bowl over a pot of simmering water. This process is to cook the egg whites and melt the sugar all while whisking continuously to avoid any scrambling. Once the egg white mixture reaches 160F, it is strained through a sieve into a stand mixer mixing bowl and using the whisk attachment, beaten until stiff peaks form and the bowl is room temperature to touch. At this point, softened butter is popped in piece by piece and then, and you leave it to mix on low for a bit. It's important to mix on low as to not incorporate air. Incorporating air into your buttercream can cause and contribute to cake disasters, such as blow-outs, air bubbles and sinking.
This is the time in Swiss meringue buttercream making that most people think they've destroyed it and they pitch all of that glorious (albeit, ugly at this point) buttercream. It's quite possible your buttercream will look curdled, or super deflated. It might even look separated. But it's ok. Let it keep mixing. This can take up to 10 or 15 minutes. Keep mixing and it will come together into creamy, silky and smooth Swiss meringue buttercream. Mixing the buttercream on low for a while allows it to fully incorporate, and eliminates air pockets - which is super important if you're making a fondant covered cake. It also helps creates that super silky, creamy texture.
Once the buttercream has come together and is fully incorporated, add the flavorings and a pinch of salt. Don't skip the salt - it helps to define the flavors you add to your buttercream. Swiss meringue buttercream is a blank canvas suitable for many, many types of flavorings. Jams, curds, cookie butters, nut butters, extracts, chocolates, etc. It holds flavors incredibly well so don't be afraid to experiment.
Some common questions and concerns:
1. Swiss meringue buttercream is too buttery.
This is the most common concern, no doubt. In comparison to American style buttercream that is mostly sugar and the sugar taste is the forefront flavor, Swiss meringue buttercream will seem more buttery as butter is the star in this buttercream. I always suggest to meringue buttercream beginners to try a fruit or chocolate flavored buttercream first so you can really get a since of how delicious, adaptable and amazing this buttercream truly is. Additionally, if you're making a vanilla Swiss meringue buttercream, don't skimp on the vanilla in quality or quantity. I add both vanilla extract and vanilla bean paste to my buttercream. This buttercream is more of a luxury style buttercream meant to showcase high quality flavors and ingredients. It's the perfect vehicle for intense and concentrated flavors.
*Pro tip: If you love the texture and taste of Swiss meringue buttercream but want it a bit sweeter, add ½ -¾ cup of sifted confectioners sugar after the butter is fully mixed in.
2. Can I make Swiss meringue buttercream in advance?
Yes, definitely. You can keep your Swiss meringue buttercream at room temperature for up to two days. If you've let your buttercream sit for a couple days, it will seem kind of spongy if you try to use it as is. Place the buttercream back into the bowl of your stand mixer and mix on low for 5-10 minutes until smooth. You can also refrigerate and freeze the buttercream. Again, you will need to mix again on low speed to smooth out the texture. The buttercream must be room temperature before mixing otherwise, it will separate. I always make my Swiss meringue buttercream in advance and refrigerate it because I'm always making large quantities of it for wedding cakes.
*Pro tip: If you start mixing the buttercream and find that it is still too cold and is separating, you can help bring the separated mixture back together by using a kitchen torch to warm the buttercream. While the mixer is on, run the kitchen torch flame along the outside bottom, of the metal mixing bowl, back and forth, until the buttercream starts to come together. *Only try this technique if you're using a metal mixing bowl.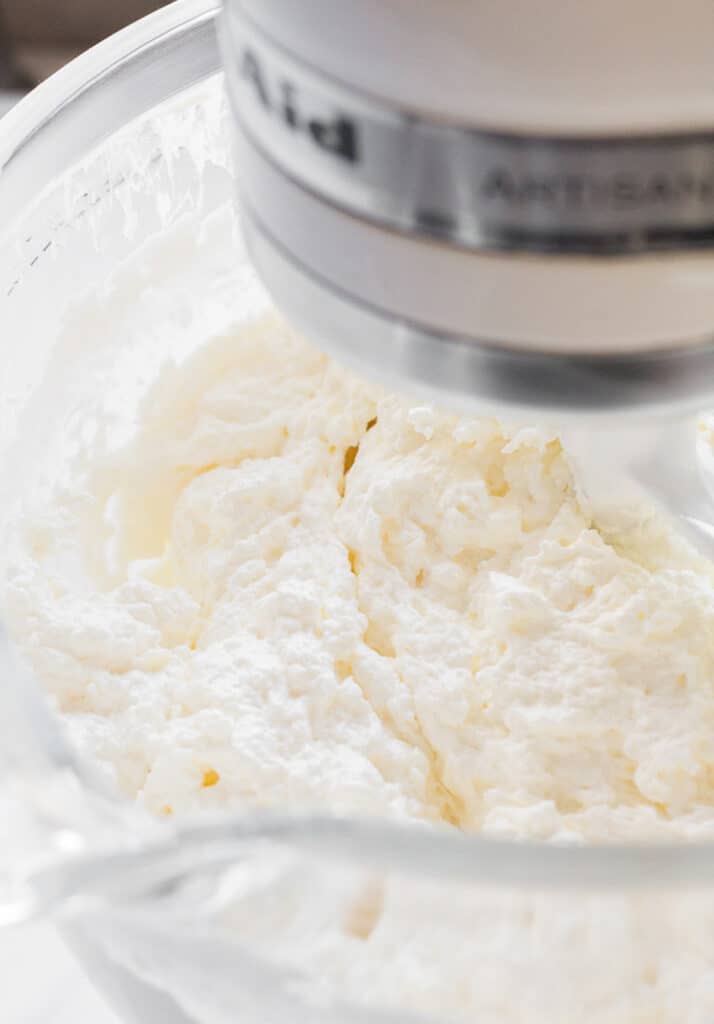 3. Why aren't my egg whites whipping into stiff peaks?
Your mixing bowl and utensils must be grease free otherwise the eggs won't whip up properly. They're temperamental like that. Wipe down your bowl and utensils with a clean cloth and lemon juice or vinegar to remove remaining fat residue. I also don't recommend using carton eggs. Sometimes they work, sometimes they don't. I also don't find meringue made with carton whites to be as stable.
4. Why is my Swiss meringue rock hard after being refrigerated?
Keep in mind that Swiss meringue is made with mostly butter, so being that cold butter is hard in the fridge, you should expect your buttercream to harden similarly. This aspect of Swiss meringue buttercream though, is one of perks of using it for layer cakes. Cakes refrigerated with Swiss meringue buttercream are far more stable for transportation and for covering with fondant than a cake covered with an American style shortening based buttercream. Also, buttercream acts as an excellent insulator, keeping your cake moist while being refrigerated. Just bring your cake to room temperature before serving and it will be perfectly soft and delicious.
5. I'm adding loads of gel food color to color my buttercream but it's still not the dark color I want.
Swiss meringue buttercream is oil (butter) based. Gel food color will not allow you to achieve the deep, or vibrant colors that can be easily achieved with shortening based or American style buttercream. To be achieve dark and vivid colors with Swiss meringue buttercream, you need food coloring that is suitable to chocolate, one that is oil based. I like to use Artisan Accents Chameleon Colors.
6. Swiss meringue buttercream costs more to make, takes longer to make and can be more difficult to make. Why would I want to make Swiss meringue buttercream over my go-to American buttercream that is inexpensive, fast, and easy?
Just like some people find Swiss meringue buttercream to be too buttery, some people find American style buttercream to be grainy, greasy or overly sweet. When it comes to taste and texture, it all comes down to personal preference. It's also important to consider workability as well, especially if you want to make professional looking cakes.
The main reasons I find Swiss meringue buttercream to be worth trying and is my preference for my cakes, is for stability and versatility. If you make layer cakes or tiered cakes, it's important to have a base buttercream that is stable for layering, stacking and transporting. Swiss meringue buttercream, as well as Italian buttercream, chills firm allowing for a smooth and stable foundation for fondant or rolled chocolate.
I also find that the support from using a meringue style buttercream, or ganache is important for supporting sugar flowers well in a cake. Buttercream that is more loose, doesn't firm in the fridge (like a shortening based buttercream) just doesn't have the stability of a meringue buttercream or ganache. Using Swiss meringue allows me to get sharp, clean edges on my cakes and stays firm while I am decorating, stacking, and transporting the cake.
Some tips for successful Swiss meringue buttercream:
*Use a candy thermometer or and instant read thermometer to make sure your temperature just reaches 160F. 160F ensures that all the bad bacteria is killed off in the egg whites. However, be sure to bring the temperature of your egg/sugar mixture up slowly and don't overcook your mixture. Rushing this process will result in scrambled and cooked egg whites.
*Swiss meringue buttercream can hold quite a bit of flavorings. When adding liquids, such as fruit purees and other liquids, mix in a little at a time. The liquid needs to be able to emulsify into the buttercream. Another reason you want to add a little bit of liquid at a time, is that adding too much liquid can cause the buttercream to become unstable. I recommend reducing your fruit purees into concentrates before adding to the buttercream. You can also use pulverized freeze dried berries for fruity variations of Swiss meringue buttercream.
*If your finished buttercream appears loose and more pudding-like, it's possible that the butter was too warm when you added it to the meringue. Pop the bowl into the refrigerator for 10-15 minutes then mix again.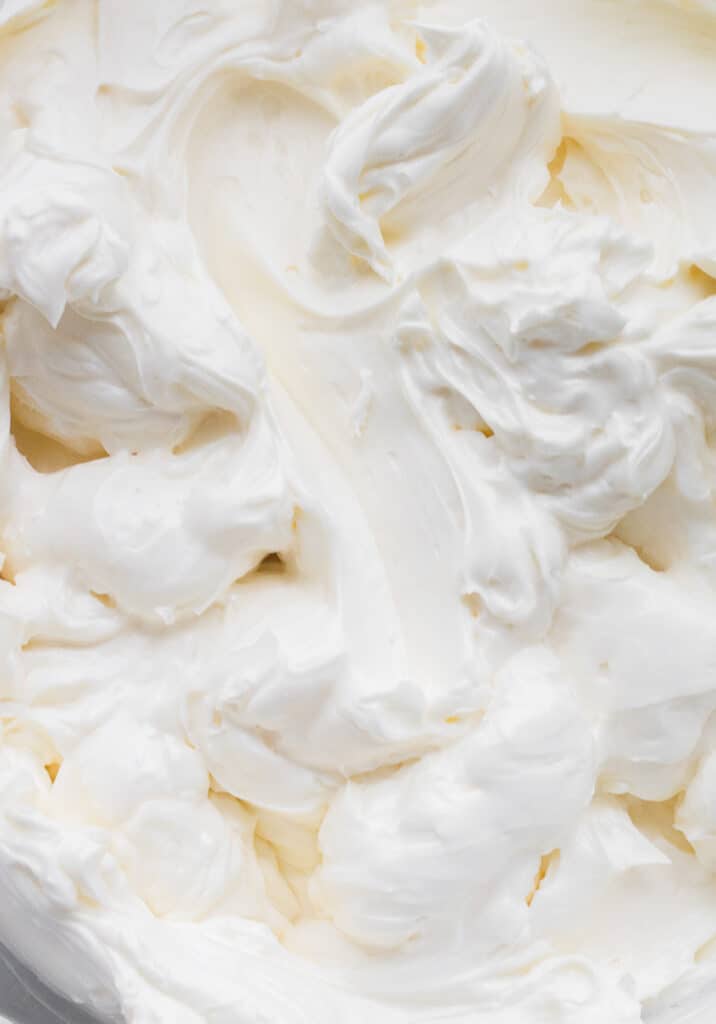 The recipe below is for vanilla bean Swiss meringue buttercream. But the flavor options are endless. Here are a few popular flavors to experiment with. Adjust the quantities to suit your taste.
*Chocolate - Add 3 cups (600g) of bittersweet chocolate, melted, to a batch of buttercream
*Fruit flavors - Add 1 to 1 ½ cups reduced fruit puree, preserves or curd per batch
*Nut Butters, Cookie Butters, Caramel- Add 1 to 1 ½ cups per batch
*Boozy - Add ¼ - ⅓ cup flavored liqueur such as Bailey's, Champagne, or Amaretto per batch
If you try this Swiss meringue buttercream recipe, let me know! Leave a comment in the comment area below and be sure to snap a photo and tag it #littlevintagebaking on Instagram. I love seeing your Little Vintage Baking creations!
Recipe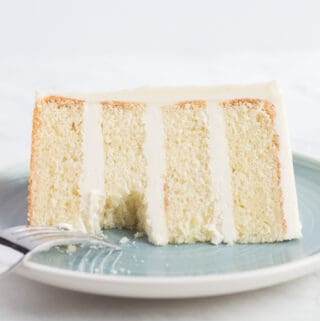 Swiss Meringue Buttercream
Silky, creamy, and stable Swiss meringue buttercream perfect for piping, filling and icing cakes
Ingredients
9

(300g)

large egg whites

2 ½

cups (500g)

granulated sugar

3 ½

cups (793g)

unsalted butter, softened and cut into cubes

¼

teaspoon

fine sea salt

1 ½

tablespoon

pure vanilla extract

1

tablespoon

pure vanilla bean paste
Instructions
Weigh out egg whites and granulated sugar together in a non-reactive bowl, clip a candy thermometer onto the side of the bowl and place over a pot of simmering (not boiling) water, whisking constantly and gently until temperature reaches 160F.

Using a sieve, strain the egg white sugar mixture into the bowl of a stand mixer.

Mix on medium speed with the whisk attachment until the mixture is glossy, reaches stiff peaks and the outside of the bowl is no longer warm. You cannot add butter to the bowl if it is warm or the butter will just melt when added.

Once the mixture reaches stiff peaks, you have Swiss Meringue (Yay!) but we're going for buttercream here, so onward. Switch out the whisk attachment for the paddle attachment and begin mixing on low speed.

Add the softened butter cubes, a couple at a time, until incorporated.

Now, just let it mix. It might curdle or look lumpy but that's ok. Keep mixing. This could take some time. The buttercream is ready when it is smooth, satiny and creamy.

Keep mixing on low and add the salt and flavorings. Mix until everything is fully incorporated.
Notes
This recipe can be halved or doubled. One full recipe will fill and frost a 8" cake that is 4" or 5" tall.