I've made an exciting change to my life that I'm super excited to share with you all. It's been a couple months since I've posted last and I've been really bummed about it - it's been crazy busy! In addition to blogging, baking and caking, I've been working with my husband on his growing business (which I love), and it's really gotten me to reconsider where I want to take my business. So, I've decided to take on limited wedding cake clients and focus more blogging, and teaching baking and cake decorating. With that said, I'm stoked about this decision and I'm looking forward to seeing where this new journey takes me.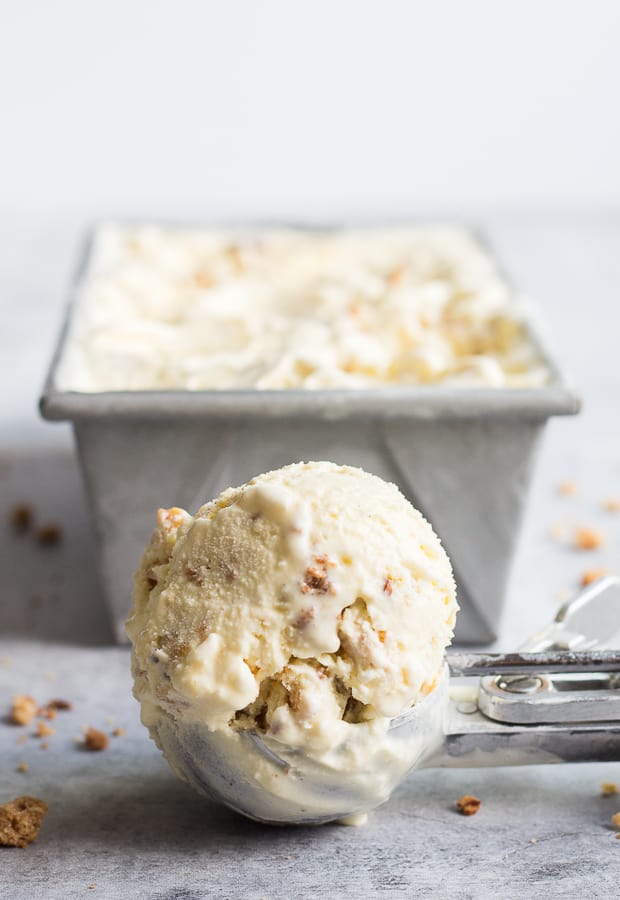 Now, let's talk about this star of this show, er, blog post. Roasted peach crisp ice cream. Roasted and caramelized peaches and crunchy oat and pecan crisp swirled into creamy and decadent vanilla bean ice cream. All you love in a baked fruit crisp packed into a delicious and out of this world ice cream.
I mean, there's nothing quite like homemade ice cream. It's creamier, richer and more flavorful than the store-bought tub variety. So, it's no surprise that when the weather started to get warmer, I instantly had homemade ice cream on the brain. I got a new ice cream machine for Christmas that I have been patiently waiting to use. And, with the abundance of seasonal, summer fruits at the farmers markets - including ripe, fragrant and juicy peaches, I knew that's how I wanted to break in my new machine.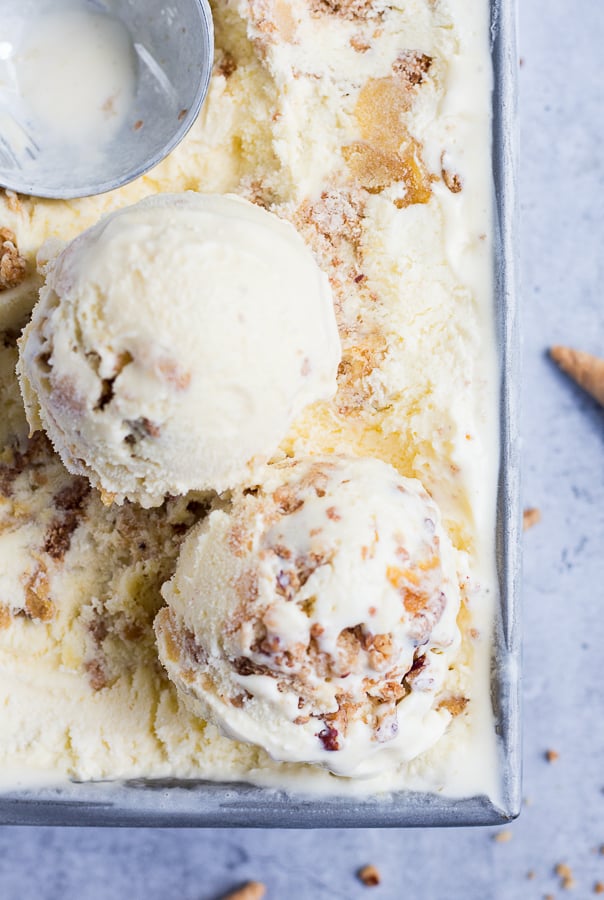 Using ripe peaches reduces the amount of sugar you need to add to your peaches before roasting, but they also just simply taste better by leaps and bounds. I tossed peeled, pitted and sliced peaches in some brown sugar, cinnamon and a pinch of salt and roasted them in the oven to bring out more of their natural sugars and deepen the peach flavor.  When the peaches are caramelized, roasted and cooled, I chop them up into smaller pieces and pop them into the refrigerator.
The crunchy crisp topping is the same topping I use for my go-to fruit crisp recipe. I used toasted pecans for this recipe, mostly because it's my favorite nut to bake with, but any nut will work here. Almonds would be amazing as they go really well peaches. Roasting the pecans deepens their flavor, keeps them crunchy and completely transforms them from meh to amazing. For optimal flavor, don't skip toasting your pecans. Bake the crisp topping until golden brown, let it cool completely, then store in the refrigerator until the ice cream is churned and you're ready to layer in the roasted peaches and the crisp topping.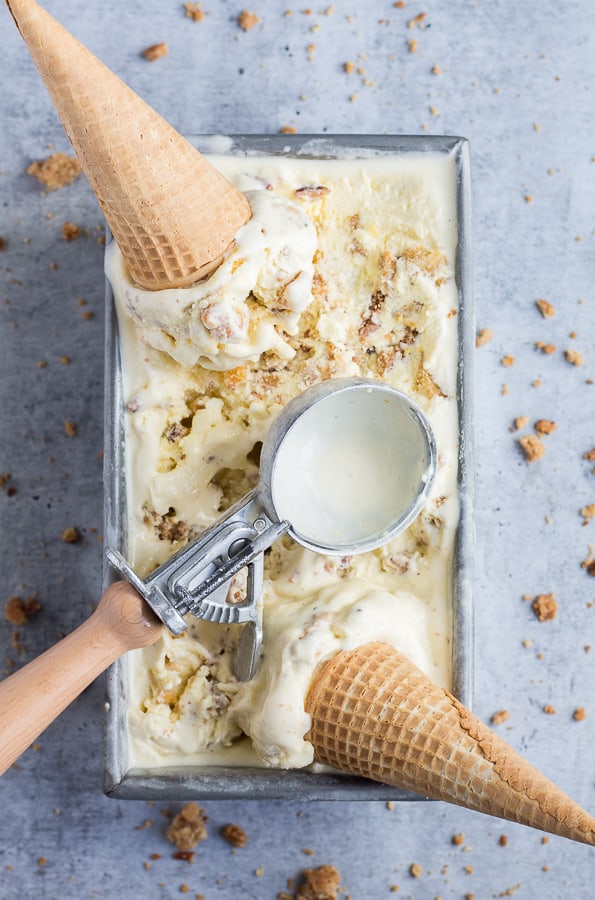 The ice cream base I used for my roasted peach crisp ice cream is a standard custard, or French-style base made with egg yolks. My preferred dairy to use is heavy cream and whole milk. You can also just use half and half if you wish. I find that this is a good balance to create a silky, creamy ice cream without being too rich. You can definitely play around with dairy ratios, but keep in mind, the more fat you use, the smoother, creamier and richer it will be. Like the traditional style custard, I use egg yolks in my ice cream. Egg yolks prevent ice crystals, which allows the ice cream to last longer. Egg yolks also make for a richer tasting and textured ice cream due to it's emulsifying qualities.
The mixture of sugar, eggs, milk and cream and salt are cooked until thickened, strained and allowed to cool a bit before adding extracts. I used both vanilla and vanilla bean paste for optimal vanilla flavor. Once room temperature, the mixture is set aside in the fridge to chill completely - 8 hours at the very least. You want your ice cream base to be super cold. I make my ice cream base 24 hours in advance before I need it. At this time, I also put my ice cream machine bowl in the freezer to freeze completely.
After I churn my ice cream and it resembles soft serve, I layer the ice cream, the peaches and the crisp topping into my preferred container (I used a 9x5 loaf pan here) and swirl to evenly mix. Pop the ice cream into the freezer to harden up a bit more before serving. I like to top my scoops of ice cream with extra crisp topping when serving.
Did I mention how warm my studio was when photographing my roasted peach crisp ice cream? But really, I sort of love all the little drips and melty pools of ice cream in the photos. Luckily, my roasted peach crisp ice cream was promptly eaten by guests I had coming over. And by promptly eaten, I mean essentially inhaled.
If you try my roasted peach crisp ice cream, let me know! Leave a comment in the comment area below and be sure to snap a photo and tag it #littlevintagebaking on Instagram. I love seeing your Little Vintage Baking creations!
For more fruity desserts, check out the recipe for my raspberry swirl cheesecake brownies or this Meyer lemon ginger tart with toasted honey meringue!
Recipe
Roasted Peach Crisp Ice Cream
Roasted and caramelized peaches and crunchy oat and pecan crisp swirled into creamy and decadent vanilla bean ice cream.

Ingredients
Roasted Peaches:
2

cups

fresh peaches, peeled and pitted, sliced

I used 5 small/medium size peaches

2

tablespoon

light brown brown sugar

⅛

teaspoon

fine sea salt

¼

tsp

ground cinnamon
Crisp Topping:
½

cup + 2 tablespoon (80g)

all purpose flour

¼

cup (25g)

old fashioned oats

¼

teaspoon

fine sea salt

¼

teaspoon

ground cinnamon

¼

cup (50g)

light brown sugar

6

tbsp (85g)

unsalted butter, cold and cut into chunks

¼

cup (30g)

pecans, chopped and toasted
Ice Cream Base:
1 ½

cups (355ml

heavy cream

1 ½

cups (355ml)

whole milk

1

cup (200g)

granulated sugar

¼

tsp

fine sea salt

7

large egg yolks

2

tsp

pure vanilla extract

2

teaspoon

pure vanilla bean paste
Instructions
Make the ice cream base.
Set up an ice bath by placing a 2-quart bowl into a larger bowl that has been filled with ice water. Place a strainer over the smaller bowl and set aside.

Combine the milk, cream, sugar and salt into a medium saucepan over medium heat. Bring the mixture to a simmer, stirring occasionally. Remove from the heat.

In a large bowl, whisk the egg yolks until they have lightened in color.

Gradually pour some of the milk/cream mixture into the yolks, whisking constantly as you slowly pour. Scrape the mixture back into the saucepan.

Cook over low heat, stirring and scraping the pan constantly with a spatula, until the mixture is silky, thickens and reaches a temperature of 170-175F.

Strain the mixture into the bowl on the ice and stir the mixture over the ice until the mixture cools to room temperature.

Stir in the vanilla and vanilla bean. Cover and refrigerate the mixture for a minimum 8 hours, preferably overnight or 24 hours.
Make the roasted peaches.
Preheat the oven to 425F. Line a rimmed baking sheet with parchment paper to keep the peaches from sticking.

Combine the peach slices, brown sugar salt and cinnamon into a medium size bowl and toss to coat.

Pour the peaches onto the sheet pan. Space them out into one even layer.

Bake for 25-30 minutes, or until softened, tender and caramelized. Flip the peaches halfway through cooking and rotate the sheet pan.

Let the peaches cool completely on the sheet pan. Once cool, chop the peaches into smaller pieces. Place in a container and store in the refrigerator until the ice cream is ready.
Make the crisp topping.
Preheat the oven to 350F. Line a sheet pan with parchment paper.

In the bowl of a food processor, combine the flour, sugar, cinnamon and salt. Pulse to combine. Add in the oats and the butter and pulse until the mixture comes together and forms large clumps.

Stir in the chopped pecans. Turn out the crisp onto the sheet pan and spread into an even layer.

Bake the crisp for 10-15, stirring halfway through, until deep golden brown.

Let the crisp cool completely then place into a container and store in the refrigerator until the ice cream is ready.
Freeze and compile the ice cream.
Freeze the custard in your ice cream maker according to manufacturer's instructions. This should take 25-40 minutes. Your ice cream should be thick like soft-serve.

Once the ice cream is frozen, layer the ice cream, peaches and crisp into the container of your choosing. I used a 9x5 loaf pan. Use a knife to swirl in the peaches and crisp thoroughly.

Cover the ice cream with cling wrap. Place the ice cream back into the freezer to harden and remove a few minutes before serving. Serve your ice cream scoops with some additional crisp topping sprinkled on top. Enjoy!