This post may contain affiliate links. Please refer to my privacy policy for more information.
When it comes to brownies, I feel like everyone has their go-to recipe, and the idea of yet another brownie recipe seems so ho hum. But these raspberry swirl cheesecake brownies are not your typical brownies. These brownies are decadent, chocolaty, creamy and fruity, all in one bite. Fresh raspberry jam is swirled into a creamy cheesecake topping that is swirled into intensely chocolatey and fudgy brownies. The raspberry jam is sweet-tart, with a concentrated fruity flavor. The cheesecake swirl is creamy and tangy and is super delicious with the raspberry and chocolate. While there are a few components to making this recipe, they're easy to prepare in advance, and can be assembled before baking.
How to make the fresh raspberry jam
This super small batch of fresh raspberry jam is easy and can prepared quickly. I prefer using fresh raspberries, but you can use frozen if you prefer. To make the jam, combine sugar and raspberries into a saucepan with a bit of lemon juice. The juice will help retain the bright pink raspberry color and add a pop of freshness to the jam. Bring the mixture to a boil and let it reduce, stirring occasionally. That's literally it. The raspberry jam will be thickened and super concentrated in flavor. After straining out the seeds and pulp, pop in the fridge to cool and thicken up further. Not only is this jam fabulous in these brownies but it's also great for drizzling on ice cream, mixing into butter creams, spreading on scones and even for mimosas.
The cheesecake batter
Cream cheese is mixed together with an egg yolk, sugar and vanilla. Be sure the cream cheese and egg yolk are room temperature before mixing so the cheesecake doesn't curdle. Once the cheesecake batter is mixed until completely smooth, set aside and prepare the brownie batter. If you're assembling your brownies at a later time, cover the bowl and pop the the cheesecake mixture into the fridge.
How to make raspberry swirl cheesecake brownies
This brownie recipe is dense and intensely chocolatey. No cakey brownie here.  It's my absolute favorite and I use variations of this brownie recipe all the time. Be sure to use higher quality chocolate here because the chocolate flavor is everything in these brownies. Butter is melted with chocolate and espresso powder. The sugars are whisked in to the warm mixture to dissolve a bit and bring the mixture up to a cooler temperature so that when the eggs are added, they don't scramble. Eggs are whisked in one at a time, followed by vanilla. Cocoa powder, flour and salt are added until *just* blended. Don't over mix or the brownies will be tough.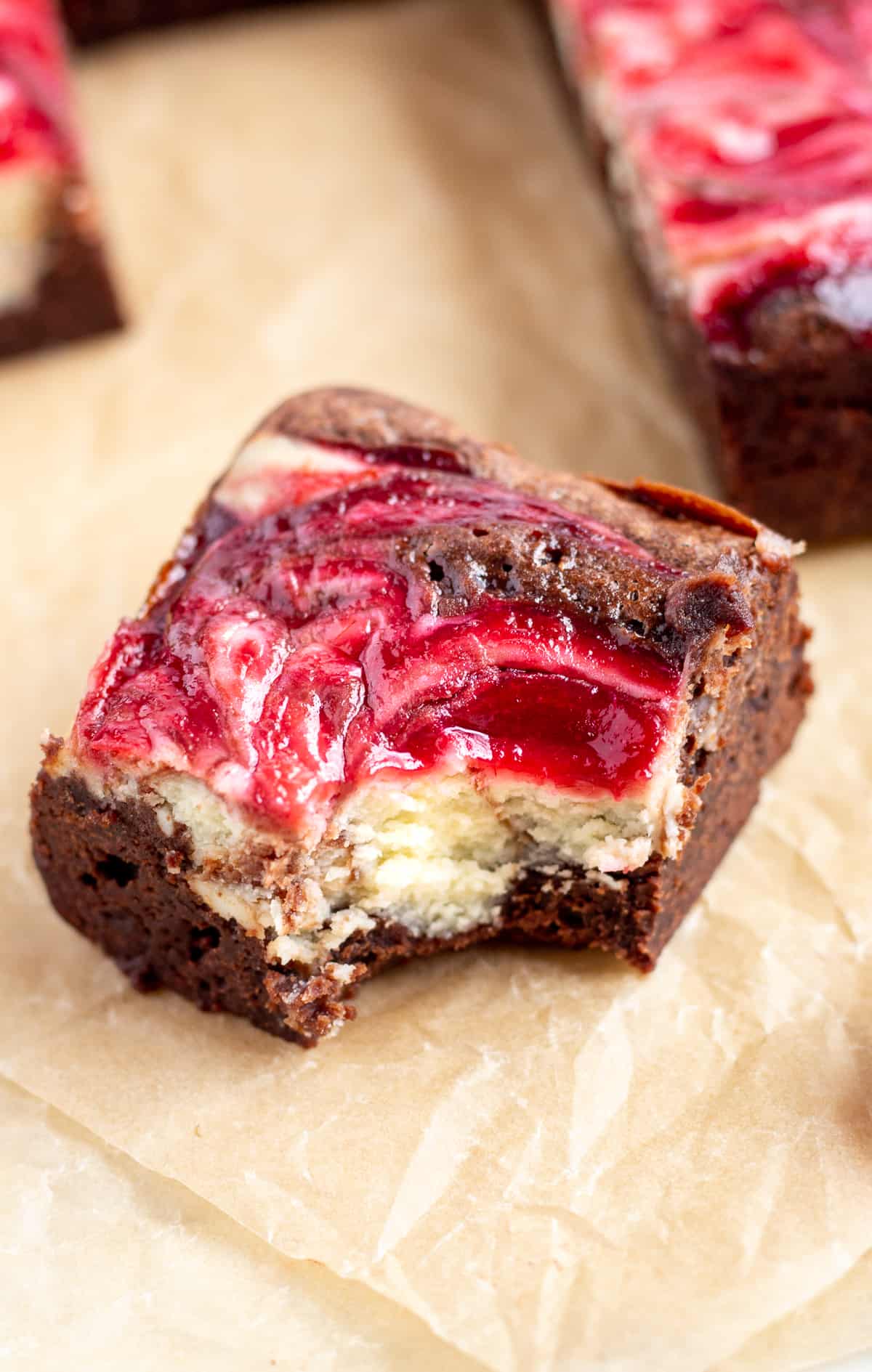 To achieve the swirls, start by spreading the brownie mixture evenly into the pan. Using a small ice cream scoop, or a spoon, scoop out equal portions of the cheesecake mixture onto the brownie batter. Spoon about a teaspoon of jam over each cheesecake scoop. With a knife or skewer, create swirls in the batters until the cheesecake mixture and jam are well distributed and swirled. Pop in some fresh raspberries if you wish, then bake. I know it will be hard to resist, but allow the brownies to cool fully before cutting into them. Store leftovers in the fridge tightly wrapped with plastic wrap.
Enjoy!
Ash xx
For more delicious bar and brownie recipes, check out these posts:
Lavender Lemon Shortbread Bars
Salty Bourbon Millionaire Bars
Raspberry Swirl Cheesecake Brownies
Sweet-tart, homemade raspberry jam is swirled into a creamy cheesecake topping and swirled into a dense, fudgy brownie.
Ingredients
Raspberry Jam
¾

cups (6oz/170g)

fresh raspberries, frozen works well too

2

teaspoons

fresh squeezed lemon juice

2

tablespoons

granulated sugar
Cheesecake
1

block (8oz/225g)

Philadelphia cream cheese

1

large

egg yolk

¼

cup (50g)

granulated sugar

1

teaspoon

pure vanilla extract
Brownies
¾

cup

unbleached, all-purpose flour

2

tablespoons

good quality cocoa powder

½

teaspoon

fine sea salt

½

cup

unsalted butter

½

teaspoon

instant espresso powder

⅔

cup

bittersweet chocolate, chopped

¾

cup

granulated sugar

¼

cup

light brown sugar

3

large

eggs

1

teaspoon

pure vanilla extract
Instructions
Preheat the oven to 350 F. Line an 8x8 square pan with parchment paper.

Make the raspberry jam first to allow time to cool. In a saucepan, heat the raspberries, sugar and lemon juice over medium heat. Bring to a boil, stirring occasionally to prevent burning.

Reduce raspberry mixture until it has thickened a bit. Strain mixture through a sieve into a bowl. You should have ¼-1/3 of a cup of raspberry jam. Place into the refrigerator to chill.

Make the cheesecake batter. Combine the softened cream cheese, egg yolk, sugar and vanilla and mix with a hand mixer or a whisk until smooth. Set aside.




Make the brownie batter. In small bowl, whisk the flour, cocoa powder and salt to combine. Set aside.




In a medium saucepan, over the lowest heat setting, melt the butter with the espresso powder.




Once melted, remove the pan from heat and stir in the chocolate chips until completely melted.




Add in both the granulated and brown sugars and stir until combined. The mixture should now be room temperature.




Add in the eggs, one at a time, stirring just to combine after each addition.




Stir in the vanilla extract.




Stir in the flour mixture until just combined.




Pour the brownie mixture into the pan and spread evenly with a spatula.




Using an ice cream scoop, scoop the cheesecake mixture onto the brownies in nine even spots.




Spoon a teaspoon of the raspberry jam over the cheesecake scoops.




Using a butter knife, create swirls in the batter until the jam and the cheesecake are well distributed. Press a few fresh raspberries into the batter.

Place into preheated oven to bake for 38-45 minutes. This time could be a bit longer, or it could be less. Insert a toothpick into the center to check for doneness. There shouldn't be uncooked cheesecake batter. The edges should be visibly cooked, pale brown and the brownies shouldn't jiggle or look wet.




Once baked, set on wire rack to cool. To speed up the cooling process, pop into the fridge after cooling down from the oven for 15 minutes.

Once cool, cut into even bars and serve.