Black ganache is magical. Ganache, in general, has great texture - you can make it as smooth or as textured as you like, but this black ganache looks so striking that it is certainly a statement on its own. Inky black and easy to work with, black ganache is a perfect backdrop for this simple bloody rose Halloween cake.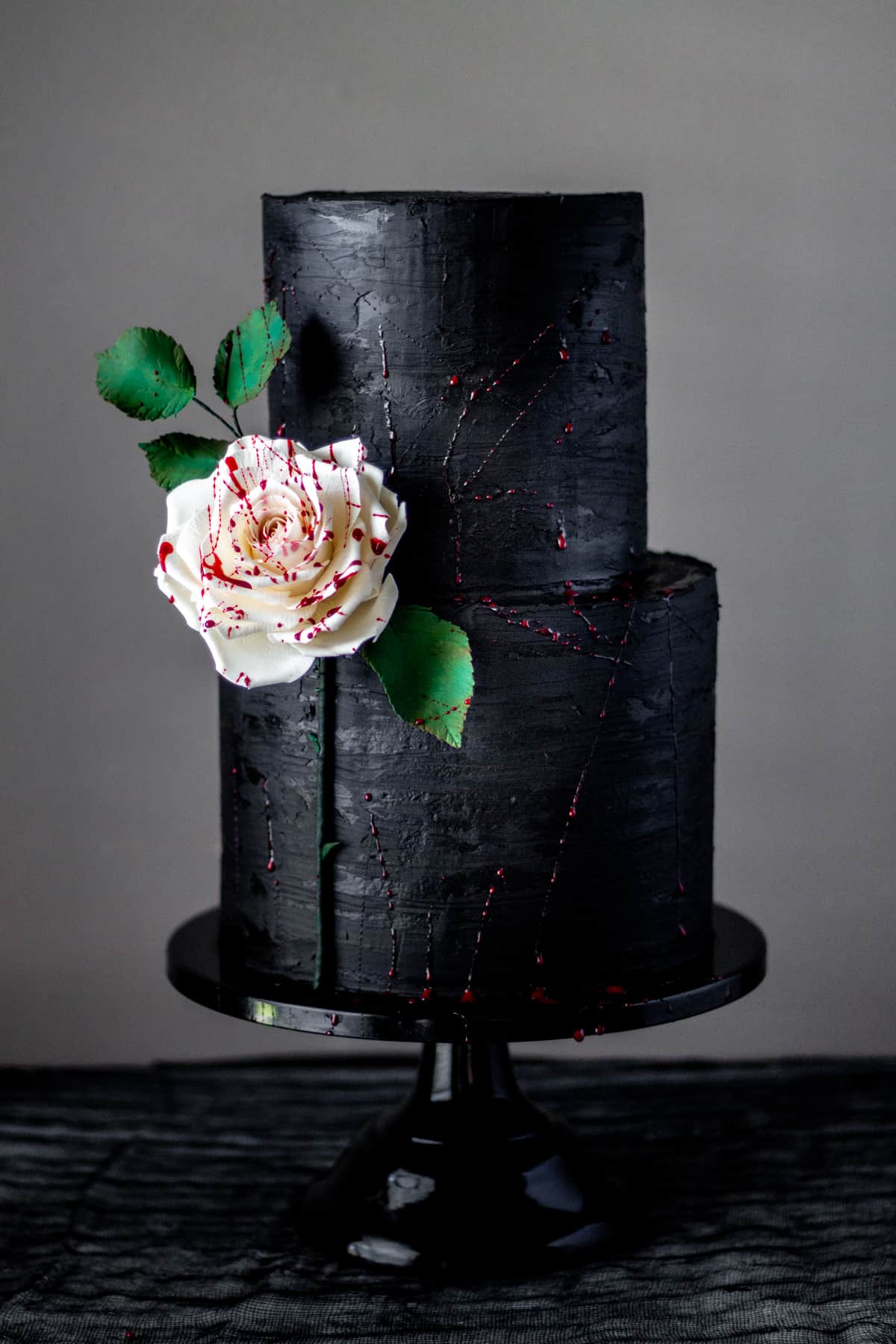 About this cake
Though this cake is simple, it is meant to make a statement. I can imagine a cake like this being served at a wedding, or an elevated Halloween party. Looking just beautiful enough, until you realize the damage inflicted on this cake - a bloody spray. Maybe a wedding gone horribly wrong? Or a dinner party that ended on deadly terms?
This cake is was fun to make. I have been wanting to make this cake for a while now. I chose to go with a simple, but elegant, large white rose. I made this rose out of gum paste, as well as the stem. I've been loving the look of the exposed stem look on cakes, and I wanted this cake to be simple enough with one stemmed rose. You can also do this with a real or silk rose as well.
Black Ganache
Making black ganache requires adding black gel food coloring to the cream before adding it to dark chocolate. The cream should look dark grey. The ganache gets this super inky black once it is mixed. Leave the ganache to deepen in color and come to a peanut butter consistency, ideal for frosting a cake. You can see the texture on this cake, and depth, which can be hard to achieved with fondant.
The best way to texture the ganache:
Apply a thick coat of ganache and let it firm up until just tacky.
Add an additional layer of ganache, then scrape off the excess with a bench scraper or offset spatula. Let the second layer firm up a bit.
Repeat the steps until you are happy with the texture.
Securing the rose to the cake
The rose and the stem are two separate pieces. Gum paste flowers are too heavy to be supported by just the stem against the cake.
The stem is made with floral wire, wrapped in thin strips of paper towel, then wrapped with floral tape to bulk it up and make it thicker like a real stem.
I added thorns to my stem with gum paste and smoothed them out to blend into the stem.
Secure the stem against the cake with a small piece of bent wire.
Insert the flower into the cake above the stem, letting it overhang the side of the cake to make it look like it is one full flower.
I added a few gum paste rose leaves to fill out the space a little more.
Edible Fake Blood
In order to get a realistic blood spray look, the fake blood needs to resemble the viscosity and texture, similar to chocolate for a drip cake . Too watery and it will absorb into the flower, and, no pun intended, bleed. Too thick and it won't look like a spray. It will be thick and splotchy. Making the edible fake blood allows you to control the texture, and you likely have the ingredients on hand. You need red and purple gel food color, cocoa powder, corn syrup, water and cornstarch. I wanted the blood to look darker, with a tad bit of purple as a nod to the real deal. I've included the recipe below.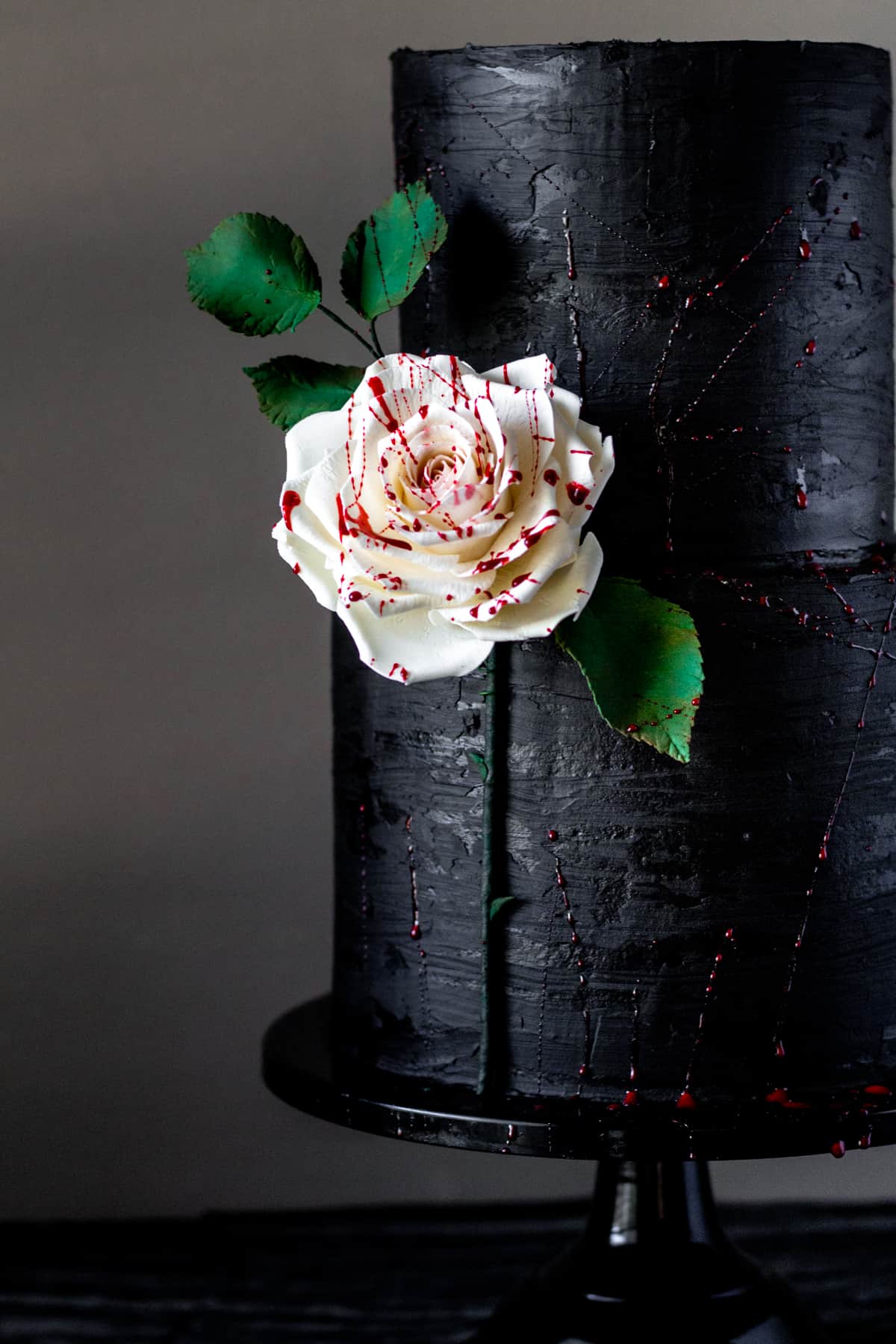 Spraying the edible blood
It took me a bit to figure out the best way to spray the fake blood for the effect I was going for. I placed a trifold poster board around my cake and lined my countertop with paper towels. Put on an old shirt, just in case you get back splatter. Then I dipped a large stiffer paintbrush (reserved for my sugar projects) in the "blood" and flicked it at the cake.
I stood back a couple feet before flicking the paint brush to create the spray. The part of the cake closest to you will the most of the spray, but the little flecks that ended up on the cake itself looked awesome and I was happy with the results.
I love this morbid cake. Spooky season is my jam.
If you make this bloody rose Halloween cake, let me know! Drop a comment or tag me on Instagram. I love seeing your bakes and creations.
Enjoy!
Ash xx
For more Halloween tutorials, check out these posts:
Halloween Rice Paper Ghost Tutorial
Halloween Wafer Paper Mummy Cake Tutorial
Easy Halloween Ghost Sugar Cookies
Halloween Sprinkles Cakesicles
Recipe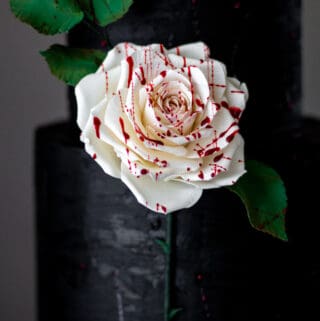 Edible Fake Blood Recipe
Ingredients
½

teaspoon

cocoa powder

½

teaspoon

cornstarch

3-5

drops

red gel food color

1-2

drops

purple gel food color

1

tablespoon

corn syrup

1-2

teaspoons

water
Instructions
Whisk together the cocoa powder and cornstarch.

Whisk in the water, followed by the red gel, purple gel, and corn syrup.

Add any more color if necessary.

To make it thicker, add a little bit of cornstarch or cocoa powder.

To make it more opaque, add more cornstarch.

Too thick, add a little bit of water.

The fake edible blood should be smooth in texture and have the viscosity of maple syrup, chocolate for a drip cake.