French buttercream, the less commonly used of the egg based buttercream trio, but easily the most delicious. It's light and silky as a mousse but rich and luxurious as a pudding or custard. It's fabulous as a cake or macaron filling and is a fab way to use up any leftover egg yolks. It is the perfect vehicle for intense and decadent flavors, such as chocolate, nut butters and curds.
What is French Buttercream?
French buttercream is made very similarly to Italian buttercream, requiring a hot sugar syrup to added to egg yolks to form the base of the buttercream, but is faster since it doesn't require a meringue. Butter is then added and beaten to until thick and custardy. It's sturdy as a cake filling and holds its shape well when piping. Compared to Swiss and Italian buttercreams, French is the least stable of the trio, and doesn't fare well with warm weather. I tend to use French buttercream mostly as a filling for cakes or macarons, while frosting the outside of my cakes with Swiss or Italian. This is a great way to use both the yolks and whites.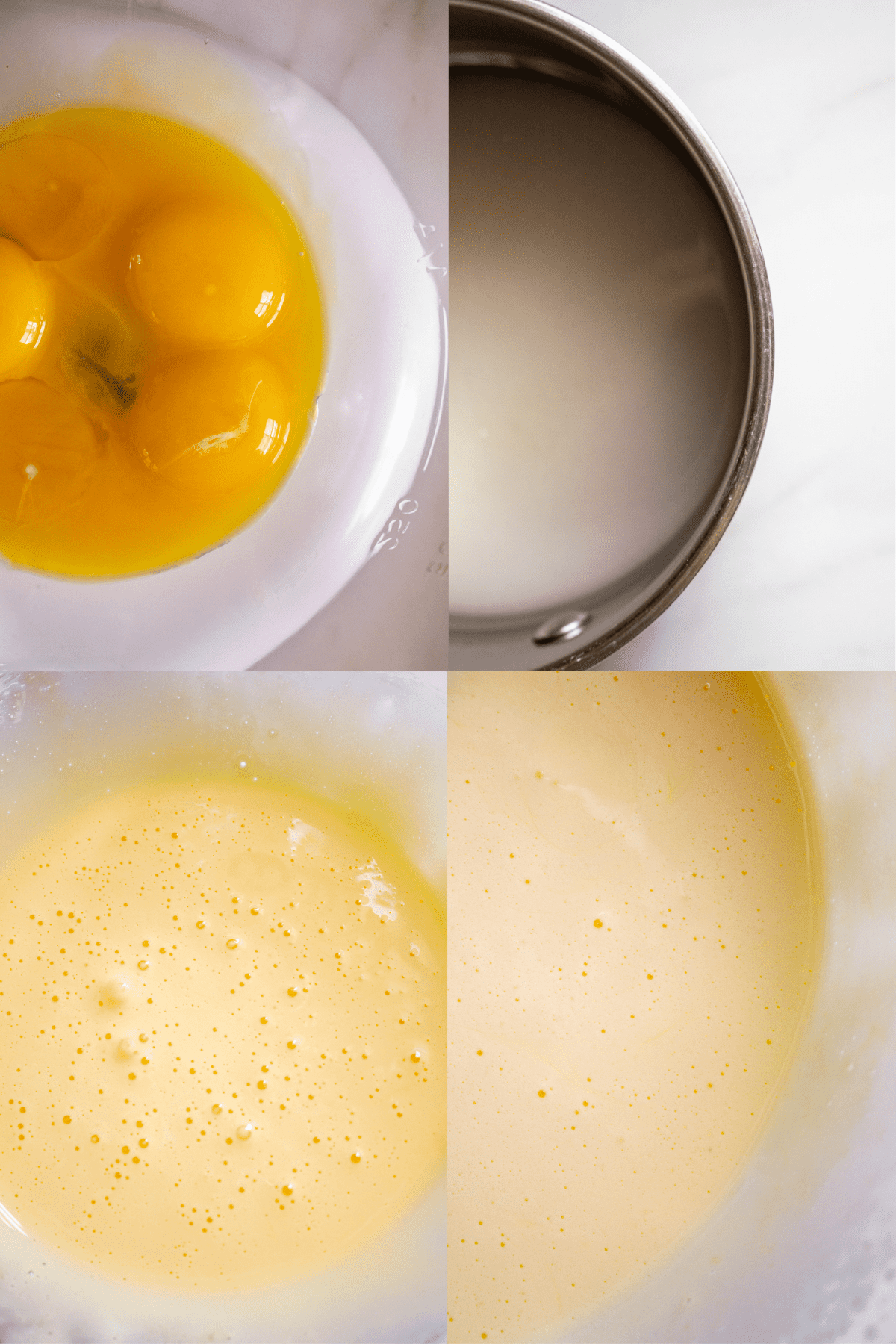 How to make French Buttercream
French buttercream is custardy-like, due to the buttercream being egg yolk and butter based. Egg yolks are whipped on high to aerate and loosen up the yolks. The yolks will lighten in color and thicken a bit. Meanwhile, water and sugar are boiled on the stove to 238F - 240F. This sugar syrup is slowly drizzled into the beaten egg yolks and whipped until the mixture has cooled to room temperature.
The sugar syrup is very, very hot. Always keep the egg yolk mixture on low speed, and add the sugar syrup in a slow stream to prevent any accidents.
Room temperature butter is added a few pieces at a time, followed by salt and vanilla. The mixture is then beaten until thick and creamy. Any additional flavors, like chocolate, fruit pureés, and more added after the buttercream has come together.
Storing French Buttercream
Since French buttercream is egg yolk based, it does have to be refrigerated. It can be left out for a few hours, but should be refrigerated overnight. French buttercream can also be refrigerated for up to a week and frozen for up to 3 months. Defrost buttercream in the refrigerator. Bring the buttercream to room temperature before re-beating. Just like Swiss and Italian, French buttercream will separate when beaten cold.
Tips for Buttercream Success
Since French meringue buttercream is made with yolks and butter, it has a yellow hue. Because of the color, and the high fat content, it does not take food coloring well. I do not recommend trying to color this buttercream.
If your buttercream seems too runny, your butter could have been too soft. Refrigerate for 10 minutes then rewhip.
If your buttercream seems too stiff or lumpy, your butter could have been too cold. Microwave the buttercream in 10 second increments, beating after each increment, until the proper consistency is reached.
If your buttercream looks curdled, keep mixing. Hang in there. It's going to be ugly before it gets pretty.
If you make French buttercream, let me know! Drop a comment or tag me on Instagram. I love seeing your bakes and creations.
Enjoy!
Ash xx
For more buttercream recipes, check out these posts:
Recipe
French Buttercream
Ingredients
6

large

egg yolks

¾

cup

granulated sugar

2

cups

unsalted butter, room temperature

⅛

teaspoon

fine sea salt

1

tablespoon

pure vanilla extract or vanilla bean paste
Instructions
In the bowl of a stand mixer fitted with the paddle attachment, beat the egg yolks on high speed until very pale in color and slightly thickened.

In a small saucepan, combine the sugar and a ½ (120g) water and place over medium heat, stirring on occasion.

Once the mixture starts to boil, stop stirring and boil the mixture until the sugar is dissolved and reaches 238F on a candy thermometer. Remove from the heat.

With the mixture on low speed, slowly stream in the hot sugar syrup. Be sure to do this slowly and on low speed so the hot sugar doesn't splash up.

Turn the mixer up to medium and beat until the mixture is room temperature and the bowl is completely cool.

Add the butter, a few pieces at a time. Add in the salt and vanilla.

Beat until the buttercream is completely smooth and silky (about 5 minutes).