I'm sort of over winter. I happen to love winter and I actually really like snow but I'm so ready for Spring. It would just be nice to go walking around the neighborhood or take the littlest cupcake to the park. It's been pretty cold,  cloudy and gloomy here. It snowed overnight, leaving us stuck in the house for the day so the littlest and I decided to bake some bright and cheery, funfetti sandwich cookies. Even when I'm not working, baking is something I love to do with the girls.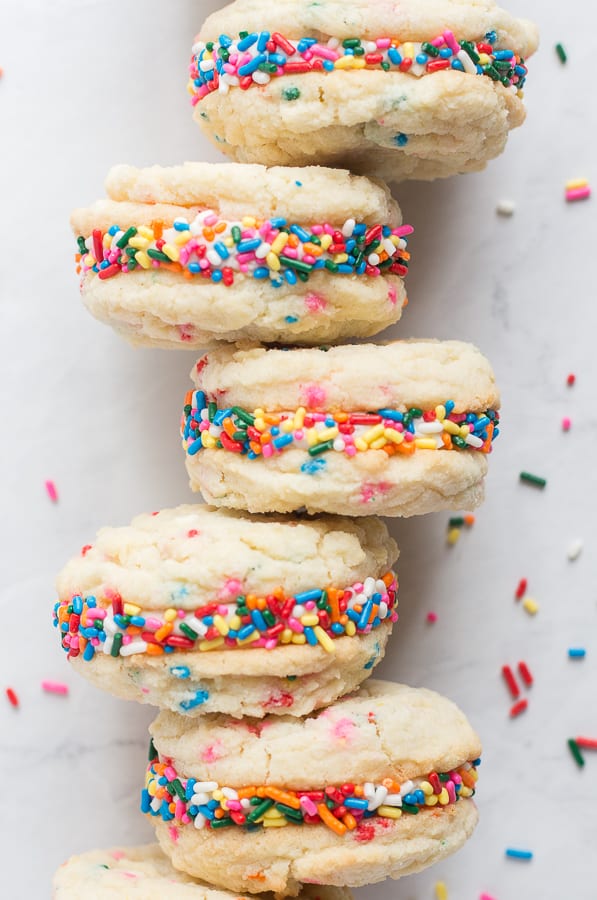 My girls go crazy for sprinkles. Sprinkles in pancakes, on ice cream, in brownies, cookies - if there's a way to incorporate sprinkles, they will.  There's a magic about sprinkles that make people just love them. Have you ever seen a grumpy face from someone eating something full of sprinkles? Is it even possible?
These cheery funfetti sandwich cookies are loaded with sprinkles, filled with a marshmallow creme buttercream, then rolled in more sprinkles. One of the cool things about these cookies is that you can make them all different sizes and load them up with whatever fillings you wish. Often, I bake these smaller, like two or three bite sandwich cookies for kid's birthday parties. I've even made them larger and filled them with ice cream, which is my favorite way of eating them.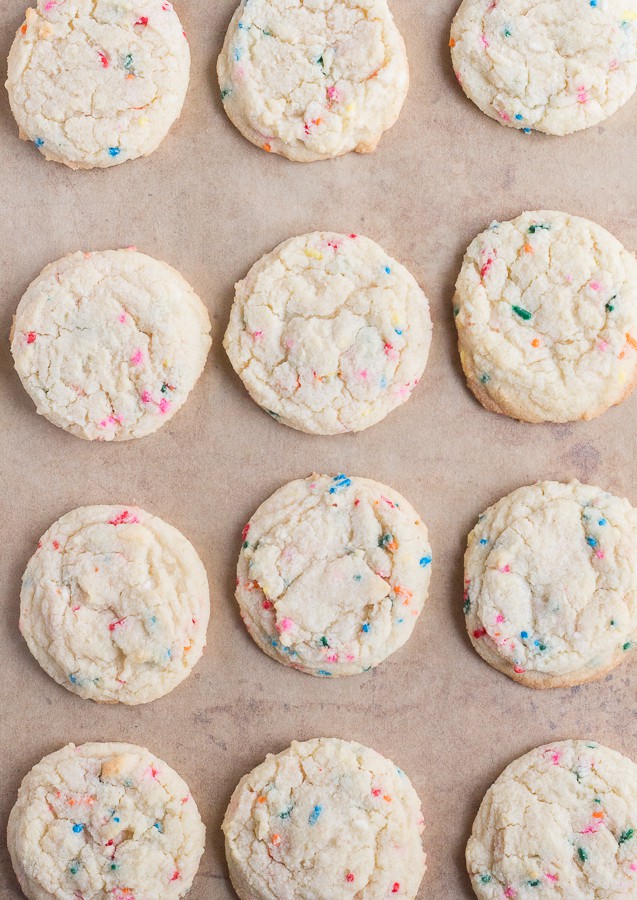 You can use any kind of sprinkles you wish to use for your funfetti sandwich cookies. I chose to use jimmies here because I always have them on hand, but feel free to use quins, nonpareils, whatever you like.  The cookies are chewy with crispy edges, packed with vanilla flavor and loaded with sprinkles. The marshmallow buttercream is made with pretty typical buttercream ingredients, but with a container of marshmallow creme and lots of vanilla bean paste. I whip the marshmallow buttercream until it's super airy, light and creamy. It's also amazing on chocolate cupcakes. So good.
Be sure to use a strong, good quality vanilla extract, and paste because vanilla is a strong flavor in these cookies. I used my favorite, Nielsen Massey extract and paste. You can also change up the flavor of the marshmallow filling by adding in pulverized freeze-dried fruits. We love these cookies with strawberry marshmallow filling.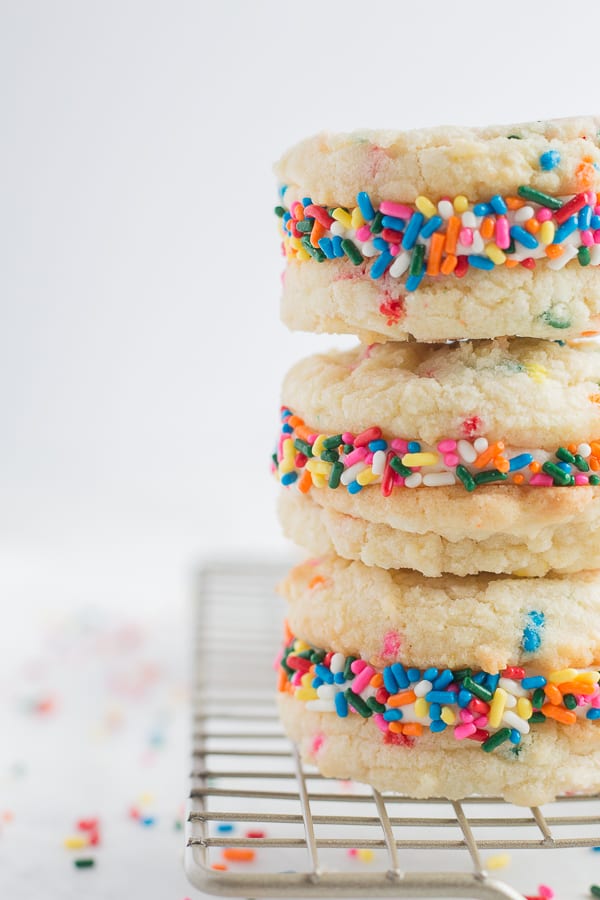 I use a piping bag to pipe the marshmallow buttercream onto the cookies, leaving about ¼" border. Place another cookie on top and press just until the buttercream comes to the edge. Then I like to roll the cookies in more sprinkles because, well, SPRINKLES.
Even though the cold weather, snowy weather is still hanging around, it's March. March means the beginning of wedding season! Be sure to check back to the blog and sign up for the email newsletter because lots of cake tutorials, wedding cake creations, recipes and more are coming soon. Lots and lots of awesome cake info coming to the blog for both the hobby baker and the business baker. Any particular recipes, tutorials, product reviews, etc. you want to see? Leave me a comment below.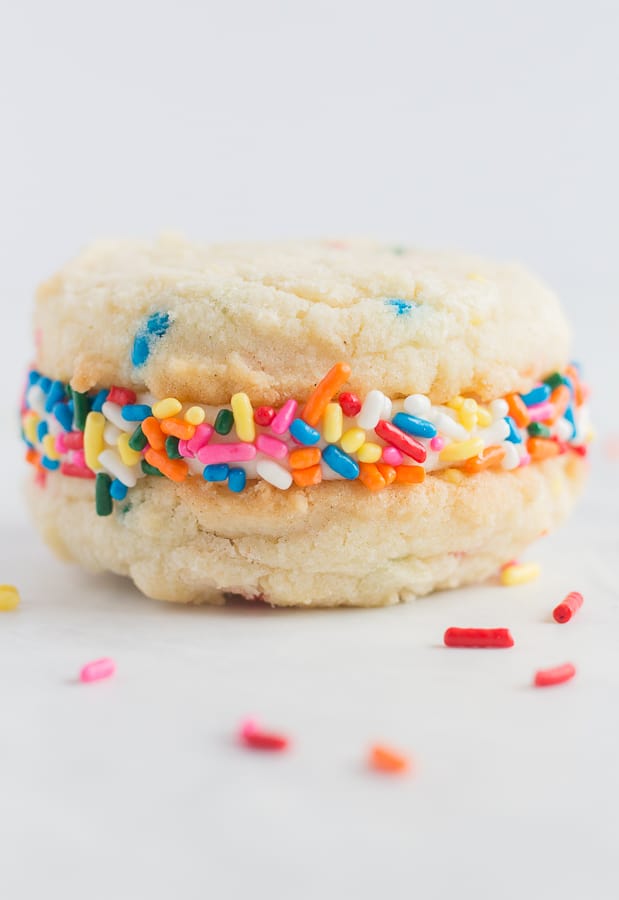 If you try these funfetti sandwich cookies, let me know! Leave a comment in the comment area below and be sure to snap a photo and tag it #littlevintagebaking on Instagram. I love seeing your Little Vintage Baking creations!
For more crazy delicious cookies, try these Bakery Style Chocolate Chip Cookies or these Strawberries and Cream Shortbread cookies!
Recipe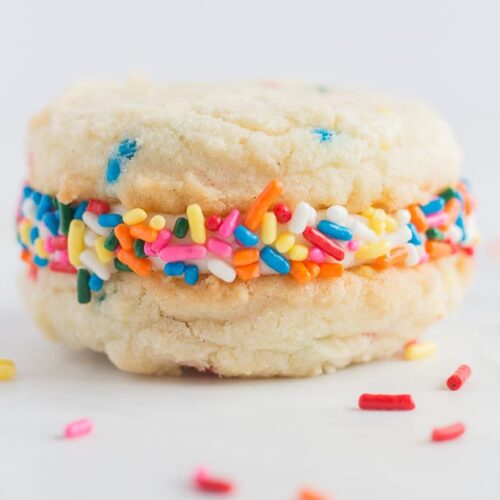 Funfetti Sandwich Cookies
Whipped and fluffy vanilla bean marshmallow buttercream sandwiched between sprinkle filled sugar cookies.
Ingredients
Funfetti Cookies:
1

cup (226g)

unsalted butter, room temperature

1 ¾

cup (364g)

granulated sugar

¾

teaspoon

fine sea salt

1

tablespoon

pure vanilla extract

2

large eggs, room temperature

2 ¾

cup (330g)

all purpose flour

2

tsp

baking powder

3

tablespoon

sprinkles - jimmies, nonpareil, or quins
Whipped Marshmallow Buttercream Filling:
1

cup (226g)

unsalted butter, softened

1 ¼

cup (141g)

confectioners sugar

2

teaspoon

pure vanilla bean paste

2

tablespoon

milk

1

jar

marshmallow creme

¼

fine sea salt
Instructions
In the bowl of a stand mixer fitted with the paddle attachment, cream the softened butter and the sugar until light, fluffy and creamy, about 2-3 minutes.

Add the vanilla and the eggs, one at a time, and mix after each addition, just until combined.

In a medium bowl, whisk together the flour, baking powder and salt. Add the flour mixture to the butter mixture and mix on low just until the flour is incorporated.

Remove the bowl from the stand mixer. Stir in the sprinkles.

Use an ice cream scoop to evenly portion the dough into balls and place on baking sheets, leaving two inches between the cookies. Chill in the refrigerator for 30 minutes.

While the cookies are chilling in the fridge, heat the oven to 375F.  Line two cookie sheets with parchment paper.

Bake the cookies for 11-13 minutes or until the edges are just beginning to turn a light, golden brown. The centers should be just set. Cool completely.

While the cookies are cooling, prepare the marshmallow buttercream filling. In the bowl of a stand mixer fitted with a paddle attachment, mix the butter and confectioners sugar on low until combined.

Add the salt, vanilla bean paste, and milk, mixing on low until incorporated. Add in the marshmallow cream.

Turn the mixer to medium high and whip the buttercream, scraping the bowl every two minutes or so, for 8 minutes, until super light, fluffy and creamy.

Transfer the buttercream to a piping bag fitted with your choice of piping tip. Pipe a circle of buttercream on half of the cookies, leaving a bit of space (about ¼ inch) around the edge of the cookie.

Top with remaining cookies, pressing the sandwiches together so that the buttercream is near the edges.

Roll the edges of the sandwich cookies in sprinkles. At this point you can refrigerate the cookies to firm up the buttercream or serve as is.