This post may contain affiliate links. Please refer to my privacy policy for more information.
Oh, hey there! We're back from our last summer vacation. We headed up to Seattle for the week to visit with family, see the sights, and of course eat some amazing food. I had to stop by Dahlia Bakery when I was there (absolutely love the cookbook) and it was amazing as expected. We tried the banana bread, the fig bar and a lemon bar - all of which were delicious. We drank lots of fabulous coffee from some small, local coffee shops, hit up Trophy for some cupcakes and ate at quite a few farm to table restaurants that were super yummy.
Obviously, when I got home, I was really inspired to bake. So, I made these crazy delicious honey cardamom peach galettes and they certainly did not disappoint. Make these for your next outdoor BBQ. Maybe for labor day festivities. Make these just because they're so good.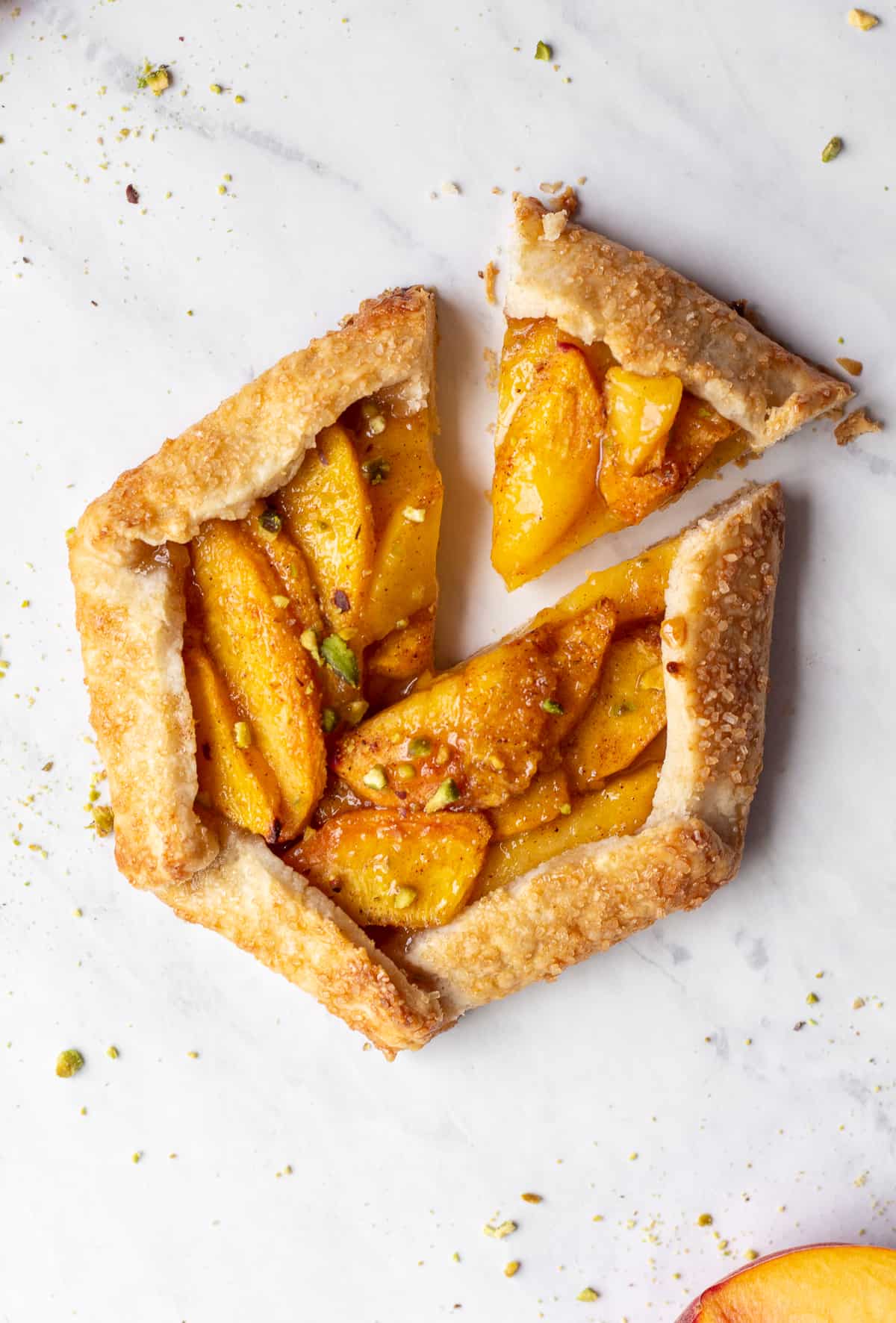 I've been wanting to create a galette recipe, or a freeform pie, for the blog for a while now and I knew peaches would make the perfect filling. I could smell these giant peaches when I walked into the grocery store. Really, have you seen the size of some of these peaches? Being a huge fan of peaches, I never need an excuse to bake with them. Especially when they're in season. I spiced them up with some cinnamon and cardamom, brush the finished galettes with honey and finished them with a sprinkle of crushed pistachios. The flavor combination is SPOT ON. Peaches, cardamom and honey are made to be together - a match made in baking heaven.
For my honey cardamom peach galettes, I used my go-to all-butter pie crust recipe. It's super easy to make (food processor for the win) and produces a buttery, flaky crust every time. I made a full batch of dough to create 6 individual galettes.  A full batch of the pie dough will make two full size galettes, half the recipe for one full size galette. I rolled out the dough and used a 6" cake board to cut rounds out of the dough. You could also use a cake pan or a bowl instead, just something with a 6" diameter will work.
It's important to always be working with cold pie dough. Be sure to refrigerate your dough rounds while preparing the peach filling. Just like with any fruit, taste the peaches to see how sweet they are. This will help you determine if you will need more or less sugar for the filling. My peaches were perfectly ripe and sweet, so I didn't use as much brown sugar. Don't forget that there will be honey brushed on top that will also add additional sweetness. Mix together peeled, sliced peaches (I like to slice mine ¼ inch thick), lemon juice, cornstarch, cinnamon, cardamom, vanilla bean paste, and brown sugar.  The peaches will naturally start to macerate a bit but don't get rid of that flavor syrup. It will be added to the galettes before baking.
Distribute the peaches onto the dough rounds, about a ½ cup of peaches per galette. Leave about a 1 ½ inch border around the perimeter of each. Fold the dough up and over the peaches,  section by section to create a circular shape, pressing lightly to seal at the edges of each intersection. There's really no right or wrong way to fold over the dough. You just want the pie dough to fully encase the peaches and form a barrier so all the juices won't seep out.
Place the galettes back in the fridge to firm back up before baking. Doing this will ensure that they keep their shape while baking. Once the dough has firmed up a bit, they're ready to be baked. Distribute the reserved peach syrup over the galettes, avoiding the crust. To get that golden brown crust color, brush the crusts with an egg wash. Sprinkle the crusts with some turbinado sugar for some extra crunch and sweetness. Bake the galettes until they are golden brown and bubbling. Baking at a higher temperature also ensures that the crust browns and retains it s shape while baking.
Melt the honey for a few seconds in the microwave or in a saucepan and brush a liberal amount over each of the galettes. The honey adds delicious depth of flavor but also gives them an appetizing glossy finish. Sprinkle the honey cardamom peach galettes with some chopped pistachios and they are ready to be served. Husband prefers his with vanilla bean ice cream. I like them without - they don't need anything else, they're perfect on their own.
If you try my honey cardamom peach galettes, let me know! Leave a comment in the comment area below and be sure to snap a photo and tag it #littlevintagebaking on Instagram. I love seeing your Little Vintage Baking creations!
For more summery treats check out these recipes:
Meyer Lemon Ginger Tart with Toasted Honey Meringue
Recipe
Honey Cardamom Peach Galettes
Spiced peaches encased in a flaky all-butter pie dough baked until golden brown and bubbly, then brushed with honey and sprinkled with chopped pistachios
Ingredients
All-Butter Pie Dough:
3

cups (360g)

all-purpose flour

2

tsps

granulated sugar

1

teaspoon

fine sea salt

1

cup (226g)

unsalted stick butter, cold, cut into cubes

7-10

tablespoon

ice cold water
Peach Filling:
3

cups (1.5 lbs)

peeled and sliced peaches - I used 4 large peaches

1

tablespoon

lemon juice

1

tablespoon

cornstarch

½

teaspoon

vanilla bean paste

½

tsp

cinnamon

½

tsp

cardamom

3

tablespoon

light brown sugar

¼

tsp

fine sea salt

1

egg

1

tablespoon

heavy cream or milk

3

tablespoon

honey

3

tablespoon

chopped pistachios

Turbinado sugar, for sprinkling
Instructions
Make the pie dough:
Place the flour, sugar and salt into the bowl of a food processor and pulse to combine.

Scatter the cold butter cubes over the flour mixture. Pulse until the mixture is coarse, with some pieces of butter about the size of peas.

Pulsing in 5 second bursts, drizzle in the ice water. Pulse until the mixture starts to form large clumps and begins to come together into a ball.

Turn the dough out onto a very lightly floured surface. Divide the dough in half and shape into disk. Wrap each piece with plastic wrap and place into the refrigerator for an hour. Pie dough can be refrigerated for three days or frozen for three months.

Once the dough is chilled, lightly flour your work surface. Roll the dough out, about ⅛ inch thick, about 12" round. I like to lay parchment paper on my dough before rolling out to keep the dough from sticking.

Using a 6" cake round, cut out three 6" rounds out of the dough. Place the dough rounds on a parchment lined sheet pan.

Repeat steps 5-6 for the second disk of pie dough. You should have six 6" disks. Place the disks back into the refrigerator to keep cold while preparing the peach filling.
Preparing the galettes:
Preheat the oven to 425F.

In a medium bowl, combine the peeled and sliced peaches, lemon juice, cornstarch, vanilla bean, cinnamon, cardamom and brown sugar. Stir to combine thoroughly.

Place ½ cup of the peaches into the center of each dough round, laying the peaches flat and leaving an inch and a half or so around the perimeter of the dough rounds. Reserve the syrup left over from the peaches macerating.

Fold the edges of the dough over, overlapping slightly. Gently press where the dough intersects to help the dough keep it's shape while baking.

Place the galettes into the refrigerator for 30 minutes.

When ready to bake, evenly distribute the reserved syrup over the galettes.

Mix the egg with a tablespoon of milk or cream. Brush the mixture onto the galette edges. Sprinkle the edges with turbinado sugar.

Bake for 23-26 minutes or until the crust has turned golden brown and the filling is bubbling.

Microwave the honey for 10 seconds or heat in a small saucepan until just warmed through and thinned.

Brush the honey over the peaches. Sprinkle the chopped pistachios over the peaches and serve warm or at room temperature.