This post may contain affiliate links. Please refer to my privacy policy for more information.
Coloring buttercream can be difficult, especially when it comes to very dark or very bright colors, and also in trying to achieve an exact color that's needed to be reproduced for a cake design.  Matching colors and recreating specific colors isn't always easy to do.  This guide will help you be able to properly color buttercream and frostings, as well as how to customize and create colors and color palettes. This guide will also help you understand color theory basics, help you troubleshoot any coloring issues and give you some tips and tricks for making specific colors, or color palettes.
How do different types of buttercream adapt to color?
How well buttercream takes on color and how the color develops depends on what type of buttercream you use. American style buttercream, made with butter or shortening, tends to incorporate color the fastest and easiest. This type of buttercream is considered sugar based, so there is generally less fat in this type of buttercream compared to meringue style, or any other fat based buttercream which tend to contain far more butter or shortening. American style buttercream adapts to color easier as the water based gel color dissolves in the sugar/liquid mixture, so the color can penetrate and deepen before mixing with the fat.
Fat based buttercream takes a bit longer to develop color, and can be a more frustrating process, but it can still be done. Because gel food color is water based, so it takes more color to be able to thoroughly saturate buttercream, especially in larger batches, and with very dark or vivid colors. Fat and water repel, so it takes more time for the color to emulsify and develop into the buttercream, but it is still possible to achieve dark and vibrant colors with gel colors.
Less stable buttercream, like those made with custards, roux, whipped cream or cream cheese, tend to develop color similarly to American style buttercream, but oftentimes the texture and stability can be compromised depending on how much color is added. It is also possible that the buttercream can collapse or separate with over mixing (like a whipped cream buttercream). Avoid adding too much color to these types of buttercream as the stability decreases and the texture changes.
Buttercream also falls into two base color camps. Butter based buttercream is usually more yellow hued, while shortening buttercream is white. This can also make a slight difference in the outcome of a color, particularly if you're trying to achieve a light or pastel color. If you add a touch of leaf green to white buttercream, it will most result in a hue that is more true to the bottle green color. If you add leaf green to a yellow-hued buttercream, that leaf green color will be have a warmer undertone from the yellow.
If you need your buttercream to be a pure white, you can use a concentrated bright white gel color, or you can also add very (very) small amounts (toothpick dots) of violet gel color to the buttercream to cancel out the yellow hue and create a white buttercream. I'll explain more on how this works in the color theory section.
Coloring Large Batches of Buttercream
When coloring buttercream, fondant, ganache, etc., it's good to invest in gel colors that are highly concentrated and true to color. Highly concentrated color requires you to use less color, making the color less likely to be tasted, and less likely for the texture to go off, which is particularly important in moisture sensitive mediums like ganache, gum paste, and fondant. There isn't one specific brand of gel colors that I specifically use, and I'm always experimenting with new brands and colors, but I'll list my preferred colors below.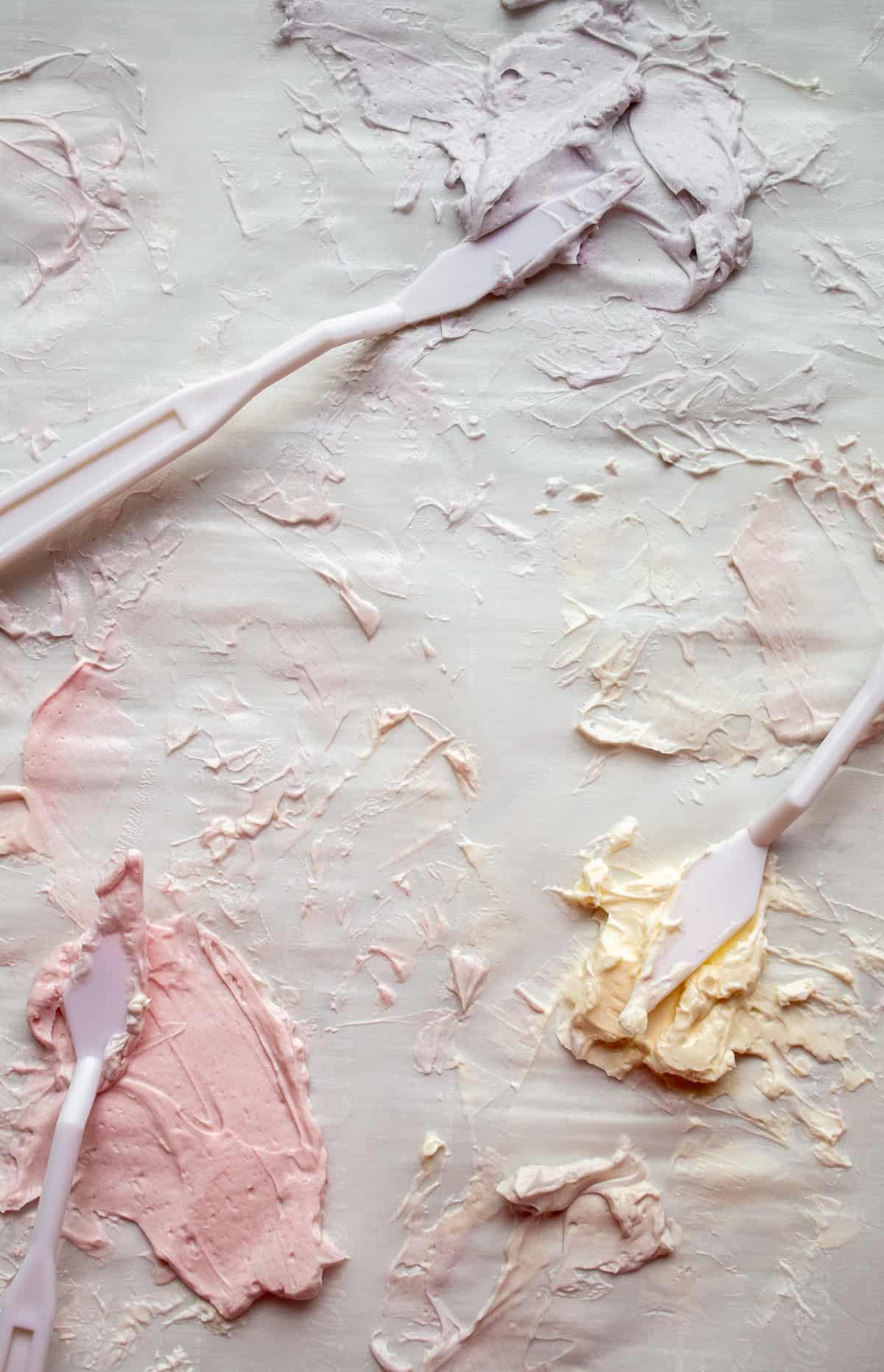 When I say true color or true to color, I am referring to colors that are a more accurate representation of that specific color, and not color that has lots undertones of another color, or changes hues when added to buttercream. For example, some black gel colors either have a green or purple undertone that is noticeable when mixing into buttercream and fondant. Some brown gel colors have orange undertones. It takes more time to balance out the undertones, in addition to creating the desired color.
An alternative to gel color, for fat based buttercream, is to use candy color, or oil based colors. Usually these types of colors are created to be used with chocolate, and they work fantastically with fat based buttercream, and ganache and are probably my favorite use for meringue buttercream and ganache. I prefer using these colors when I can, particularly for coloring large batches of buttercream.
Coloring methods:
With a meringue style buttercream, you can color the meringue before the butter is added. Just add the color to the meringue, mix to combine, then add the butter. For a darker color, remove a small portion of the meringue, mix in the color until the desired color is achieved (it will more than likely deflate, that's ok). Add the butter to the uncolored meringue and mix until the buttercream has reached the proper fluffy consistency. Add the colored meringue at the very end and mix to combine. Add more color if necessary.
You can also use the microwave method for buttercream. Remove about ¼ cup of finished buttercream and place into a microwavable bowl. Add gel color until the the desired color is achieved and microwave for 5-15 seconds until the color is incorporated, deepened and slightly liquid. Add the colored mixture to the buttercream and combine.
It's important to let the colors develop and deepen for at least a few hours, preferably overnight. Particularly with fat based buttercream, not allowing the color to rest also results in speckling, which means that the color hasn't fully emulsified into the buttercream. When mixing color into the buttercream, you want to bring it close to the desired color, then allow it to rest. Especially for very dark and bright colors. The buttercream will darken a couple shades. Alternatively, you can make a darker buttercream by starting with chocolate buttercream. Adding darker colors to an already naturally darker buttercream will help you achieve those colors a bit faster with less color.
If you're concerned about tasting the gel color, or of the possibility of staining mouths, consider using the dark color buttercream only as a thinner outer layer of your cake, rather than piling on a lot of dark buttercream on the outside.
When it comes to mixing small batches of buttercream for painting on cakes, or for buttercream details, I mix gel colors directly into the buttercream with a palette knife to help blend and mix together, while also getting rid of any air bubbles. I particularly love this method because the buttercream gets super smooth and sort of shiny like oil paint.
Color theory and why it's important
Understanding basic color theory is fundamental for any artist that works with color. Understanding how colors work together, how to balance and create tones, tints, shades etc. is important in being able to create particular colors, and complimentary color palettes.
So, just a few general color theory basics.
Hues  – Hues are the pure colors in the color spectrum, and refers to the dominate color family of a specific color. It's really the term we are referring to when we mention "color", except it doesn't include, white, black, gray (neutrals). Red, orange, yellow, green, blue, and purple are hues.
Tints – Tints are created when white is added to a hue. Think of these as pastels, or hues that have been lightened and desaturated.
Tones – Tones are created when adding white and black (gray) to a hue. Tones can be darker or lighter than the original. In other terms, tones are created by tinting and shading the hue. Undertones can also refer to warm (red, orange, yellow) or cool (green, blue and purple).
Shades – Shades are created by adding black to a hue, making the hue darker.
Primary colors – These are the three colors that all other hues are made from, and cannot be made by mixing any other hues together. These colors are red, yellow, and blue.
Secondary colors – These three colors are made when two primary colors are mixed together. These colors are green, orange, and purple
For the best results and the most optimized colors, build color by adding a little bit at a time with multiple colors, rather than just trusting one bottle color. Building colors, especially to create purples and pinks also reduces the chances of fading, which can happen with these colors sometimes. For example, I noticed my purple would lighten and have a blue hue. So when I make purple, I start with electric pink (or a bright pink), then I use purple. The electric pink boosts the brightness of the purple and keeps the pink tone of the purple, if the purple starts to fade.
Be familiar with what a particular gel color looks like - whether it has warm or cool undertones, or if there are any alternative color undertones. Ivory is a color I recommend to always keep on hand,  Adding a little bit of ivory helps to tone down the saturation on bright colors, and can help mute a pastel. I add ivory to all my vintage colors as I like these colors to be muted and warm toned.
Hues can be neutralized when a color is too overpowering. For example, if you have a  yellow hued buttercream, you can neutralize the color by adding the color opposite on the color wheel, so in this case, it would be violet. Adding a little bit of violet to yellow will "cancel" out the yellow, making it white. Another example is gray buttercream made with black gel color. The buttercream ends up looking a bit green. To neutralize the green, you would add very little red to cancel out the green since they are opposites on the color wheel, and end up with balanced gray.
Brands and Colors I like to use:
Americolor - red, black, royal blue, electric pink, electric blue, electric purple, green, bright white, lemon yellow, chocolate brown, ivory, avocado, moss, gold, dusty rose, regal purple
ProGel - purple, claret, gooseberry, navy
Wilton -brown, kelly green, ivory
Chameleon colors (oil based color)
Color mixes for popular colors:
Masala/Burgundy - more red and less purple, with a little bit of brown to tone down the brightness
Coral - more orange, less pink and a little bit of ivory to tone down the saturation
Wine - equal red and purple, a touch of brown, a touch of black
Mint - more green, a touch of blue, ivory to mute the saturation
Chocolate brown - brown, touch of black
Moss green - leaf green, touch of brown
Royal blue - electric blue, a touch of purple, a touch of black
Navy - more royal blue, less black and a touch of purple to tone the blue and make it less smoky looking
I hope I've helped answer any questions you may have regarding coloring buttercream. I'll be working on separate coloring posts for pastes, chocolate and royal that will be coming soon-ish. If you have any questions, please leave them below so I can get them answered for you!
For more on buttercream, check out these posts: