This meringue powder royal icing is my go-to icing for beautifully decorated cookies, cakes, gingerbread houses, flowers and more. This recipe is simple, fool-proof, tastes amazing and doesn't dry rock hard.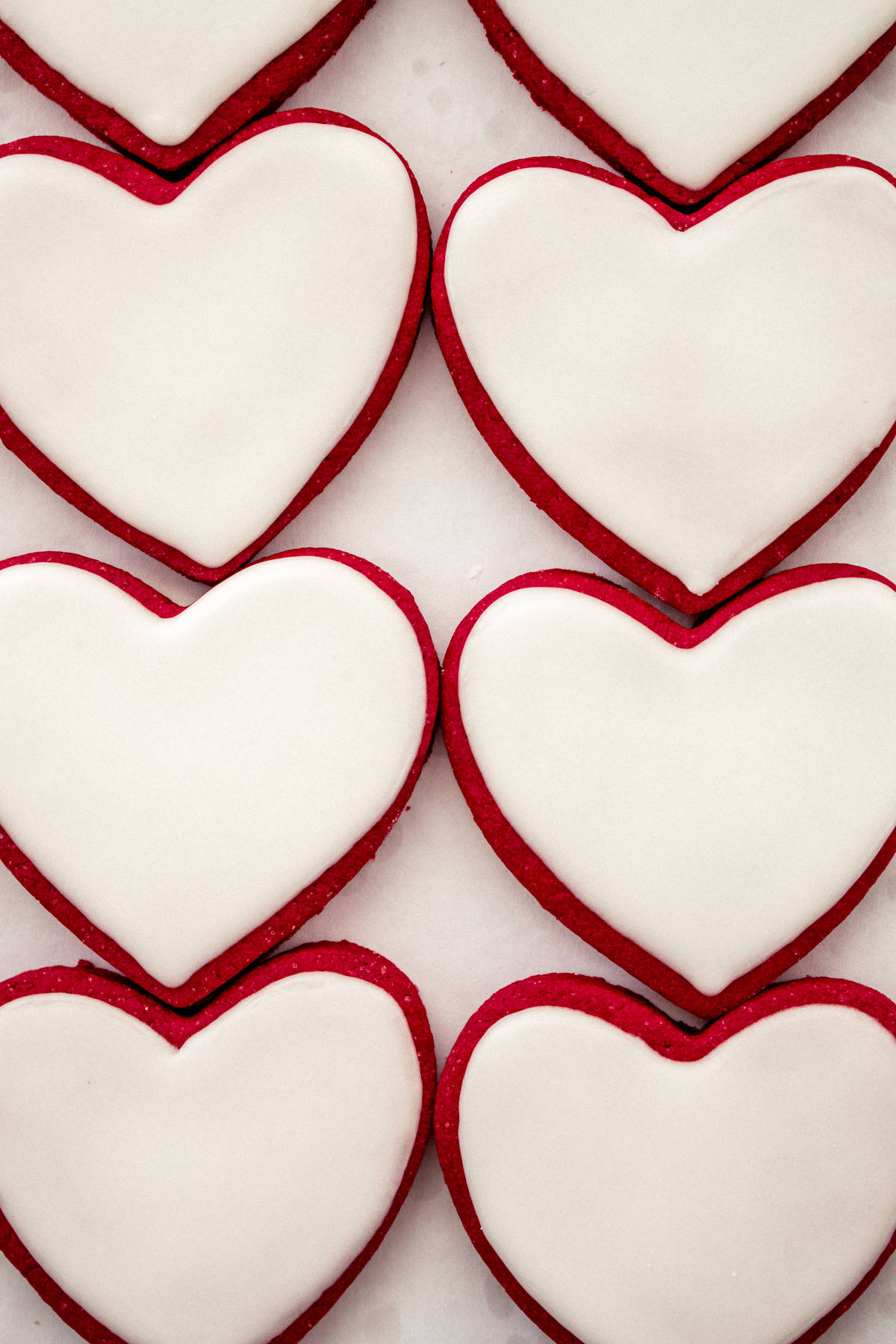 Royal icing can be made with either egg whites or meringue powder. Meringue powder replaces raw egg whites in this recipe. Egg whites are used in traditional royal icing recipes. Both egg whites and meringue powder royal icing result in the same sturdy and stable icing.
Jump to:
Why You Will Love This Recipe
Meringue powder replaces raw egg whites, making this a food safe icing.
This royal icing sets and dries quickly.
Shelf stable so the icing can be left out at room temperature. Being shelf stable also gives the icing a longer life than one made with egg whites.
Easy to color dark and vibrant colors.
The corn syrup in this recipe prevents the icing from getting too hard and crunchy, and gives it a bit more of sheen and elasticity when piping.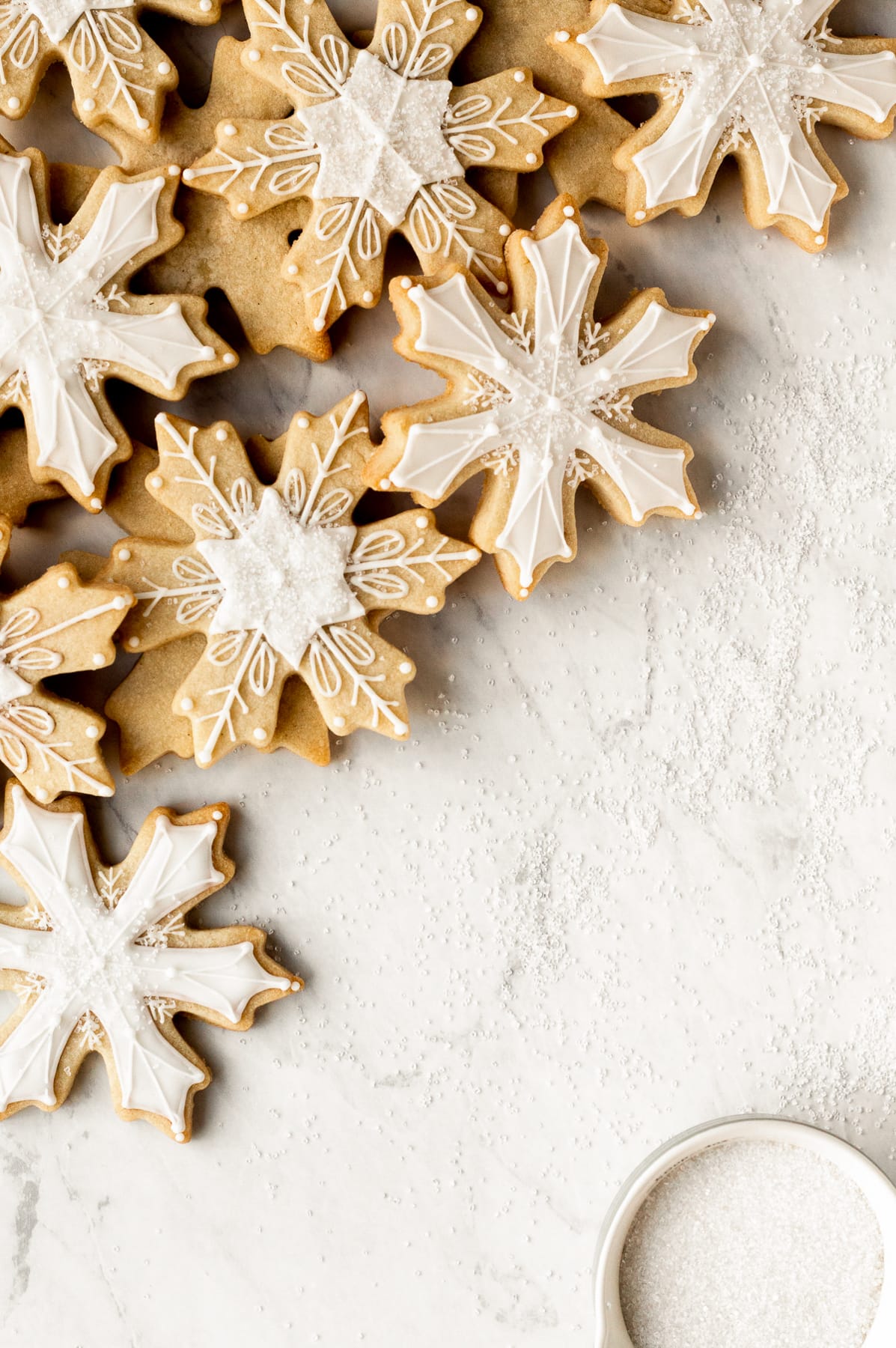 Recipe Ingredients
Confectioners' sugar (powdered sugar)
Meringue Powder – creates a stable and sturdy icing. Do not use egg white powder. It will not work with this recipe.
Warm water
Vanilla extract – For a pure white royal icing, you can use clear vanilla extract.
Light corn syrup – provides a more elastic icing and gives the icing a softer texture when dry
Recipe Instructions
In the bowl of a stand mixer fitted with the paddle attachment, beat together the confectioners' sugar, meringue powder and water on low speed until combined.
Beat in the vanilla and corn syrup. Turn the mixer to medium-high speed and mix until the icing forms stiff, glossy peaks, about 5-7 minutes.
If using gel food coloring, add the color and beat on low speed for 1-2 minute until combined.
Colored royal icing will darken a few shades as it sits. Allow it to develop a minimum 30 minutes to overnight to darken, especially with black and red colors.
Royal icing should be covered with a lid or a damp paper towel when it's not being immediately used. For example, leftover icing in a bowl that you plan on using the same day. This keeps the icing from drying out.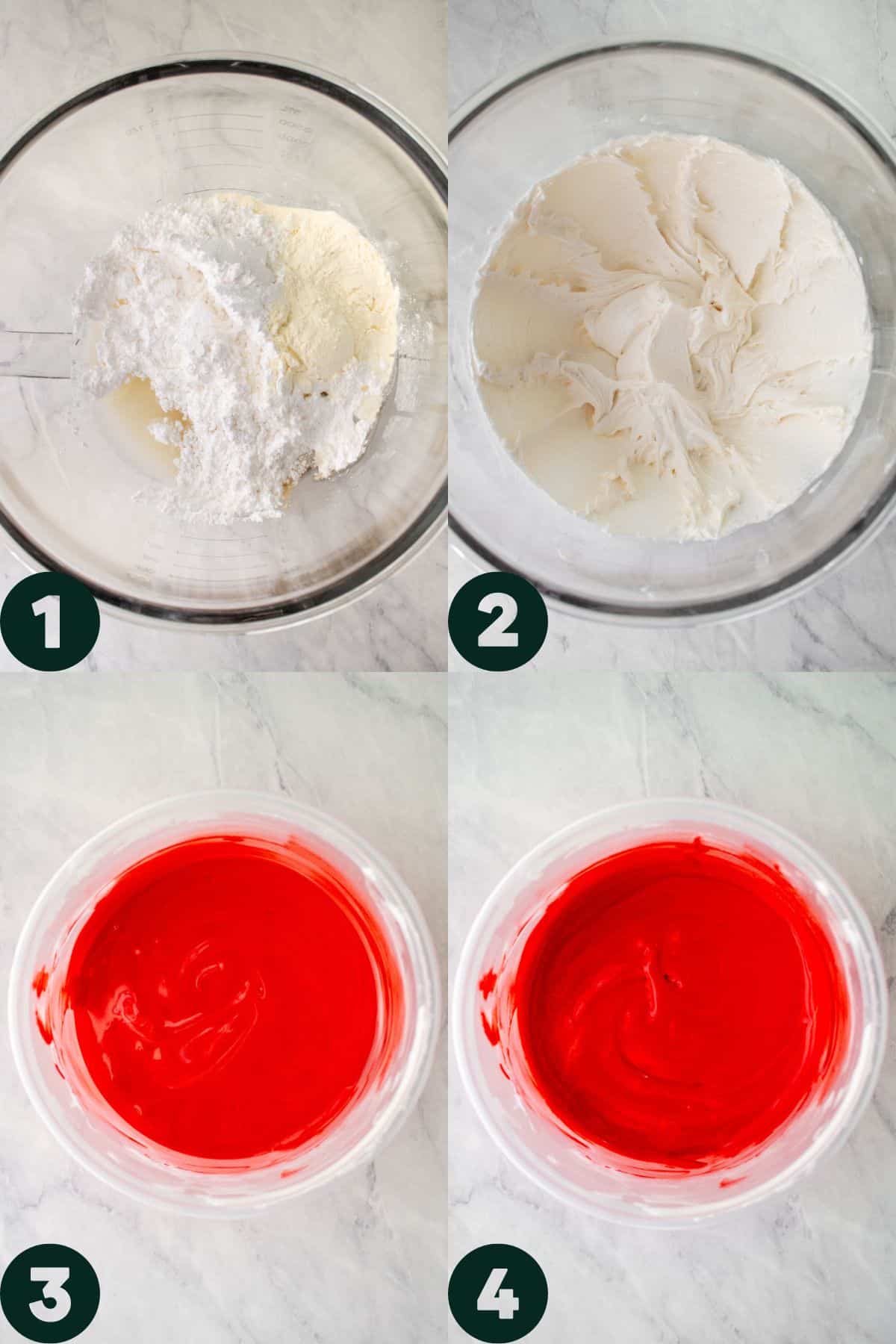 Royal Icing Consistencies
Stiff Icing – When the royal icing is done, it will be a stiff consistency, fluffy, glossy and opaque from whipping air into it and making it lighter. Stiff royal icing can be used for piping flowers, leaves, ruffles and borders, like shells. This consistency is stiff but still spreadable and holds its shape when piped.
Piping Icing – Adding a bit of water at a time to stiff icing loosens and thins the icing to make it pipeable. The consistency should be like toothpaste. The icing should hold its shape but is looser than stiff icing. It should not break when piping. This icing can be used for outlining, detail work and for scripts and writing.
Flooding Icing – Adding additional water to royal icing creates flooding icing. Flooding icing is looser, resembling the texture of honey or pancake syrup. It is used to fill in cookies after they have been outlined. Flooding icing should flow but not be too watery that it runs off the cookies. Gently wiggling the cookie after filling and outline with flooding icing can help to even the icing out. You can also use a toothpick to spread the icing out as needed.
15-20 second icing – This icing is a 2 in 1 icing. It can be used for both outlining and flooding and it's the icing I use the most. It's called 15-20 second icing because if you run a spatula through the royal icing in your mixing bowl, the icing should blend back together and even out in 15-20 seconds. The icing should be thin enough to flow and thick enough that it doesn't run off the cookie.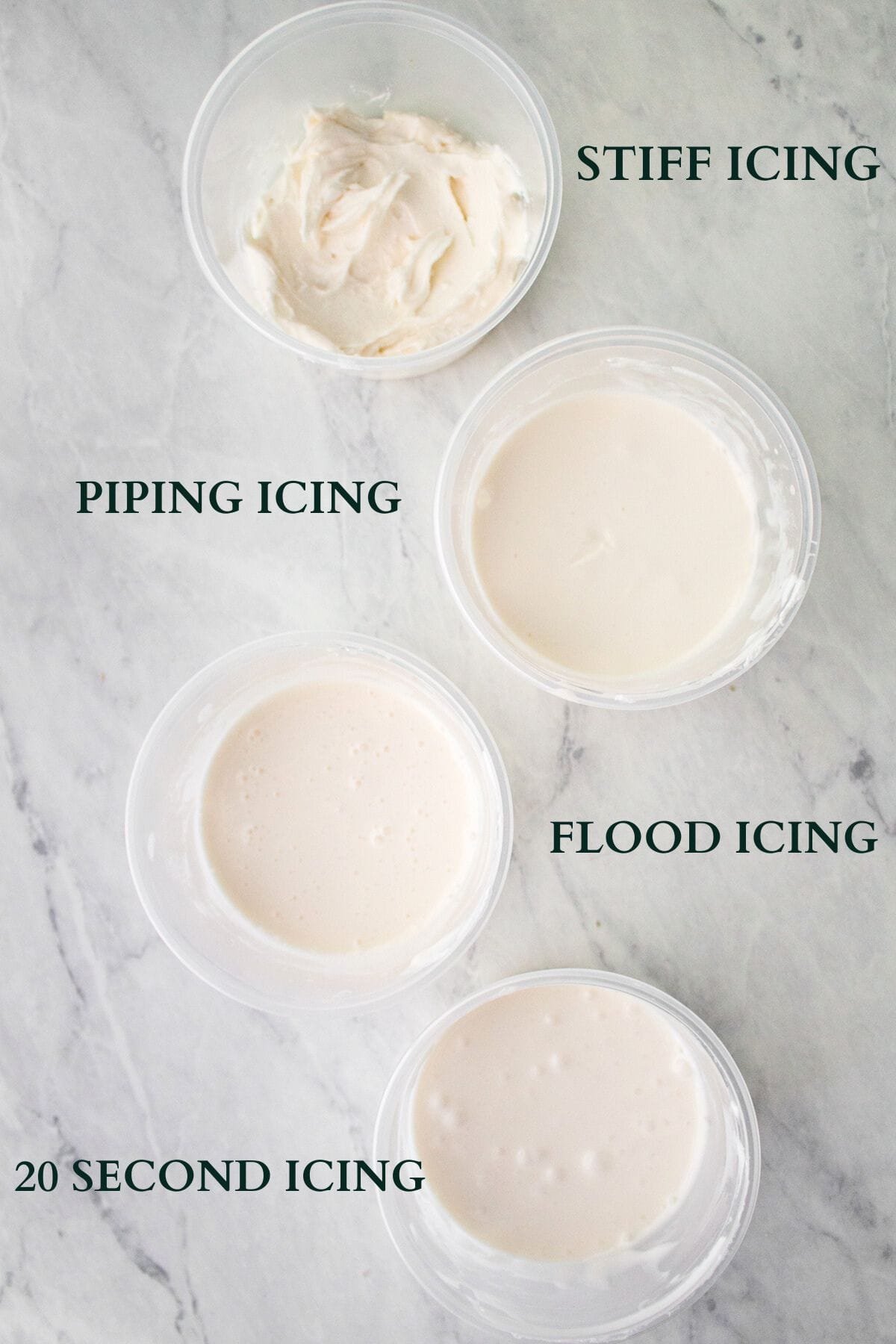 Decorating with Royal Icing
Gel Food Color – Liquid food color or oil based food color will not work for royal icing. I like to used concentrated gel colors. Brands like Artisan Accents, Americolor, Chefmaster and Wilton are examples of concentrated gel color. Add a bit of color at a time. Note that royal icing will darken over time. Mix your color into the icing a couple shades lighter than the desired color.
Piping Bags – Piping bags are useful to keep on hand in general for baking projects, but using piping bags for cookie and cake decorations allows you to have more stability and ease of use without blowouts or leaky messes that zip top bags can sometimes make. I use mostly 16" bags for all decorating projects. You can absolutely use zip top bags, but don't overfill the bags, use a little bit at a time.
Couplers - A coupler is a 2-part tool that you can use to fasten piping tips to piping bags. Couplers are made up of the main component that goes inside the piping bag, and the ring which goes on the outside of the piping bag over the piping tip of choice is fitted. Using a coupler allows you to be able to change piping tips, rather than having to have multiple piping bags of the same color and consistency.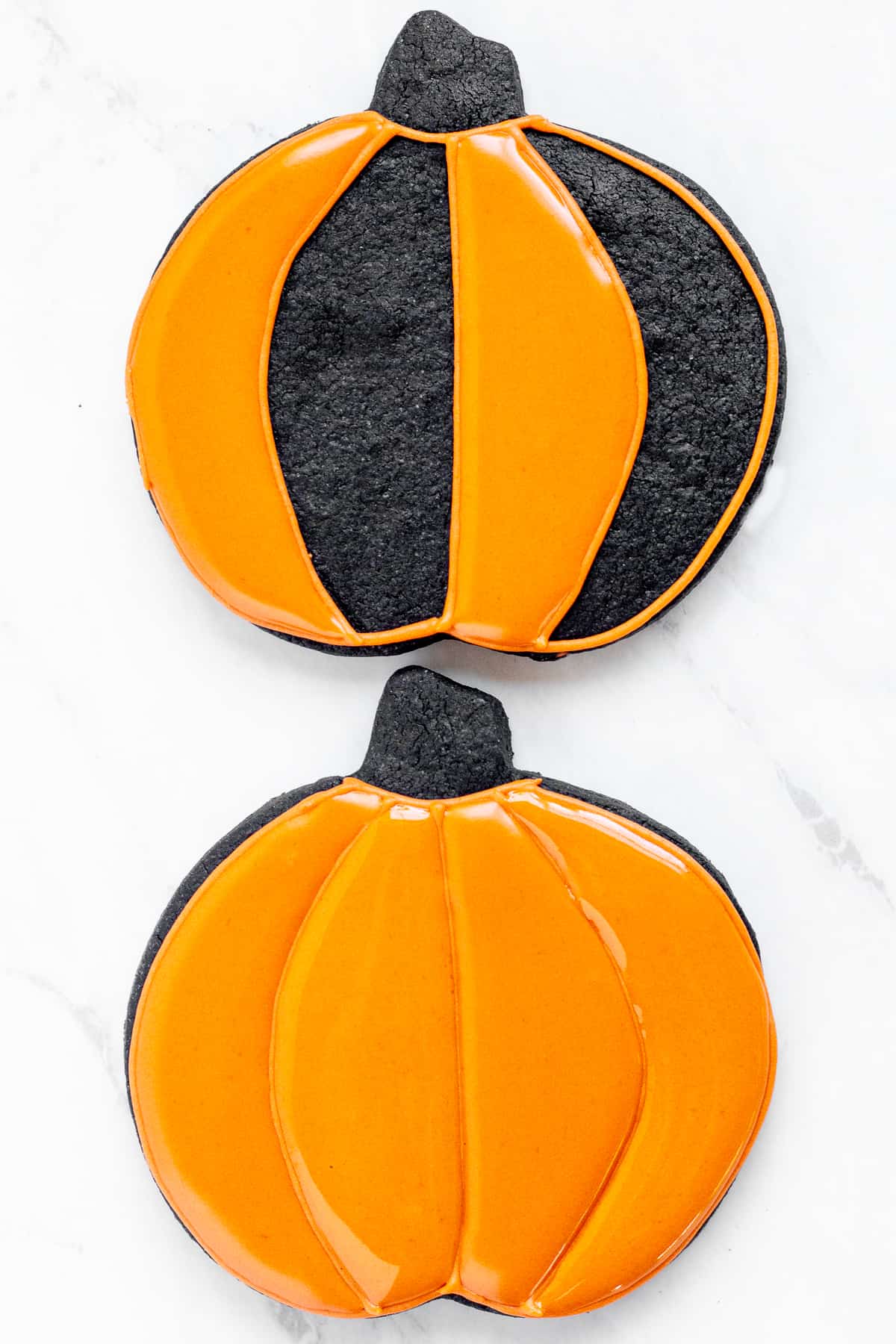 Piping Tips – Standard piping tips for basic royal icing decorations are round tips. The number of the tip reflects the size of the hole of the piping tip. #00 is the smallest of the round tips and is useful for piping intricate string work, while the one of the largest #1A is good for piping buttercream on cupcakes, or for filling cakes. For royal icing cookies, I typically use #2 tip for detail work, and #3 for outlining and flooding. There's a wide variety of piping tips for all different uses.
Toothpicks, or scribe tool – To spread the icing to the icing outline. Giving the iced cookie a wiggle after a section is freshly iced can help to even out the icing, giving it a smooth and even surface.
Drying – Iced cookies typically take about 8-12 hours to dry completely. No need to worry about the cookies going stale while they dry. You can use a fan in the room to speed up the drying process. When they're completely dry, they can be stored or individually bagged.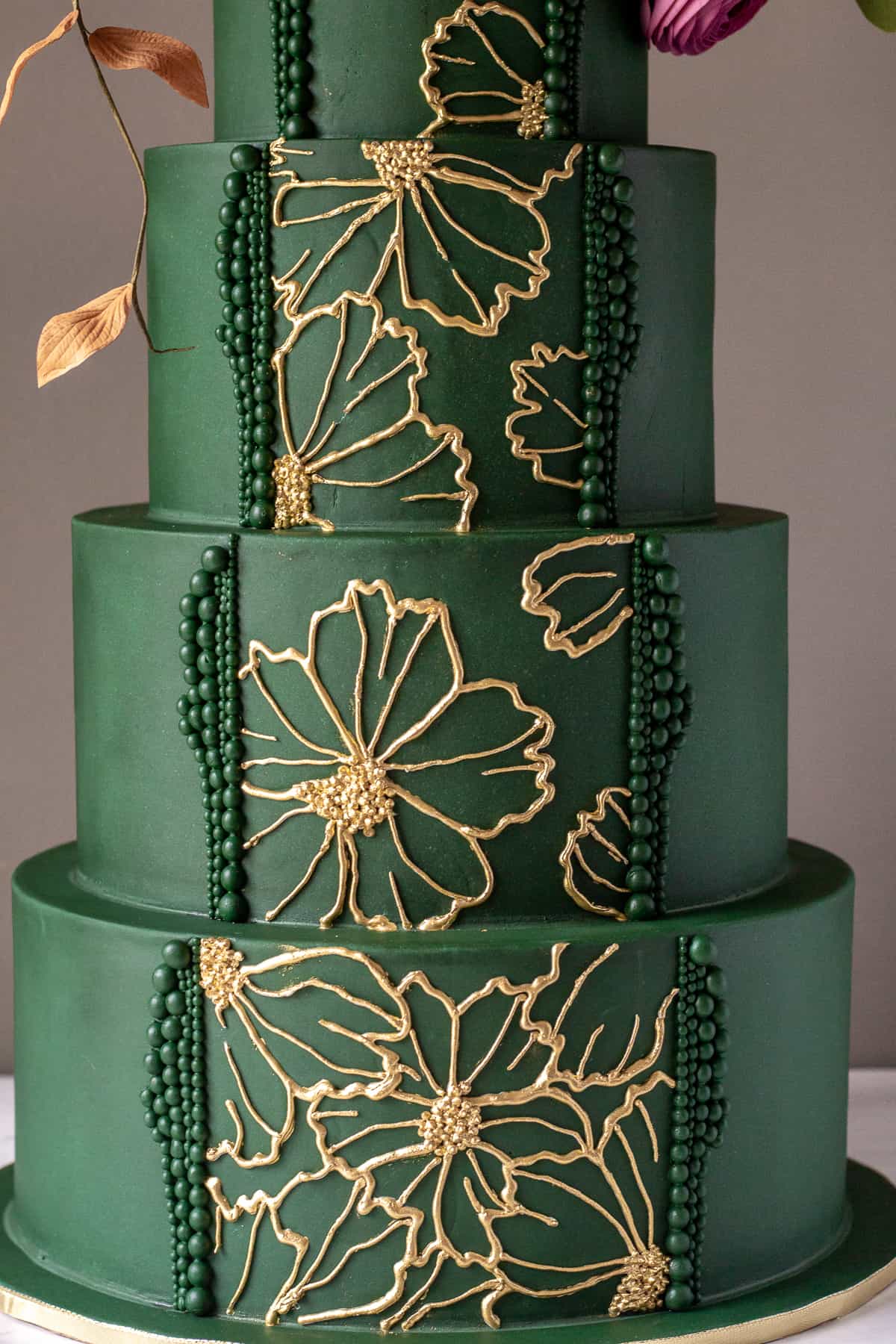 Decorating Tips
To achieve a "puffy" icing look, commonly seen on decorated cookies, overfill the cookie with flooding or 15 second icing, enough to thoroughly fill, but not too much that the icing runs over the outline.
For smooth, lump-free icing, you can sift the powdered sugar and meringue powder together before adding water.
Humid environments can slow down the drying time and cause the icing to bleed. Keep royal icing decorated projects in a room temperature, dry environment for best results.
Substitutions and Variations
Any extract can be used in place of or in addition to vanilla extract. Maple, almond, orange, peppermint, coconut, rosewater and more.
For citrus icing, replace half of the water with lemon, lime, orange or grapefruit juice.
Avoid any extracts that contain oil, as it can separate the icing.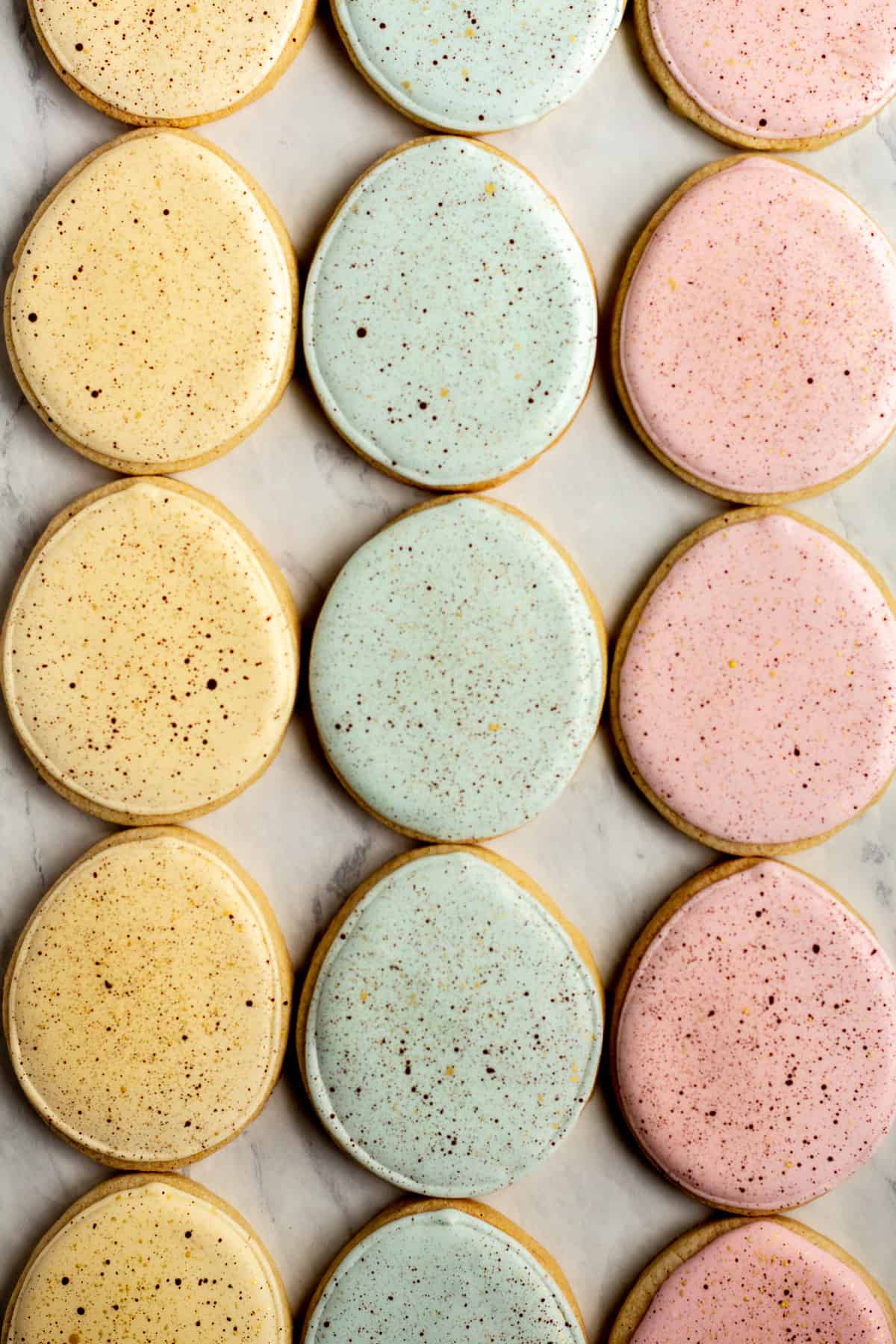 Storage and Freezing
Royal icing can be frozen for up to 3 months. Refrigerate overnight to defrost. It may appear that the icing has separated, but this is normal. Stir until well combined, and then it is ready to use.
Royal icing should be stored in the fridge for up to 5 days. Let it come to room temperature before using.
Iced sugar cookies, stored in cellophane bags or an airtight container, can be kept at room temperature for up to 2 weeks.
You can freeze decorated cookies but proceed with caution. For the most part it is safe to do so, but the defrosting process can cause the colors to bleed and cause imperfections in the icing. Some people freeze cookies with no issues at all. If you freeze them, make sure they are completely dry and individually wrapped. I like to use individual cellophane bags and seal them with a heat sealer. Alternatively, you can put them in individual zip top bags. Store them in an airtight container for up to 3 months. Defrost in the refrigerator.
Recipe FAQs
Can I frost a cake with royal icing?
Royal icing dries hard and is not recommended for icing a cake. It would be very unpleasant to eat. However, royal icing decorations, such as string work or flowers, are great to put on a cake.
My icing is too thin. How do I thicken it to the consistency I want?
If the icing is too thin, add a teaspoon or two of powdered sugar at a time, stirring after each addition and checking the consistency. Keep adding powdered sugar until it's the desired consistency.
Likewise, if it is too thick, add a few drops of water at a time to reach the desired consistency.
What does royal icing taste like?
Royal icing by itself tastes like sugar with a hint of vanilla from the meringue powder. With the addition of extracts, it takes on the flavor of extract.
Did you make this recipe? Share it with us! Tag @littlevintagebaking on Instagram and leave a star rating below if you LOVED this recipe. For more baking and decorating ideas follow me on Pinterest.
Recipe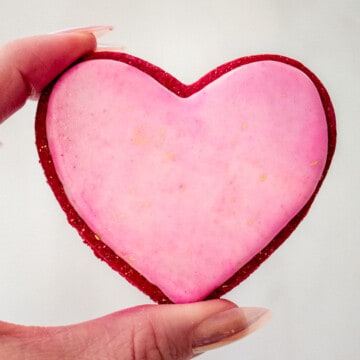 Meringue Powder Royal Icing
Simple, fool-proof icing for beautifully decorated cookies, gingerbread houses and more.
Ingredients
4

cups

confectioners sugar (powdered sugar)

3

tablespoons

meringue powder

4

tablespoons

warm water

1

teaspoon

vanilla extract

2

teaspoons

light corn syrup

gel food color (optional)
Instructions
In the bowl of a stand mixer fitted with the paddle attachment, combine the confectioner's sugar, meringue powder and water.Â

4 cups confectioners sugar (powdered sugar),

3 tablespoons meringue powder,

4 tablespoons warm water

Beat in the corn syrup and vanilla extract. Beat on low until everything is blended. Turn the mixer to medium-high speed and mix until the icing forms stiff, glossy peaks, about 5-7minutes.

1 teaspoon vanilla extract,

2 teaspoons light corn syrup

Add gel food color and beat to thoroughly mix.

gel food color (optional)

Let the icing sit at least 30 minutes using if coloring it with a dark gel color, like red or black.Icing can be thinned with water depending on the desired consistency. Keep the icing covered with a damp paper towel to keep from drying out.